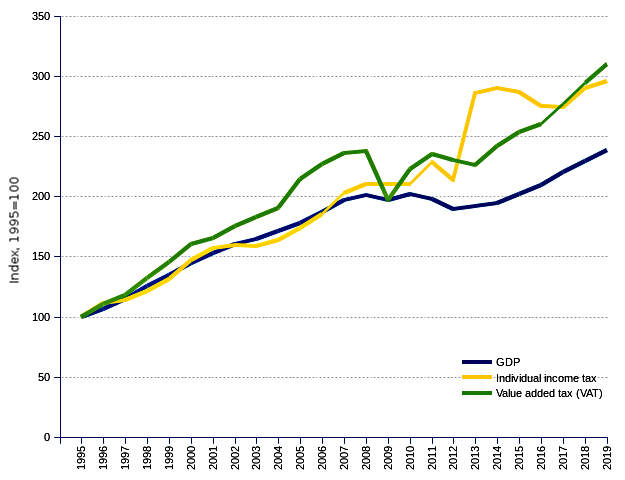 Portugal's tax burden continues rising in absolute values, while stabilizing at 37 percent of GDP. In the recent years of the alleged post-austerity policy, and despite the official rhetoric claiming a slowdown of the fiscal pressure, the overall fiscal burden grew faster (4.35 percent) than GDP (4.25 percent). The increases fell mainly upon the value added tax (5.21 percent) and the social contributions (5.08 percent).
A case of creative finance
In 2011, facing a big financial crisis, Portugal requested a €78 billion IMF-EU (International Monetary Fund-European Union) bailout package, which was granted on very stringent austerity conditions, under the Troika, IMF, EU, and ECB (European Central Bank) supervision. GDP came to a standstill, unemployment climbed to two-digit numbers thus curtailing individual income tax and social contributions receipts, and consumption suffered, thus shrinking receipts from VAT (value added tax). The government compensated the shortfall by a huge rise of the individual income tax, including a large array of surtaxes. During the Troika-controlled period, roughly from 2011 to 2015, GDP grew by a lame 0.01 percent, against an increase of total tax receipts of 3.14 percent, made up of a 6.41 percent growth of income tax and 2.58 percent growth of VAT.
Come 2016, the new coalition government grabs power promising the end of austerity and the alleviating of the tax pressure. The dilemma is that, under its policies, the government cannot keep such promises. The "wise guys" in power solved the imbroglio quite easily. First, they lifted a couple of highly visible fiscal restraints (namely the surtax on the income tax, and some cuts on civil servants and pensioner paychecks), and offered that as a token of their good faith. Second, they started a systematic use of freezing selected legislature-approved budget items. During the budget debates, they would boast of their generosity, knowing well that those items were empty pods that would never be appropriated. Third, they practically emptied the lists of goods and services at reduced VAT rates, allocating them to the standard 23 percent rate bracket.
As a result, during the 2011-2019 period, the tax burden grew faster (4.35 percent) than GDP (4.25 percent), thanks to the fast growth of VAT (5.21 percent) and social contributions (5.08 percent). As expectable, individual income tax did not fall from the preceding period peak – indeed it did budge upwards by 0.81 percent.
Tax revenue and social contributions, Portugal, 1995 - 2018

 
1995
1996
1997
1998
1999
2000
2001
2002
2003
2004
2005
2006
2007
2008
2009
2010
2011
2012
2013
2014
2015
2016
2017
2018P
2019P
Average change rates
 
million Euro
Index
%of GDP
million Euro
Index
%of GDP
million Euro
Index
%of GDP
million Euro
Index
%of GDP
million Euro
Index
%of GDP
million Euro
Index
%of GDP
million Euro
Index
%of GDP
million Euro
Index
%of GDP
million Euro
Index
%of GDP
million Euro
Index
%of GDP
million Euro
Index
%of GDP
million Euro
Index
%of GDP
million Euro
Index
%of GDP
million Euro
Index
%of GDP
million Euro
Index
%of GDP
million Euro
Index
%of GDP
million Euro
Index
%of GDP
million Euro
Index
%of GDP
million Euro
Index
%of GDP
million Euro
Index
%of GDP
million Euro
Index
%of GDP
million Euro
Index
%of GDP
million Euro
Index
%of GDP
million Euro
Index
%of GDP
million Euro
Index
%of GDP
Troika: 2011-2015
Coalition: 2016-2019
GDP
89,029
100
 
94,352
106
 
102,331
115
 
111,353
125
 
119,603
134
 
128,414
144
 
135,775
153
 
142,554
160
 
146,068
164
 
152,248
171
 
158,553
178
 
166,260
187
 
175,483
197
 
179,103
201
 
175,416
197
 
179,611
202
 
176,096
198
 
168,296
189
 
170,492
192
 
173,054
194
 
179,713
202
 
186,490
209
 
195,947
220
 
204,305
229
 
212,303
238
 
0.01%
4.25%
Tax burden¹
27,963
100
31
30,333
108
32
32,861
118
32
36,280
130
33
39,703
142
33
43,002
154
33
45,085
161
33
48,279
173
34
48,358
173
33
50,955
182
33
54,471
195
34
57,975
207
35
61,484
220
35
62,581
224
35
58,467
209
33
60,461
216
34
62,298
223
35
57,831
207
34
63,238
226
37
64,050
229
37
66,408
237
37
68,216
244
37
71,597
256
37
75,847
271
37
78,728
282
37
1.89%
4.35%
Total tax receipts²
19,153
100
22
21,058
110
22
22,593
118
22
24,893
130
22
27,588
144
23
29,538
154
23
30,586
160
23
32,648
170
23
31,921
167
22
33,642
176
22
36,035
188
23
38,739
202
23
41,581
217
24
41,850
219
23
37,256
195
21
39,082
204
22
41,084
215
23
38,677
202
23
42,778
223
25
43,581
228
25
45,611
238
25
46,593
243
25
48,890
255
25
51,998
271
25
53,372
279
25
3.14%
4.01%
Individual income tax
4,595
100
5
5,101
111
5
5,239
114
5
5,572
121
5
6,036
131
5
6,769
147
5
7,220
157
5
7,310
159
5
7,276
158
5
7,528
164
5
7,993
174
5
8,502
185
5
9,329
203
5
9,638
210
5
9,653
210
6
9,641
210
5
10,513
229
6
9,794
213
6
13,123
286
8
13,326
290
8
13,154
286
7
12,618
275
7
12,608
274
6
13,317
290
7
13,584
296
6
6.41%
0.81%
Corporate income tax³
1,888
100
2
2,333
124
2
2,927
155
3
3,152
167
3
3,870
205
3
4,457
236
3
4,048
214
3
4,317
229
3
3,323
176
2
3,929
208
3
3,901
207
2
4,494
238
3
5,815
308
3
6,093
323
3
4,544
241
3
4,670
247
3
5,278
280
3
4,362
231
3
5,327
282
3
4,718
250
3
5,405
286
3
5,399
286
3
5,956
316
3
6,493
344
3
6,306
334
3
2.97%
3.93%
Value added tax (VAT)
6,075
100
7
6,690
110
7
7,170
118
7
8,030
132
7
8,804
145
7
9,733
160
8
10,021
165
7
10,668
176
7
11,076
182
8
11,569
190
8
13,001
214
8
13,764
227
8
14,333
236
8
14,424
237
8
11,971
197
7
13,527
223
8
14,265
235
8
13,995
230
8
13,710
226
8
14,682
242
8
15,368
253
9
15,767
260
8
16,809
277
9
17,865
294
9
18,828
310
9
2.58%
5.21%
Total social contributions
8,810
100
10
9,275
105
10
10,268
117
10
11,387
129
10
12,115
138
10
13,465
153
10
14,499
165
11
15,631
177
11
16,438
187
11
17,313
197
11
18,437
209
12
19,236
218
12
19,902
226
11
20,731
235
12
21,210
241
12
21,378
243
12
21,213
241
12
19,153
217
11
20,460
232
12
20,468
232
12
20,796
236
12
21,623
245
12
22,707
258
12
23,849
271
12
25,356
288
12
-0.55%
5.08%
P - Provisional
¹ – Includes imputed social contributions.
² – Includes taxes on production and imports, capital taxes and other taxes.
³ – Perceived by central Government, municipal taxes excluded.
Source: Statistics Portugal, National Accounts, INE