Nobel Prize for Literature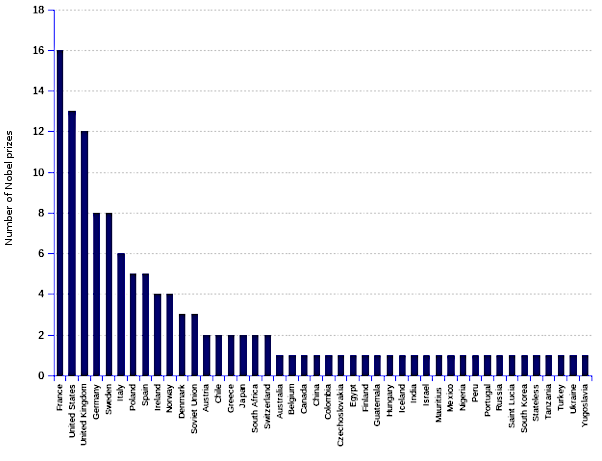 In 2018, the Nobel Committee decided not to award the Nobel Prize for literature. Whatever the stated - and the many rumored - reasons for such a radical step, the decision should be viewed as a sensible one, after the controversies that surrounded some awards in the recent past. Indeed, the Committee should stop and ponder the ways and means to restore their dented credibility, at least as the literature and the peace prizes are concerned.
Literature is the intellectual field where Nobel prizes are most widely shared by the world nations, large and small. Nationals of 41 states and one Stateless person have been honored. The category is the only one to acknowledge and recognize a stateless person. It is also one of the only three world most prestigious awards that have been spontaneously declined by the recipient. In 1964, Jean-Paul Sartre from France did not accept the Nobel for literature. In 1973, Le Duc Tho from Viet Nam refused the Nobel for peace. In 2006 Grigori Perelman from Russia declined the Fields medal for mathematics. There have been other instances of renunciation to Nobel awards, but apparently not voluntary. The 1958 literature Nobel laureate Boris Pasternak from the Soviet Union also declined the award, but allegedly he did not do so of his own free will. The Germans Kuhn in 1938 and Butenandt in 1939 were forced by the Nazi regime to decline their Nobel prizes for chemistry.
The Nobel for literature has been given to authors little known for their literary artistic talent. Winston Churchill, who prolifically wrote about his own career activities, better known as a hard-boiled conservative, imperialist, jingoistic British politician, who made himself quite a war hawk reputation in the South African Boer war, and eventually shone as the United Kingdom's leader against Nazi Germany during World War II, was awarded the prize in 1953. Henri Bergson, the French philosopher and 1927 laureate, is still a thinker to be reckoned with, but few would consider him a creative literary artist. Other instances, including the 2006, 2012, and 2015 awards have generated controversy, some critics insisting that the choice has been motivated on the grounds of international diplomacy and political bias, rather than by the sheer literary value of the recipients' works.
The 2016 prize given to Bob Dylan, a US pop singer, pushed things a bit farther. The Nobel people surely felt like giving the finger to the eggheads of the world that take literature too seriously. Why not — it is their privilege, they are also entitled to have a good time. But it makes things look messy. Songs, whether art songs (Lieder), love songs by troubadours and bards, or folk songs (work songs, lullabies, etc.) are normally classified under music, not literature. Surely, literature as we know it developed upon the scion of oral literature as sung by the ancient Greek aiodos and rhapsodos, and their native African, American and Asian colleagues. However, it is quite a stretch to include pop song lyrics among the likes of Gilgamesh, Iliad, Odyssey, Mahabharata and other classic epic poems. One suggestion: if you want to know more about Dylan's work and your first spontaneous thought is to buy the paperback edition of his text, then he is likely a literature artist. But if your first idea is to buy the disc or download his songs to your music device, then no, it is not literature that we are dealing with, and the Nobel committee have just made a practical joke at our expenses.
With the benefit of hindsight, the work of several prize winners seems rather trivial and bound to fade into oblivion. The acid test is to browse the list and ask yourself how many names you recognize, let alone how many made a lasting impression on you. On the other hand, influential artists such as Beckett, Joyce, Proust, Céline, Orwell, Pessoa, Borges, Musil, Ngugi, Yasar Kemal, or Abdel Rahman Munif, not to mention other literary creators less known in western circles because they worked in languages unfamiliar to most western readers in general, and to Nobel lobbyists in particular, were not deemed "deserving" enough to be honored. Such a combination of oversight, misjudgment, public opinion manipulation and sheer flattery, casts serious doubts on the motivations of the Nobel committee members.
[In the chart, former Soviet Union, Czechoslovakia and Yugoslavia appear under respectively Russia, Czech Republic and Bosnia and Herzegovina. Double nationals are counted twice, once for each nationality.]
Nobel Prize for Literature


1901 - 2018

Year
Name
Gender
Citizenship
Second Citizenship
Born
Remarks
2018
Not Awarded
2017
Kazuo
Ishiguro
Male
United Kingdom
1954
2016
Bob
Dylan
Male
United States
1941
2015
Svetlana
Alexievich
Female
Ukraine
1948
2014
Patrick
Modiano
Male
France
1945
2013
Alice
Munro
Female
Canada
1931
2012
Mo
Yan
Male
China
1955
2011
Tomas
Tranströmer
Male
Sweden
1931
2010
Mario
Vargas Llosa
Male
Peru
1936
2009
Herta
Müller
Female
Germany
1953
2008
Jean-Marie Gustave
Le Clézio
Male
France
Mauritius
1940
2007
Doris
Lessing
Female
United Kingdom
1919
2006
Orhan
Pamuk
Male
Turkey
1952
2005
Harold
Pinter
Male
United Kingdom
1930
2004
Elfriede
Jelinek
Female
Austria
1946
2003
J.M.
Coetzee
Male
South Africa
1940
2002
Imre
Kertész
Male
Hungary
1929
2001
V.S.
Naipaul
Male
United Kingdom
1932
2000
Gao
Xingjian
Male
France
1940
1999
Günter
Grass
Male
Germany
1927
1998
José
Saramago
Male
Portugal
1922
1997
Dario
Fo
Male
Italy
1926
1996
Wislawa
Szymborska
Female
Poland
1923
1995
Seamus
Heaney
Male
Ireland
1939
1994
Kenzaburo
Oe
Male
Japan
1935
1993
Toni
Morrison
Female
United States
1931
1992
Derek
Walcott
Male
Saint Lucia
1930
1991
Nadine
Gordimer
Female
South Africa
1923
1990
Octavio
Paz
Male
Mexico
1914
1989
Camilo José
Cela
Male
Spain
1916
1988
Naguib
Mahfouz
Male
Egypt
1911
1987
Joseph
Brodsky
Male
United States
1940
1986
Wole
Soyinka
Male
Nigeria
1934
1985
Claude
Simon
Male
France
1913
1984
Jaroslav
Seifert
Male
Czechoslovakia
1901
1983
William
Golding
Male
United Kingdom
1911
1982
Gabriel García
Márquez
Male
Colombia
1928
1981
Elias
Canetti
Male
United Kingdom
1905
1980
Czeslaw
Milosz
Male
Poland
United States
1911
1979
Odysseus
Elytis
Male
Greece
1911
1978
Isaac Bashevis
Singer
Male
United States
1904
1977
Vicente
Aleixandre
Male
Spain
1898
1976
Saul
Bellow
Male
United States
1915
1975
Eugenio
Montale
Male
Italy
1896
1974
Eyvind
Johnson
Male
Sweden
1900
1974
Harry
Martinson
Male
Sweden
1904
1973
Patrick
White
Male
Australia
1912
1972
Heinrich
Böll
Male
Germany
1917
1971
Pablo
Neruda
Male
Chile
1904
1970
Alexandr
Solzhenitsyn
Male
Soviet Union
1918
1969
Samuel
Beckett
Male
Ireland
1906
1968
Yasunari
Kawabata
Male
Japan
1899
1967
Miguel Angel
Asturias
Male
Guatemala
1899
1966
Samuel
Agnon
Male
Israel
1888
1966
Nelly
Sachs
Female
Sweden
1891
1965
Mikhail
Sholokhov
Male
Soviet Union
1905
1964
Jean-Paul
Sartre
Male
France
1905
Declined the prize
1963
Giorgos
Seferis
Male
Greece
1900
1962
John
Steinbeck
Male
United States
1902
1961
Ivo
Andric
Male
Yugoslavia
1892
1960
Saint-John
Perse
Male
France
1887
1959
Salvatore
Quasimodo
Male
Italy
1901
1958
Boris
Pasternak
Male
Soviet Union
1890
Forced to decline
1957
Albert
Camus
Male
France
1913
1956
Juan Ramón
Jiménez
Male
Spain
1881
1955
Halldór
Laxness
Male
Iceland
1902
1954
Ernest
Hemingway
Male
United States
1899
1953
Winston
Churchill
Male
United Kingdom
1874
1952
François
Mauriac
Male
France
1885
1951
Pär
Lagerkvist
Male
Sweden
1891
1950
Bertrand
Russell
Male
United Kingdom
1872
1949
William
Faulkner
Male
United States
1897
1948
T.S.
Eliot
Male
United Kingdom
1888
1947
André
Gide
Male
France
1869
1946
Hermann
Hesse
Male
Switzerland
1877
1945
Gabriela
Mistral
Female
Chile
1889
1944
Johannes V.
Jensen
Male
Denmark
1873
1939
Frans Eemil
Sillanpää
Male
Finland
1888
1938
Pearl
Buck
Female
United States
1892
1937
Roger
Martin du Gard
Male
France
1881
1936
Eugene
O'Neill
Male
United States
1888
1934
Luigi
Pirandello
Male
Italy
1867
1933
Ivan
Bunin
Male
Stateless
1870
Born Russian
1932
John
Galsworthy
Male
United Kingdom
1867
1931
Erik Axel
Karlfeldt
Male
Sweden
1864
1930
Sinclair
Lewis
Male
United States
1885
1929
Thomas
Mann
Male
Germany
1875
1928
Sigrid
Undset
Female
Norway
1882
1927
Henri
Bergson
Male
France
1859
1926
Grazia
Deledda
Female
Italy
1871
1925
George Bernard
Shaw
Male
United Kingdom
1856
1924
Wladyslaw
Reymont
Male
Poland
1867
1923
William Butler
Yeats
Male
Ireland
1865
1922
Jacinto
Benavente
Male
Spain
1866
1921
Anatole
France
Male
France
1844
1920
Knut
Hamsun
Male
Norway
1859
1919
Carl
Spitteler
Male
Switzerland
1845
1917
Karl
Gjellerup
Male
Denmark
1857
1917
Henrik
Pontoppidan
Male
Denmark
1857
1916
Verner
von Heidenstam
Male
Sweden
1859
1915
Romain
Rolland
Male
France
1866
1913
Rabindranath
Tagore
Male
India
1861
1912
Gerhart
Hauptmann
Male
Germany
1862
1911
Maurice
Maeterlinck
Male
Belgium
1862
1910
Paul
Heyse
Male
Germany
1830
1909
Selma
Lagerlöf
Female
Sweden
1858
1908
Rudolf
Eucken
Male
Germany
1846
1907
Rudyard
Kipling
Male
United Kingdom
1865
1906
Giosuè
Carducci
Male
Italy
1835
1905
Henryk
Sienkiewicz
Male
Poland
1846
1904
José
Echegaray
Male
Spain
1832
1904
Frédéric
Mistral
Male
France
1830
1903
Bjørnstjerne
Bjørnson
Male
Norway
1832
1902
Theodor
Mommsen
Male
Germany
1817
1901
Sully
Prudhomme
Male
France
1839
Sources: Nobelprize