Correlation of Innovation and GDP, 2014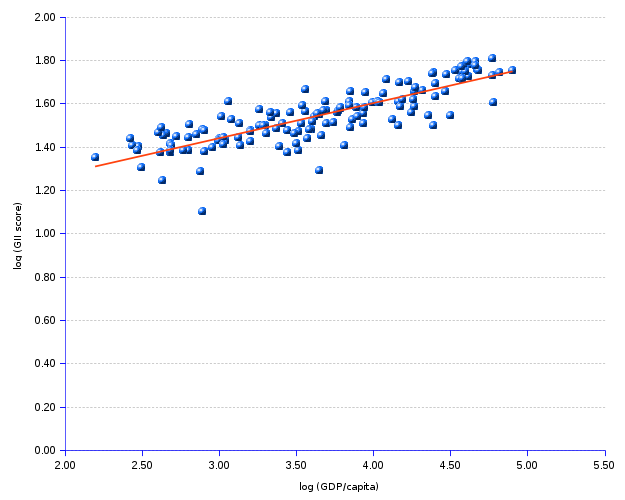 The logarithmic chart shows the relationship between the GII (global innovation index, blue dots, Y-axis) and the GDP per capita (X-axis) for the reporting 143 countries. Logarithms are used instead of the raw values for the sake of clarity, better showing the scatter of the data around the line of fit (straight red line).
The association between the scores and the GDP per capita is strong (correlation coefficient r = 0.82 for the raw values, 0.83 for their log values). The variation of the innovation index is largely explained by the variation of the GDP per capita (determination coefficient R² = 0.67 for the raw data, and 0.70 for the log values). In this respect, the year 2014 is quite in line with the preceding years. The GII ranking chart, also shows how median innovation indexes are higher in countries that enjoy higher GDP. However, this does not tell the full story, as shown by the scatter of the data points around the straight line in the log chart.
The analysis of residuals (the difference between the line of fit and the score) shows both the good and the less good exceptions to the rule. A set of countries score higher on innovation than what their GDP per capita would entitle them to. In descending order the top ten are : Moldova, China, Uganda, Viet Nam, Estonia, Kenya, United Kingdom, Malawi, Mongolia and Rwanda. With the exception of China, Estonia and the United Kingdom, all these countries have GDP per capita below 50% of the median. It is thus established that comparatively poor economies may succeed in achieving relatively high innovation scores.
At the opposite end, residuals expose the poor innovation performance of countries whose GDP entitlement should justify higher scores. The ten worst performers are in descending order: Sudan, Myanmar, Brunei, Venezuela, Algeria, Kuwait, Angola, Togo, Trinidad and Tobago and Yemen. Half of these countries enjoy GDP per capita above the median.