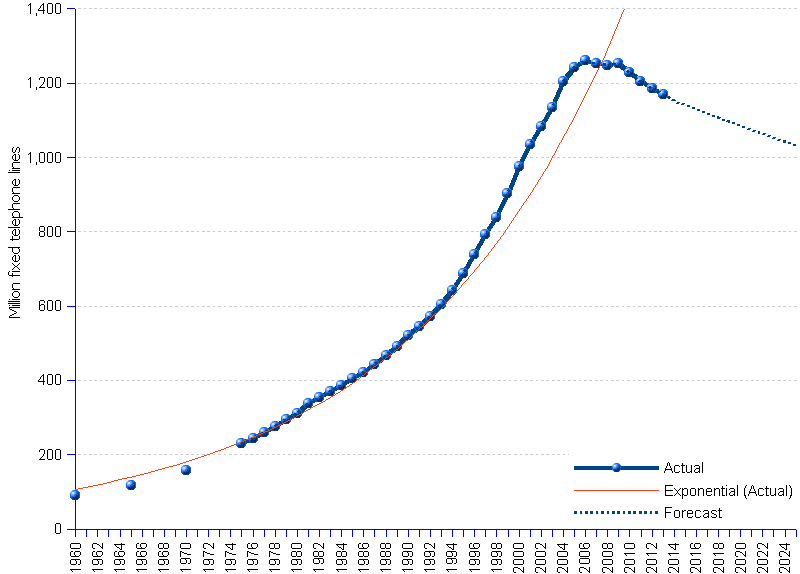 Main (fixed) telephone lines worldwide are past their 2006 peak of 1,261 billion, and initiated a decline that already brought the number of subscriptions down to 1.17 billion or 7% less in 2013, according to data from ITU (International Telecommunications Union) for the period 1960-2013 (actual data : blue dots; forecast : dotted line).
The chart provides a sobering example of the risk taken by forecasters : a sudden technological breakthrough — or a social or economic brutal change for that matter — may fundamentally alter the course of events in an unforeseeable way. In this case, the data followed an exponential growth path, typical of a logistic growth function (red line), until 1995. Growth even accelerated thereafter for a while. Fixed telephony seemed to have a radiant future.
However, the advent of the mobile cellular phone in the early 1980s became a rampant challenge to the fixed line's supremacy. The threat would become obvious with the implementation of the digital GSM protocol for cellular phones in the 1990s. Subscriptions to mobile phones rose fast, causing fixed lines to reach saturation at 1,261 million subscriptions in 2006, after which it was the downfall at the fast pace of -1.05% per year.
In fact, cellular technology may totally outstrip fixed telephony, just in the same way that telefax obliterated telegraph or Internet obliterated telefax.
Currently, cellular technology is capable of meeting and even surpassing fixed line data uploading performance. But it is not yet up to the task of providing data downloading at the same performance level, thus failing to meet requirements to deliver high speed, cost-effective and user-friendly Web browsing or massive data transfers. Telephone lines still do a better job in this respect — where the infrastructure exists —, and both interested businesses and individuals will continue to rely on them to get satisfaction. However, the blow inflicted on fixed lines by mobile telephony in 2001 as the latter became the universally preferred voice communication vehicle, may well replicate in the Internet realm and reduce fixed phone technology to niche application domains.
Main (Fixed) Telephone Lines
Forecast

Year

Telephone lines
(million)

Actual

Forecast ¹

1960
90
90
1961
 
 
1962
 
 
1963
 
 
1964
 
 
1965
116
116
1966
 
 
1967
 
 
1968
 
 
1969
 
 
1970
158
158
1971
 
 
1972
 
 
1973
 
 
1974
 
 
1975
230
230
1976
244
244
1977
260
260
1978
276
276
1979
295
295
1980
312
312
1981
338
338
1982
353
353
1983
370
370
1984
387
387
1985
405
405
1986
422
422
1987
443
443
1988
467
467
1989
492
492
1990
520
520
1991
546
546
1992
572
572
1993
604
604
1994
643
643
1995
689
689
1996
738
738
1997
792
792
1998
838
838
1999
904
904
2000
975
975
2001
1,034
1,034
2002
1,083
1,083
2003
1,135
1,135
2004
1,204
1,204
2005
1,243
1,243
2006
1,261
1,261
2007
1,254
1,254
2008
1,249
1,249
2009
1,253
1,253
2010
1,228
1,228
2011
1,204
1,204
2012
1,186
1,186
2013
1,171
1,171
2014
 
1,153
2015
 
1,141
2016
 
1,130
2017
 
1,119
2018
 
1,108
2019
 
1,097
2020
 
1,086
2021
 
1,075
2022
 
1,064
2023
 
1,054
2024
 
1,043
2025
 
1,033
¹ Substitution forecast
Sources: ITU International Telecommunications Union


areppim: information, pure and simple