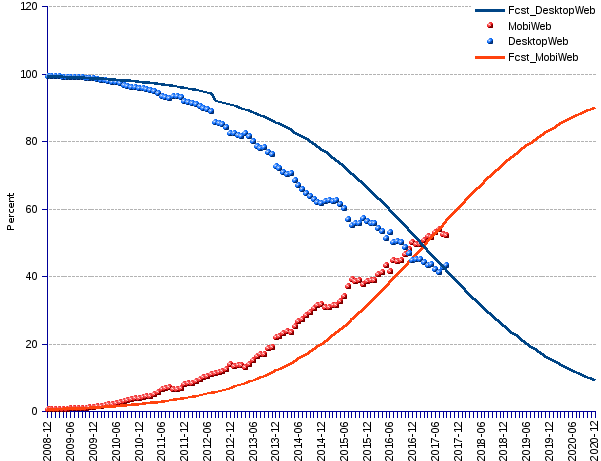 Mobile Web (red dots and curve in the chart) substituted for desktop Web (blue dots and curve in the chart) by November 2016, as shown by the currently available data. Mobile Web's world market share grew to 52% by September 2017, against 43% for the desktop Web. Tablet Web, not accounted for in the chart although reflected by the swerving of the curves in 2012, represented 4% of Web share in 2017, expected to decrease to 2% by late 2020.
Mobile Web is moving up very fast since 2008, at the rate of 4.35% per month (doubling in size every 16 months), while desktop Web is steadily losing ground at the average monthly rate of -1.63%. After having crushed fixed telephone lines, mobile phones have done likewise to the fixed line Web. The latter, with an expected market share of 9% by the end of 2010, will likely be consigned to professional, heavy-duty tasks.
( Check areppim's preceding substitution forecast.

Download the 2014 report )
Forecast
Mobile Web Substitution to Desktop Web
Worldwide

Date

Mobile Web
Percent Market Share

Desktop Web
Percent Market Share

Actual

Forecast ¹

Actual

Forecast ¹

2008-12
0.6
0.69
99.4
99.31
2009-01
0.67
0.72
99.33
99.28
2009-02
0.69
0.76
99.31
99.24
2009-03
0.8
0.80
99.2
99.20
2009-04
0.86
0.84
99.14
99.16
2009-05
0.86
0.88
99.14
99.12
2009-06
0.94
0.93
99.06
99.07
2009-07
1.05
0.98
98.95
99.02
2009-08
1.12
1.02
98.88
98.98
2009-09
1.12
1.08
98.88
98.92
2009-10
1.15
1.13
98.85
98.87
2009-11
1.21
1.19
98.79
98.81
2009-12
1.28
1.25
98.72
98.75
2010-01
1.56
1.31
98.44
98.69
2010-02
1.72
1.38
98.28
98.62
2010-03
1.96
1.45
98.04
98.55
2010-04
2.18
1.52
97.82
98.48
2010-05
2.32
1.60
97.68
98.40
2010-06
2.57
1.68
97.43
98.32
2010-07
2.86
1.77
97.14
98.23
2010-08
3.21
1.86
96.79
98.14
2010-09
3.5
1.95
96.5
98.05
2010-10
3.81
2.05
96.19
97.95
2010-11
4.02
2.15
95.98
97.85
2010-12
4.1
2.26
95.9
97.74
2011-01
4.3
2.38
95.7
97.62
2011-02
4.45
2.49
95.55
97.51
2011-03
4.7
2.62
95.3
97.38
2011-04
5.21
2.75
94.79
97.25
2011-05
5.75
2.89
94.25
97.11
2011-06
6.53
3.03
93.47
96.97
2011-07
7.02
3.18
92.98
96.82
2011-08
7.12
3.34
92.88
96.66
2011-09
6.74
3.51
93.26
96.49
2011-10
6.55
3.68
93.45
96.32
2011-11
6.95
3.87
93.05
96.13
2011-12
8.04
4.06
91.96
95.94
2012-01
8.49
4.26
91.51
95.74
2012-02
8.53
4.47
91.47
95.53
2012-03
8.99
4.69
91.01
95.31
2012-04
9.58
4.92
90.42
95.08
2012-05
10.11
5.16
89.89
94.84
2012-06
10.4
5.41
89.6
94.59
2012-07
11.09
5.67
88.91
94.33
2012-08
11.44
5.83
85.69
92.26
2012-09
11.66
6.11
85.33
91.96
2012-10
11.92
6.41
85.02
91.66
2012-11
12.66
6.71
84.13
91.34
2012-12
14.04
7.03
82.42
91.00
2013-01
13.56
7.37
82.41
90.65
2013-02
13.71
7.71
81.86
90.29
2013-03
13.79
8.08
81.69
89.92
2013-04
13.31
8.46
82.43
89.52
2013-05
13.98
8.85
81.68
89.12
2013-06
15.33
9.26
80.01
88.69
2013-07
16.51
9.69
78.66
88.25
2013-08
17.14
10.14
78.08
87.79
2013-09
16.98
10.61
78.39
87.32
2013-10
18.78
11.09
76.68
86.82
2013-11
19.08
11.59
76.13
86.31
2013-12
22.18
12.11
72.55
85.78
2014-01
22.39
12.66
71.95
85.23
2014-02
23.25
13.22
70.99
84.66
2014-03
23.93
13.80
70.23
84.07
2014-04
23.56
14.41
70.61
83.45
2014-05
25.41
15.04
68.55
82.82
2014-06
26.66
15.69
66.93
82.16
2014-07
27.51
16.36
65.83
81.49
2014-08
28.57
17.05
64.65
80.79
2014-09
29.36
17.77
63.84
80.07
2014-10
30.67
18.51
62.77
79.32
2014-11
31.54
19.28
61.92
78.55
2014-12
31.82
20.07
61.68
77.76
2015-01
31.06
20.88
62.38
76.95
2015-02
30.81
21.72
62.62
76.11
2015-03
31.58
22.58
62.26
75.25
2015-04
31.56
23.47
62.71
74.37
2015-05
32.82
24.37
61.49
73.47
2015-06
34.21
25.31
60.11
72.54
2015-07
37.15
26.26
57
71.59
2015-08
39.18
27.24
55.22
70.62
2015-09
38.78
28.24
55.91
69.62
2015-10
39.01
29.26
55.86
68.61
2015-11
37.62
30.31
57.21
67.58
2015-12
38.62
31.37
56.25
66.52
2016-01
38.88
32.46
55.86
65.45
2016-02
38.96
33.56
55.82
64.36
2016-03
40.6
34.68
54.19
63.25
2016-04
41.32
35.82
53.54
62.13
2016-05
43.5
36.98
51.46
60.99
2016-06
41.61
38.15
53.22
59.83
2016-07
44.75
39.33
50.1
58.67
2016-08
44.41
40.53
50.61
57.49
2016-09
44.91
41.74
50.28
56.30
2016-10
46.53
42.96
48.74
55.11
2016-11
48.25
44.18
46.93
53.90
2016-12
50.31
45.42
44.79
52.69
2017-01
49.6
46.65
45.27
51.48
2017-02
49.73
47.90
45.23
50.26
2017-03
50.75
49.14
44.36
49.04
2017-04
51.95
50.39
43.23
47.82
2017-05
51.7
51.64
43.59
46.60
2017-06
53.03
52.88
42.19
45.38
2017-07
53.99
54.12
41.22
44.17
2017-08
52.64
55.36
42.75
42.97
2017-09
52.29
56.58
43.29
41.77
2017-10
57.80
40.58
2017-11
59.01
39.40
2017-12
60.21
38.23
2018-01
61.40
37.07
2018-02
62.58
35.93
2018-03
63.74
34.80
2018-04
64.88
33.69
2018-05
66.01
32.60
2018-06
67.11
31.52
2018-07
68.20
30.46
2018-08
69.27
29.42
2018-09
70.32
28.41
2018-10
71.35
27.41
2018-11
72.36
26.43
2018-12
73.34
25.48
2019-01
74.31
24.55
2019-02
75.24
23.64
2019-03
76.16
22.76
2019-04
77.05
21.89
2019-05
77.92
21.06
2019-06
78.76
20.24
2019-07
79.58
19.45
2019-08
80.38
18.68
2019-09
81.15
17.94
2019-10
81.90
17.22
2019-11
82.63
16.52
2019-12
83.33
15.84
2020-01
84.01
15.19
2020-02
84.67
14.56
2020-03
85.30
13.95
2020-04
85.91
13.36
2020-05
86.50
12.79
2020-06
87.07
12.24
2020-07
87.62
11.72
2020-08
88.15
11.21
2020-09
88.66
10.72
2020-10
89.15
10.25
2020-11
89.62
9.80
2020-12
90.08
9.37
Average monthly change rate
4.35%
3.44%
-1.63%
-0.79%
Intersection
2016-11
2017-03
¹ Technology substitution forecast
Source: StatCounter Global Stats


areppim: information, pure and simple