Check also Web search market share trends by region :
world piechart | world timeseries | Africa | Asia | Europe | North America | Oceania | South America | Switzerland.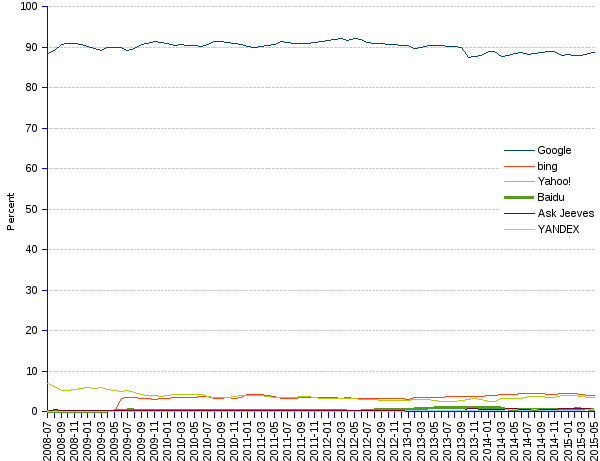 With roughly a 89% world market share, Google is the hegemonic leader of the search engine business. However, it has been slowly declining, losing some ground to the competition. With a little less than 4% market share, bing have a draw with Yahoo! in the race for the second position. Other competitors, including the Chinese provider Baidu, remain very small players, below 1% share. Some search engines such as the Chinese Haosou and SoGou Search, or the US filter bubble-adverse DuckDuckGo, albeit extremely modest, are growing at 4% to 5% per month.
Web Search Percent Market Share — World
(As of May 2015)
| | | | | | | | | | | | | | | | | | | | | | | | | | | | | | |
| --- | --- | --- | --- | --- | --- | --- | --- | --- | --- | --- | --- | --- | --- | --- | --- | --- | --- | --- | --- | --- | --- | --- | --- | --- | --- | --- | --- | --- | --- |
| Date | Google | bing | Yahoo! | Baidu | Ask Jeeves | YANDEX RU | AOL | Naver | YANDEX | Babylon | Haosou | Conduit | Seznam | AVG Search | StartPagina (Google) | MSN | Webcrawler | SweetIM | Windows Live | Mail.ru | Soguo Search | Daum | DuckDuckGo | Snap.do | WEB.DE | Alot Search | Comcast | t-online | Other |
| 2008-07 | 88.32 | 0 | 6.95 | 0 | 0.06 | 0.1 | 0.63 | 0 | 0 | 0 | 0 | 0 | 0 | 0 | 0 | 1.28 | 0 | 0 | 1.78 | 0 | 0 | 0 | 0 | 0 | 0 | 0 | 0 | 0 | 0.87 |
| 2008-08 | 89.16 | 0 | 6.27 | 0 | 0.55 | 0.1 | 0.49 | 0 | 0 | 0 | 0 | 0 | 0 | 0 | 0 | 1.75 | 0 | 0 | 1.21 | 0 | 0 | 0 | 0 | 0 | 0 | 0 | 0 | 0 | 0.47 |
| 2008-09 | 90.53 | 0 | 5.31 | 0 | 0.45 | 0.13 | 0.38 | 0 | 0 | 0 | 0 | 0 | 0 | 0 | 0 | 1.54 | 0 | 0 | 1.19 | 0 | 0 | 0 | 0 | 0 | 0 | 0 | 0 | 0 | 0.46 |
| 2008-10 | 90.92 | 0 | 5.2 | 0 | 0.4 | 0.16 | 0.36 | 0 | 0 | 0 | 0 | 0 | 0 | 0 | 0 | 1.38 | 0 | 0 | 1.15 | 0 | 0 | 0 | 0 | 0 | 0 | 0 | 0 | 0 | 0.42 |
| 2008-11 | 90.79 | 0 | 5.51 | 0 | 0.39 | 0.18 | 0.42 | 0 | 0 | 0 | 0 | 0 | 0 | 0 | 0.05 | 1.27 | 0 | 0 | 1.04 | 0 | 0 | 0 | 0 | 0 | 0 | 0 | 0 | 0 | 0.35 |
| 2008-12 | 90.58 | 0 | 5.82 | 0 | 0.35 | 0.14 | 0.45 | 0 | 0 | 0 | 0 | 0 | 0 | 0 | 0.06 | 1.29 | 0 | 0 | 1.05 | 0 | 0 | 0 | 0 | 0 | 0 | 0 | 0 | 0 | 0.24 |
| 2009-01 | 90.21 | 0 | 5.93 | 0 | 0.4 | 0.16 | 0.48 | 0 | 0 | 0 | 0 | 0 | 0 | 0 | 0.07 | 1.38 | 0 | 0 | 1.1 | 0 | 0 | 0 | 0 | 0 | 0 | 0 | 0 | 0 | 0.27 |
| 2009-02 | 89.65 | 0 | 5.75 | 0 | 0.39 | 0.19 | 0.47 | 0.01 | 0 | 0 | 0 | 0 | 0 | 0 | 0.07 | 1.46 | 0 | 0 | 1.8 | 0 | 0 | 0 | 0 | 0 | 0 | 0 | 0 | 0 | 0.2 |
| 2009-03 | 89.1 | 0 | 6.02 | 0.21 | 0.41 | 0.18 | 0.51 | 0.01 | 0 | 0 | 0 | 0 | 0 | 0 | 0.07 | 1.47 | 0.01 | 0 | 1.81 | 0 | 0 | 0 | 0 | 0 | 0 | 0 | 0 | 0 | 0.19 |
| 2009-04 | 89.87 | 0 | 5.48 | 0.22 | 0.38 | 0.2 | 0.44 | 0.02 | 0 | 0 | 0 | 0 | 0.03 | 0 | 0.05 | 1.26 | 0.04 | 0 | 1.82 | 0 | 0 | 0 | 0 | 0 | 0 | 0 | 0 | 0 | 0.18 |
| 2009-05 | 89.82 | 0 | 5.27 | 0.38 | 0.4 | 0.21 | 0.43 | 0.02 | 0 | 0 | 0 | 0 | 0.03 | 0 | 0.06 | 1.31 | 0.04 | 0 | 1.87 | 0 | 0 | 0 | 0 | 0 | 0 | 0 | 0 | 0 | 0.17 |
| 2009-06 | 89.8 | 3.27 | 5.15 | 0.46 | 0.34 | 0.2 | 0.41 | 0.02 | 0 | 0 | 0 | 0 | 0.08 | 0 | 0.06 | 0.01 | 0.04 | 0 | 0.02 | 0 | 0 | 0 | 0 | 0 | 0 | 0 | 0 | 0 | 0.15 |
| 2009-07 | 89.23 | 3.59 | 5.18 | 0.5 | 0.32 | 0.19 | 0.4 | 0.01 | 0 | 0 | 0 | 0 | 0.32 | 0 | 0.05 | 0 | 0.04 | 0 | 0 | 0 | 0 | 0 | 0 | 0 | 0.01 | 0 | 0 | 0 | 0.15 |
| 2009-08 | 89.57 | 3.58 | 4.84 | 0.58 | 0.33 | 0.18 | 0.37 | 0.01 | 0 | 0 | 0 | 0 | 0.31 | 0 | 0.05 | 0 | 0.03 | 0 | 0 | 0 | 0 | 0 | 0 | 0 | 0.01 | 0 | 0 | 0 | 0.14 |
| 2009-09 | 90.54 | 3.25 | 4.37 | 0.47 | 0.34 | 0.19 | 0.35 | 0.01 | 0 | 0 | 0 | 0 | 0.28 | 0 | 0.05 | 0 | 0.03 | 0 | 0 | 0 | 0 | 0 | 0 | 0 | 0.01 | 0 | 0 | 0 | 0.14 |
| 2009-10 | 90.81 | 3.31 | 4.1 | 0.41 | 0.33 | 0.23 | 0.3 | 0.02 | 0 | 0 | 0 | 0 | 0.28 | 0 | 0.05 | 0 | 0.02 | 0 | 0 | 0 | 0 | 0 | 0 | 0 | 0.01 | 0 | 0 | 0 | 0.13 |
| 2009-11 | 91.37 | 2.98 | 3.95 | 0.31 | 0.36 | 0.23 | 0.29 | 0.03 | 0 | 0 | 0 | 0 | 0.26 | 0 | 0.05 | 0 | 0.02 | 0 | 0 | 0 | 0 | 0 | 0 | 0 | 0.01 | 0 | 0 | 0 | 0.13 |
| 2009-12 | 91.22 | 3.26 | 3.9 | 0.35 | 0.35 | 0.24 | 0.27 | 0.03 | 0 | 0 | 0 | 0 | 0.17 | 0 | 0.05 | 0 | 0.02 | 0 | 0 | 0 | 0 | 0 | 0 | 0 | 0.01 | 0 | 0 | 0 | 0.13 |
| 2010-01 | 90.77 | 3.41 | 4.12 | 0.37 | 0.41 | 0.25 | 0.29 | 0.08 | 0 | 0 | 0 | 0 | 0.08 | 0 | 0.06 | 0 | 0.03 | 0 | 0 | 0 | 0 | 0 | 0 | 0 | 0.01 | 0 | 0 | 0 | 0.13 |
| 2010-02 | 90.48 | 3.65 | 4.19 | 0.3 | 0.45 | 0.24 | 0.31 | 0.07 | 0 | 0 | 0 | 0 | 0.05 | 0 | 0.07 | 0 | 0.03 | 0 | 0 | 0 | 0 | 0 | 0 | 0 | 0.01 | 0 | 0 | 0 | 0.14 |
| 2010-03 | 90.54 | 3.56 | 4.2 | 0.33 | 0.43 | 0.23 | 0.29 | 0.14 | 0 | 0 | 0 | 0 | 0.05 | 0 | 0.06 | 0 | 0.03 | 0 | 0 | 0 | 0 | 0 | 0 | 0 | 0.01 | 0 | 0 | 0 | 0.13 |
| 2010-04 | 90.39 | 3.57 | 4.29 | 0.42 | 0.41 | 0.23 | 0.29 | 0.12 | 0 | 0 | 0 | 0 | 0.04 | 0 | 0.05 | 0.01 | 0.03 | 0 | 0 | 0 | 0 | 0 | 0 | 0 | 0.01 | 0 | 0 | 0 | 0.13 |
| 2010-05 | 90.44 | 3.54 | 4.28 | 0.38 | 0.41 | 0.23 | 0.31 | 0.12 | 0 | 0 | 0 | 0 | 0.05 | 0 | 0.06 | 0.01 | 0.03 | 0 | 0 | 0 | 0 | 0 | 0 | 0 | 0.01 | 0 | 0 | 0 | 0.13 |
| 2010-06 | 90.07 | 3.75 | 4.4 | 0.41 | 0.42 | 0.24 | 0.31 | 0.15 | 0 | 0 | 0 | 0 | 0.05 | 0 | 0.05 | 0.01 | 0.03 | 0 | 0 | 0 | 0 | 0 | 0 | 0 | 0.01 | 0 | 0 | 0 | 0.12 |
| 2010-07 | 90.59 | 3.74 | 3.89 | 0.37 | 0.44 | 0.25 | 0.3 | 0.13 | 0 | 0 | 0 | 0 | 0.06 | 0 | 0.05 | 0.01 | 0.03 | 0 | 0 | 0 | 0 | 0 | 0 | 0 | 0.01 | 0 | 0 | 0 | 0.12 |
| 2010-08 | 91.25 | 3.4 | 3.66 | 0.32 | 0.42 | 0.28 | 0.27 | 0.13 | 0 | 0 | 0 | 0 | 0.06 | 0 | 0.06 | 0.01 | 0.03 | 0 | 0 | 0 | 0 | 0 | 0 | 0 | 0.01 | 0 | 0 | 0 | 0.11 |
| 2010-09 | 91.4 | 3.42 | 3.54 | 0.29 | 0.41 | 0.3 | 0.24 | 0.13 | 0 | 0 | 0 | 0 | 0.05 | 0 | 0.05 | 0.01 | 0.03 | 0 | 0 | 0 | 0 | 0.03 | 0 | 0 | 0.01 | 0 | 0 | 0 | 0.11 |
| 2010-10 | 91.22 | 3.47 | 3.6 | 0.28 | 0.41 | 0.33 | 0.22 | 0.19 | 0 | 0 | 0 | 0 | 0.05 | 0 | 0.05 | 0 | 0.03 | 0 | 0 | 0 | 0 | 0.05 | 0 | 0 | 0.01 | 0 | 0 | 0 | 0.08 |
| 2010-11 | 90.92 | 3.4 | 3.91 | 0.34 | 0.39 | 0.35 | 0.21 | 0.22 | 0 | 0 | 0 | 0 | 0.05 | 0 | 0.05 | 0 | 0.03 | 0 | 0 | 0 | 0 | 0.05 | 0 | 0 | 0.01 | 0 | 0 | 0 | 0.08 |
| 2010-12 | 90.57 | 3.5 | 4.11 | 0.33 | 0.38 | 0.35 | 0.21 | 0.29 | 0 | 0 | 0 | 0 | 0.05 | 0 | 0.05 | 0 | 0.03 | 0 | 0 | 0 | 0 | 0.05 | 0 | 0 | 0.01 | 0 | 0 | 0 | 0.08 |
| 2011-01 | 90.11 | 4.27 | 3.96 | 0.33 | 0.36 | 0.31 | 0.2 | 0.19 | 0 | 0 | 0 | 0 | 0.05 | 0 | 0.05 | 0 | 0.03 | 0 | 0 | 0 | 0 | 0.04 | 0 | 0 | 0.01 | 0 | 0 | 0 | 0.07 |
| 2011-02 | 89.94 | 4.37 | 3.93 | 0.32 | 0.35 | 0.35 | 0.2 | 0.22 | 0 | 0 | 0 | 0 | 0.04 | 0.05 | 0.05 | 0 | 0.03 | 0 | 0 | 0 | 0 | 0.03 | 0 | 0 | 0.01 | 0.03 | 0 | 0 | 0.09 |
| 2011-03 | 90.12 | 4.21 | 3.94 | 0.35 | 0.32 | 0.38 | 0.19 | 0.17 | 0 | 0 | 0 | 0 | 0.04 | 0.06 | 0.04 | 0 | 0.02 | 0 | 0 | 0 | 0 | 0.03 | 0 | 0 | 0.01 | 0.03 | 0 | 0 | 0.09 |
| 2011-04 | 90.29 | 3.99 | 3.81 | 0.54 | 0.34 | 0.35 | 0.19 | 0.17 | 0 | 0 | 0 | 0 | 0.04 | 0.06 | 0.04 | 0 | 0.02 | 0 | 0 | 0 | 0 | 0.03 | 0 | 0 | 0.01 | 0.03 | 0 | 0 | 0.08 |
| 2011-05 | 90.74 | 3.84 | 3.54 | 0.38 | 0.36 | 0.28 | 0.24 | 0.23 | 0 | 0 | 0 | 0 | 0.04 | 0.13 | 0.04 | 0 | 0.01 | 0 | 0 | 0 | 0 | 0.03 | 0 | 0 | 0.01 | 0.03 | 0 | 0 | 0.09 |
| 2011-06 | 91.28 | 3.24 | 3.53 | 0.34 | 0.35 | 0.27 | 0.24 | 0.28 | 0 | 0 | 0 | 0 | 0.05 | 0.19 | 0.04 | 0 | 0.01 | 0 | 0 | 0 | 0 | 0.02 | 0 | 0 | 0.01 | 0.03 | 0 | 0 | 0.1 |
| 2011-07 | 91.01 | 3.41 | 3.55 | 0.32 | 0.38 | 0.26 | 0.24 | 0.35 | 0 | 0 | 0 | 0 | 0.05 | 0.19 | 0.04 | 0 | 0.01 | 0 | 0 | 0 | 0 | 0.03 | 0 | 0 | 0.01 | 0.02 | 0 | 0 | 0.09 |
| 2011-08 | 90.92 | 3.34 | 3.66 | 0.32 | 0.38 | 0.27 | 0.24 | 0.42 | 0 | 0 | 0 | 0 | 0.06 | 0.19 | 0.04 | 0 | 0.01 | 0 | 0 | 0 | 0 | 0.03 | 0 | 0 | 0.01 | 0.03 | 0 | 0 | 0.09 |
| 2011-09 | 90.84 | 3.47 | 3.72 | 0.29 | 0.36 | 0.28 | 0.23 | 0.39 | 0 | 0 | 0 | 0 | 0.05 | 0.17 | 0.04 | 0 | 0.01 | 0 | 0 | 0 | 0 | 0.02 | 0 | 0 | 0.01 | 0.03 | 0 | 0 | 0.09 |
| 2011-10 | 90.78 | 3.54 | 3.71 | 0.28 | 0.39 | 0.28 | 0.22 | 0.41 | 0 | 0 | 0 | 0 | 0.05 | 0.13 | 0.04 | 0 | 0.01 | 0 | 0 | 0 | 0 | 0.02 | 0 | 0 | 0.01 | 0.03 | 0 | 0 | 0.09 |
| 2011-11 | 91.16 | 3.61 | 3.53 | 0.29 | 0.37 | 0.3 | 0.21 | 0.19 | 0 | 0 | 0 | 0 | 0.05 | 0.1 | 0.04 | 0 | 0.01 | 0 | 0 | 0 | 0 | 0.02 | 0 | 0 | 0.01 | 0.02 | 0 | 0 | 0.09 |
| 2011-12 | 91.32 | 3.55 | 3.43 | 0.27 | 0.35 | 0.34 | 0.21 | 0.21 | 0 | 0 | 0 | 0 | 0.05 | 0.05 | 0.04 | 0 | 0.01 | 0 | 0 | 0 | 0 | 0.03 | 0 | 0 | 0.01 | 0.02 | 0 | 0 | 0.09 |
| 2012-01 | 91.53 | 3.56 | 3.33 | 0.23 | 0.34 | 0.35 | 0.21 | 0.17 | 0 | 0 | 0 | 0 | 0.06 | 0.02 | 0.04 | 0 | 0.01 | 0 | 0 | 0 | 0 | 0.02 | 0 | 0 | 0.01 | 0.02 | 0 | 0 | 0.1 |
| 2012-02 | 91.78 | 3.46 | 3.31 | 0.26 | 0.33 | 0.36 | 0.19 | 0.03 | 0 | 0 | 0 | 0 | 0.05 | 0.01 | 0.04 | 0 | 0.01 | 0 | 0 | 0 | 0 | 0.03 | 0 | 0 | 0.01 | 0.02 | 0 | 0 | 0.09 |
| 2012-03 | 92.01 | 3.33 | 3.24 | 0.25 | 0.32 | 0.38 | 0.19 | 0.03 | 0 | 0 | 0 | 0 | 0.05 | 0.01 | 0.04 | 0 | 0.01 | 0 | 0 | 0 | 0 | 0.02 | 0 | 0 | 0.01 | 0.03 | 0 | 0 | 0.08 |
| 2012-04 | 91.7 | 3.5 | 3.36 | 0.26 | 0.32 | 0.38 | 0.19 | 0.03 | 0 | 0 | 0 | 0 | 0.05 | 0.01 | 0.04 | 0 | 0.01 | 0 | 0 | 0 | 0 | 0.02 | 0 | 0 | 0.01 | 0.03 | 0 | 0 | 0.1 |
| 2012-05 | 92.04 | 3.36 | 3.26 | 0.22 | 0.3 | 0.37 | 0.17 | 0.02 | 0 | 0 | 0 | 0 | 0.05 | 0.01 | 0.03 | 0 | 0.01 | 0 | 0 | 0 | 0 | 0.01 | 0 | 0 | 0.01 | 0.03 | 0 | 0 | 0.09 |
| 2012-06 | 91.75 | 3.27 | 3.04 | 0.23 | 0.29 | 0.35 | 0.17 | 0.02 | 0 | 0.29 | 0 | 0.23 | 0.05 | 0.01 | 0.03 | 0.01 | 0.01 | 0.08 | 0 | 0 | 0 | 0.02 | 0 | 0 | 0.01 | 0.03 | 0 | 0 | 0.1 |
| 2012-07 | 91.17 | 3.22 | 2.95 | 0.45 | 0.3 | 0.34 | 0.18 | 0.02 | 0.01 | 0.54 | 0 | 0.41 | 0.05 | 0.01 | 0.03 | 0.01 | 0.01 | 0.13 | 0 | 0 | 0 | 0.02 | 0 | 0 | 0.02 | 0.03 | 0 | 0 | 0.1 |
| 2012-08 | 90.89 | 3.27 | 2.96 | 0.51 | 0.31 | 0.34 | 0.2 | 0.02 | 0.05 | 0.62 | 0 | 0.43 | 0.06 | 0.01 | 0.03 | 0.01 | 0.01 | 0.13 | 0 | 0 | 0 | 0.01 | 0.01 | 0 | 0.02 | 0.03 | 0 | 0 | 0.09 |
| 2012-09 | 90.95 | 3.2 | 2.87 | 0.5 | 0.32 | 0.34 | 0.21 | 0.02 | 0.08 | 0.63 | 0.03 | 0.43 | 0.06 | 0 | 0.03 | 0 | 0.01 | 0.15 | 0 | 0 | 0 | 0.01 | 0.03 | 0 | 0.01 | 0.03 | 0 | 0 | 0.09 |
| 2012-10 | 90.73 | 3.36 | 2.84 | 0.54 | 0.29 | 0.37 | 0.2 | 0.02 | 0.14 | 0.6 | 0.06 | 0.42 | 0.06 | 0 | 0.03 | 0 | 0.01 | 0.16 | 0 | 0 | 0 | 0.02 | 0.01 | 0 | 0.01 | 0.03 | 0 | 0 | 0.08 |
| 2012-11 | 90.75 | 3.32 | 2.77 | 0.58 | 0.28 | 0.36 | 0.19 | 0.02 | 0.15 | 0.62 | 0.07 | 0.46 | 0.06 | 0 | 0.03 | 0 | 0.02 | 0.19 | 0 | 0 | 0 | 0.02 | 0 | 0 | 0.01 | 0.02 | 0 | 0 | 0.08 |
| 2012-12 | 90.42 | 3.26 | 2.81 | 0.67 | 0.44 | 0.35 | 0.2 | 0.03 | 0.18 | 0.56 | 0.11 | 0.52 | 0.06 | 0 | 0.03 | 0 | 0.02 | 0.19 | 0 | 0 | 0 | 0.02 | 0 | 0 | 0.01 | 0.02 | 0 | 0 | 0.08 |
| 2013-01 | 90.49 | 3.16 | 2.8 | 0.64 | 0.47 | 0.36 | 0.2 | 0.03 | 0.24 | 0.49 | 0.12 | 0.52 | 0.07 | 0 | 0.03 | 0 | 0.03 | 0.19 | 0 | 0 | 0 | 0.02 | 0 | 0 | 0.01 | 0.02 | 0 | 0 | 0.08 |
| 2013-02 | 89.68 | 3.57 | 3.08 | 0.74 | 0.47 | 0.43 | 0.22 | 0.05 | 0.26 | 0.41 | 0.19 | 0.47 | 0.07 | 0 | 0.03 | 0 | 0.03 | 0.17 | 0 | 0 | 0 | 0.02 | 0 | 0 | 0.02 | 0.02 | 0 | 0 | 0.07 |
| 2013-03 | 89.95 | 3.53 | 3.09 | 0.95 | 0.17 | 0.42 | 0.21 | 0.05 | 0.26 | 0.3 | 0.28 | 0.38 | 0.08 | 0 | 0.03 | 0 | 0.04 | 0.13 | 0 | 0 | 0 | 0.02 | 0 | 0 | 0.02 | 0.02 | 0 | 0 | 0.06 |
| 2013-04 | 90.27 | 3.54 | 2.96 | 0.95 | 0.12 | 0.38 | 0.19 | 0.05 | 0.29 | 0.28 | 0.28 | 0.32 | 0.07 | 0 | 0.03 | 0.01 | 0.04 | 0.11 | 0 | 0 | 0 | 0.04 | 0 | 0 | 0.02 | 0.01 | 0 | 0 | 0.06 |
| 2013-05 | 90.49 | 3.61 | 2.73 | 0.98 | 0.12 | 0.33 | 0.17 | 0.08 | 0.32 | 0.28 | 0.28 | 0.28 | 0.07 | 0 | 0.03 | 0 | 0.03 | 0.05 | 0 | 0 | 0 | 0.04 | 0 | 0 | 0.02 | 0.01 | 0 | 0 | 0.09 |
| 2013-06 | 90.27 | 3.64 | 2.66 | 1.07 | 0.13 | 0.35 | 0.2 | 0.13 | 0.33 | 0.31 | 0.25 | 0.24 | 0.09 | 0 | 0.03 | 0 | 0.04 | 0.06 | 0 | 0 | 0 | 0.03 | 0.03 | 0 | 0.02 | 0.01 | 0 | 0 | 0.12 |
| 2013-07 | 90.2 | 3.73 | 2.68 | 1.11 | 0.13 | 0.36 | 0.22 | 0.19 | 0.24 | 0.3 | 0.23 | 0.22 | 0.07 | 0 | 0.02 | 0 | 0.06 | 0.07 | 0 | 0 | 0 | 0.04 | 0.01 | 0 | 0.02 | 0.01 | 0 | 0 | 0.06 |
| 2013-08 | 90.14 | 3.76 | 2.66 | 1.17 | 0.12 | 0.39 | 0.21 | 0.24 | 0.3 | 0.27 | 0.18 | 0.2 | 0.07 | 0 | 0.02 | 0 | 0.08 | 0.05 | 0 | 0 | 0 | 0.04 | 0.01 | 0 | 0.03 | 0.01 | 0 | 0 | 0.05 |
| 2013-09 | 89.98 | 3.91 | 2.71 | 1.11 | 0.12 | 0.42 | 0.19 | 0.3 | 0.31 | 0.21 | 0.18 | 0.15 | 0.07 | 0 | 0.02 | 0 | 0.1 | 0.03 | 0 | 0 | 0 | 0.04 | 0.06 | 0 | 0.03 | 0.01 | 0 | 0 | 0.06 |
| 2013-10 | 87.5 | 3.91 | 3.18 | 1.05 | 0.75 | 0.39 | 0.18 | 0.3 | 0.29 | 0.16 | 0.74 | 0.12 | 0.07 | 0.12 | 0.02 | 0 | 0.08 | 0.03 | 0 | 0.12 | 0.07 | 0.03 | 0.03 | 0.13 | 0.02 | 0.01 | 0.05 | 0.04 | 0.58 |
| 2013-11 | 87.71 | 3.86 | 3.21 | 1.06 | 0.76 | 0.4 | 0.18 | 0.27 | 0.33 | 0.12 | 0.66 | 0.11 | 0.06 | 0.1 | 0.02 | 0 | 0.09 | 0.02 | 0 | 0.15 | 0.09 | 0.03 | 0.03 | 0.18 | 0.02 | 0 | 0.06 | 0.04 | 0.42 |
| 2013-12 | 87.98 | 3.9 | 3.12 | 1.06 | 0.62 | 0.38 | 0.18 | 0.26 | 0.36 | 0.07 | 0.63 | 0.1 | 0.06 | 0.09 | 0.02 | 0 | 0.14 | 0.02 | 0 | 0.15 | 0.11 | 0.02 | 0.02 | 0.17 | 0.02 | 0.01 | 0.06 | 0.04 | 0.42 |
| 2014-01 | 88.85 | 4.03 | 2.51 | 0.97 | 0.62 | 0.38 | 0.19 | 0.3 | 0.38 | 0.05 | 0.51 | 0.09 | 0.06 | 0.08 | 0.02 | 0 | 0.11 | 0.02 | 0 | 0.14 | 0.11 | 0.02 | 0.02 | 0.14 | 0.02 | 0 | 0.06 | 0.04 | 0.27 |
| 2014-02 | 88.83 | 4.17 | 2.5 | 1.04 | 0.65 | 0.39 | 0.19 | 0.28 | 0.35 | 0.04 | 0.47 | 0.08 | 0.06 | 0.07 | 0.02 | 0 | 0.11 | 0.02 | 0 | 0.14 | 0.11 | 0.02 | 0.03 | 0.11 | 0.02 | 0 | 0.05 | 0.04 | 0.22 |
| 2014-03 | 87.75 | 4.32 | 3.24 | 1.05 | 0.71 | 0.38 | 0.3 | 0.24 | 0.43 | 0.04 | 0.51 | 0.07 | 0.06 | 0.07 | 0.02 | 0 | 0.08 | 0.02 | 0 | 0.12 | 0.11 | 0.02 | 0.07 | 0.1 | 0.02 | 0 | 0.05 | 0.03 | 0.2 |
| 2014-04 | 88.02 | 4.32 | 3.21 | 0.71 | 0.72 | 0.37 | 0.24 | 0.21 | 0.63 | 0.04 | 0.48 | 0.06 | 0.07 | 0.06 | 0.02 | 0 | 0.1 | 0.01 | 0 | 0.11 | 0.09 | 0.02 | 0.07 | 0.1 | 0.02 | 0 | 0.04 | 0.03 | 0.23 |
| 2014-05 | 88.42 | 4.41 | 3.35 | 0.55 | 0.72 | 0.35 | 0.2 | 0.25 | 0.56 | 0.04 | 0.19 | 0.06 | 0.09 | 0.06 | 0.02 | 0 | 0.06 | 0.01 | 0 | 0.1 | 0.07 | 0.02 | 0.09 | 0.08 | 0.02 | 0 | 0.04 | 0.04 | 0.18 |
| 2014-06 | 88.74 | 4.42 | 3.42 | 0.49 | 0.69 | 0.35 | 0.19 | 0.25 | 0.44 | 0.03 | 0.16 | 0.04 | 0.07 | 0.05 | 0.02 | 0 | 0.05 | 0.01 | 0 | 0.1 | 0.08 | 0.02 | 0.07 | 0.04 | 0.02 | 0 | 0.04 | 0.04 | 0.15 |
| 2014-07 | 88.2 | 4.57 | 3.79 | 0.56 | 0.71 | 0.36 | 0.19 | 0.21 | 0.43 | 0.03 | 0.17 | 0.04 | 0.07 | 0.05 | 0.02 | 0 | 0.05 | 0.01 | 0 | 0.1 | 0.09 | 0.02 | 0.03 | 0.03 | 0.02 | 0 | 0.05 | 0.04 | 0.15 |
| 2014-08 | 88.44 | 4.49 | 3.69 | 0.56 | 0.64 | 0.35 | 0.19 | 0.2 | 0.49 | 0.03 | 0.17 | 0.03 | 0.06 | 0.04 | 0.02 | 0 | 0.05 | 0.01 | 0 | 0.1 | 0.1 | 0.02 | 0.03 | 0.02 | 0.02 | 0 | 0.05 | 0.04 | 0.14 |
| 2014-09 | 88.55 | 4.55 | 3.69 | 0.56 | 0.63 | 0.37 | 0.19 | 0.18 | 0.4 | 0.03 | 0.16 | 0 | 0.05 | 0.04 | 0.02 | 0 | 0.03 | 0.01 | 0 | 0.1 | 0.1 | 0.02 | 0.04 | 0.02 | 0.02 | 0 | 0.04 | 0.04 | 0.15 |
| 2014-10 | 88.86 | 4.41 | 3.54 | 0.5 | 0.62 | 0.41 | 0.18 | 0.19 | 0.42 | 0.02 | 0.15 | 0 | 0.05 | 0.04 | 0.02 | 0.04 | 0.03 | 0.01 | 0 | 0.1 | 0.09 | 0.02 | 0.04 | 0.02 | 0.02 | 0 | 0.04 | 0.05 | 0.12 |
| 2014-11 | 88.91 | 4.35 | 3.44 | 0.53 | 0.7 | 0.41 | 0.18 | 0.16 | 0.45 | 0.02 | 0.17 | 0 | 0.06 | 0.03 | 0.02 | 0.04 | 0.03 | 0.01 | 0 | 0.1 | 0.11 | 0.02 | 0.04 | 0.02 | 0.02 | 0 | 0.04 | 0.04 | 0.12 |
| 2014-12 | 88.02 | 4.54 | 4.06 | 0.59 | 0.74 | 0.42 | 0.17 | 0.16 | 0.38 | 0.02 | 0.18 | 0 | 0.06 | 0.03 | 0.02 | 0.04 | 0.04 | 0.01 | 0 | 0.11 | 0.11 | 0.02 | 0.03 | 0.02 | 0.03 | 0 | 0.04 | 0.05 | 0.12 |
| 2015-01 | 88.1 | 4.53 | 4.13 | 0.61 | 0.72 | 0.41 | 0.17 | 0.18 | 0.35 | 0.01 | 0.03 | 0 | 0.07 | 0.03 | 0.02 | 0.04 | 0.04 | 0.01 | 0 | 0.12 | 0.1 | 0.02 | 0.05 | 0.01 | 0.03 | 0 | 0.04 | 0.06 | 0.12 |
| 2015-02 | 87.93 | 4.55 | 4.03 | 0.77 | 0.76 | 0.44 | 0.17 | 0.2 | 0.29 | 0.01 | 0.1 | 0 | 0.07 | 0.03 | 0.02 | 0.03 | 0.05 | 0.01 | 0 | 0.12 | 0.11 | 0.01 | 0.05 | 0.01 | 0.02 | 0 | 0.04 | 0.05 | 0.11 |
| 2015-03 | 87.95 | 4.4 | 3.87 | 0.81 | 0.81 | 0.45 | 0.16 | 0.17 | 0.28 | 0.01 | 0.23 | 0 | 0.07 | 0.03 | 0.02 | 0.07 | 0.05 | 0.01 | 0 | 0.12 | 0.14 | 0.01 | 0.1 | 0.01 | 0.03 | 0 | 0.04 | 0.05 | 0.12 |
| 2015-04 | 88.44 | 4.12 | 3.67 | 0.61 | 0.76 | 0.43 | 0.16 | 0.16 | 0.52 | 0.01 | 0.25 | 0 | 0.07 | 0.02 | 0.02 | 0.05 | 0.05 | 0.01 | 0 | 0.12 | 0.13 | 0.01 | 0.15 | 0 | 0.03 | 0 | 0.04 | 0.05 | 0.11 |
| 2015-05 | 88.67 | 3.95 | 3.54 | 0.59 | 0.68 | 0.38 | 0.16 | 0.18 | 0.66 | 0.01 | 0.35 | 0 | 0.07 | 0.02 | 0.02 | 0.04 | 0.05 | 0.01 | 0 | 0.11 | 0.12 | 0.01 | 0.15 | 0 | 0.03 | 0 | 0.01 | 0.06 | 0.11 |
| Average change rate (last 12 months) | 0.0% | -0.9% | 0.5% | 0.6% | -0.5% | 0.7% | -1.8% | -2.7% | 1.4% | -10.9% | 5.2% | -100.0% | -2.1% | -8.7% | 0.0% | | -1.5% | 0.0% | | 0.8% | 4.6% | -5.6% | 4.3% | -100.0% | 3.4% | | -10.9% | 3.4% | -4.0% |
Source: StatCounter Global Stats


areppim: information, pure and simple