Check also Web search market share trends by region :
world piechart | world timeseries | Africa | Asia | Europe | North America | Oceania | South America | Switzerland.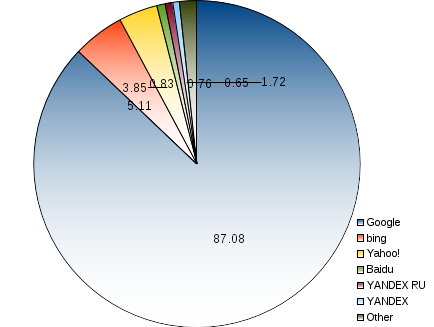 By end September 2017, three Web search providers make 96% of the world web search market. Google keeps the giant's share with 87%. Other players can boast only lilliputian portions, including bing's 5%, and Yahoo!'s 4%. Other search engines have minuscule share of less than 1%.
Web Search
Percent Market Share Worldwide
(As of September 2017)

Operating System

Percent

Google
87.08
bing
5.11
Yahoo!
3.85
Baidu
0.83
YANDEX RU
0.76
YANDEX
0.65
Other
1.72
Total
100
Source: StatCounter Global Stats


areppim: information, pure and simple