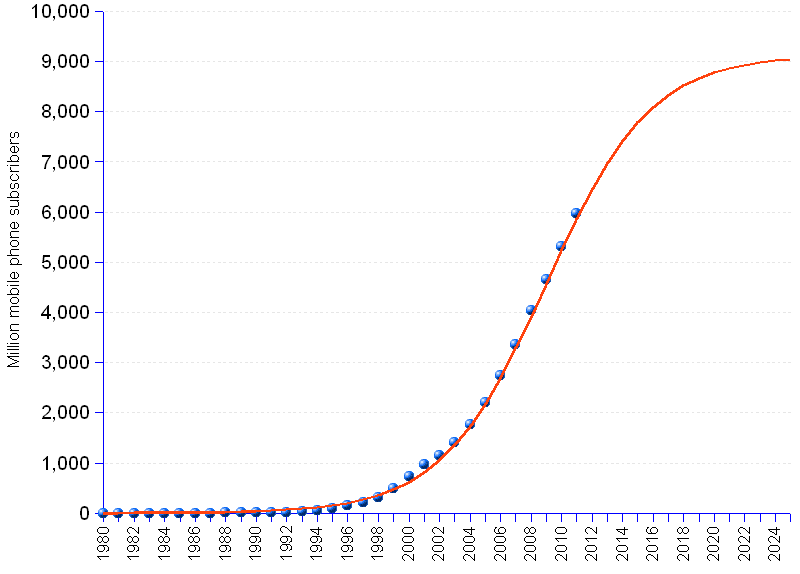 By the end of 2011 there were 6 billion mobile subscribers worldwide, corresponding to a global penetration of 86%, reports ITU (International Telecommunications Union). This averages 8.5 mobile phones for 10 people, or about 1 device per living person above 5 years of age.
Our new forecast (compare with 2008 and 2011 forecasts) shows actual ITU's data from 1980 through 2011, represented by blue dots, and areppim's forecast till 2025, represented by the S-shaped red line. The model anticipates a global market size of 9 billion subscribers by 2025, corresponding to 113% of the projected world population, and close to saturation that could happen at 9.1 billion subscribers by the late 2030's.
Obviously, this is what the mathematics say — reality is unlikely to follow maths that closely. First, the total world population in 2015 is expected to reach 8.01 billion people, of which 6.8 billion of age 10 to 84. It does not seem very reasonable to believe that each 10 people in this group will hold 13 subscriptions. Secondly, unforeseen technological innovations may totally upset the mobile phone paradigm, as the latter did to the fixed line telephony in the late 20th century. In any case, the S-curve model raises a few pertinent questions : could the exponential growth be already over as suggested ? could stagnation appear in less than 10 years following the red line ? what plans could the present mobile big players consider to survive the looming starvation ?
To summarize the current status of mobile cellular telephony, let us quote ITU's highlights, released in June 2012.
Total mobile cellular subscriptions reached almost 6 billion by end 2011, corresponding to a global penetration of 86%.
Growth was driven by developing countries, which accounted for more than 80% of the 660 million new mobile cellular subscriptions added in 2011.
In 2011, 142 million mobile cellular subscriptions were added in India, twice as many as in the whole Africa, and more than in the Arab States, CIS and Europe together.
By end 2011, there were 105 countries with more mobile cellular subscriptions than inhabitants, including African countries such as Botswana, Gabon, Namibia, Seychelles and South Africa.
Countries where mobile cellular penetration increased the most in 2011 include Brazil, Costa Rica, Kazakhstan, Lao P.D.R. and Mali.
Mobile Cellular Phone Subscribers
(million)

Year

Actual

Forecast ¹

1980
0.02
2.0
1981
0.06
2.6
1982
0.10
3.5
1983
0.15
4.7
1984
0.32
6.3
1985
0.75
8.4
1986
1.45
11.2
1987
2.55
15.0
1988
4.33
20.1
1989
7.35
26.8
1990
11.21
35.9
1991
16
47.9
1992
23
64.0
1993
34
85.5
1994
56
114.1
1995
91
152.0
1996
145
202.3
1997
215
268.7
1998
318
356.0
1999
490
470.3
2000
738
618.6
2001
961
809.3
2002
1,157
1,051.5
2003
1,417
1,354.5
2004
1,763
1,726.0
2005
2,207
2,171.1
2006
2,747
2,689.3
2007
3,369
3,273.1
2008
4,031
3,906.7
2009
4,647
4,567.5
2010
5,311
5,228.2
2011
5,972
5,861.9
2012
6,445.6
2013
6,963.8
2014
7,408.9
2015
7,780.5
2016
8,083.4
2017
8,325.7
2018
8,516.4
2019
8,664.7
2020
8,778.9
2021
8,866.3
2022
8,932.7
2023
8,983.0
2024
9,020.9
2025
9,049.5
¹ Logistic growth function
Source: ITU International Telecommunications Union

Download


areppim: information, pure and simple