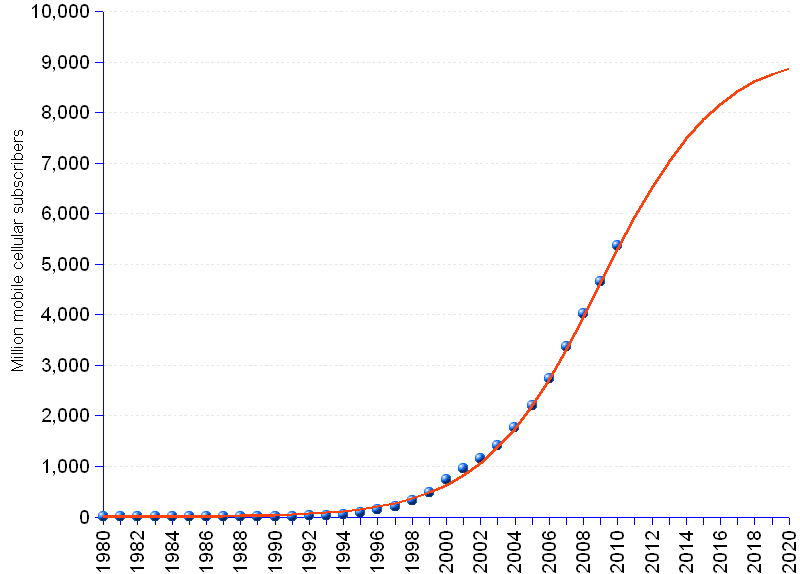 In 2010 there were 5.4 billion mobile subscribers worldwide, reports ITU (International Telecommunications Union). This averages almost 8 mobile phones for 10 people, or about 1 device per living person above 5 years of age.
With the advent of the newest generations of handsets, loaded with so many features that they can hardly be seen as close relatives of former mobile phones as we used to know them, on one hand and, on the other hand, the diffusion of cellular technology as a substitute for non-existent fixed lines in large emerging nations, it is likely that growth will continue for some time, although at slower rates.
Our new forecast (compare with 2008 forecast) based on ITU's data for 2010 (blue dots represent actual data; the red line is produced by a logistic growth function) anticipates a market size of 8.9 billion subscribers by 2020, corresponding to 116% of the projected world population, and close to saturation that could happen at 9.2 billion subscribers.
Mobile Cellular Phone Subscribers
(million)

Year

Actual

Forecast ¹

1980
0.023
2.008
1981
0.064
2.685
1982
0.102
3.591
1983
0.149
4.803
1984
0.319
6.423
1985
0.751
8.588
1986
1.450
11.484
1987
2.545
15.353
1988
4.328
20.523
1989
7.353
27.43
1990
11.212
36.651
1991
16
48.955
1992
23
65.361
1993
34
87.213
1994
56
116.278
1995
91
154.865
1996
145
205.968
1997
215
273.426
1998
318
362.093
1999
490
477.979
2000
738
628.327
2001
961
821.531
2002
1,157
1,066.78
2003
1,417
1,373.29
2004
1,763
1,749.02
2005
2,207
2,198.79
2006
2,747
2,722.17
2007
3,370
3,311.51
2008
4,035
3,951.04
2009
4,650
4,617.80
2010
5,373
5,284.56
2011
5,924.08
2012
6,513.42
2013
7,036.80
2014
7,486.57
2015
7,862.30
2016
8,168.81
2017
8,414.06
2018
8,607.27
2019
8,757.61
2020
8,873.50
¹ logistic growth function
Source: ITU International Telecommunications Union


areppim: information, pure and simple