US drone strikes in Somalia : Strikes and casualties | Trends |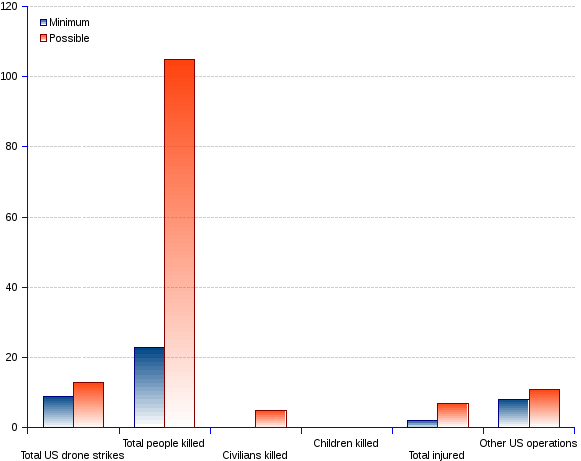 By 8 June 2015, the U.S. completed 9 to 13 drone strikes, killing between 23 to 105 persons, of which possibly 5 civilians, and causing 2 to 7 injured. Further to drone strikes, the U.S. performed 8 to 11 other operations, causing another 40 to 141 deaths, of which 7 to 47 civilians, including possibly 2 children.
Given the chaos prevailing in Somalia, accessing, validating and corroborating the information is particularly difficult. The reality of the US drone war in Somalia may therefore be considerably grimmer: for example, in six instances, although the attacks have been corroborated, the number of casualties has been impossible to estimate and remains unknown.
After the 1993 fiasco of the US troops in Mogadishu, and the total withdrawal from the country in 1995, another undeclared war in Somalia was kick-started in 2001 by president G. W. Bush and the defense secretary Rumsfeld. Lack of intelligence, however, frustrated their large scale attack plans, and the war remained limited to the financial, intelligence and political arenas. On March 2003, US agents abducted the alleged al-Qaeda member Suleiman Abdallah from a hospital in Mogadishu and secretly "rendered" him to the network of secret prisons maintained across the planet by the CIA, where he was tortured and held in confinement for 5 years until being released in 2008. A string of other covert operations, increasingly sophisticated, including intelligence gathering, dealings with local corrupt warlords, infiltration of local organizations, ground operations by US mercenaries, further abductions and "renditions" took place from 2003 through 2006.
Thereafter, the U.S. engaged in a classic war by proxy, the front-stage part being performed first by the Ethiopian forces that invaded Somalia on December 2006, and more recently by Kenyan military that entered the country on October 2011. The US provided material and intelligence support, including airborne and drone support. Fighting wars by delegating the operations to surrogates seems a bright idea that regrettably has never proved very successful. All former colonial powers, e.g. Britain, France, Spain, Portugal, tested the concept and eventually were forced to yield. The U.S. could not do better in South Vietnam, Iraq or Afghanistan. But Washington finds it convenient to try the prescription again in Somalia, and lately in Yemen. So far, its only output is the total breakdown of the region's political and social structures.
US Drone Strikes in Somalia ¹
Casualties 2007-2015

Confirmed

Possible

Total US drone strikes
9
13
Total people killed
23
105
Civilians killed
0
5
Children killed
0
0
Total injured
2
7
Other US operations
8
11
Total people killed
40
141
Civilians killed
7
47
Children killed
0
2
Total injured
11
21
Total US operations
17
24
¹ As of 8 June 2015.

U.S. Worldwide Drone War, Status as of May 2015.


areppim: information, pure and simple
---

US drone strikes in Somalia : Strikes and casualties | Trends |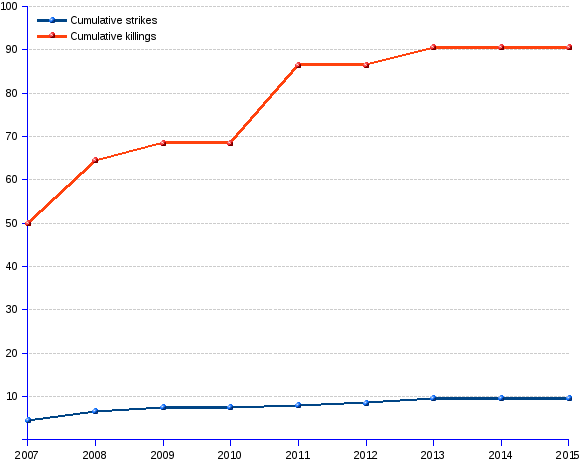 The line chart shows the stabilization of the number of both drone strikes, and of the killings as from 2011, when the U.S. negotiations with the Kenyan goons resulted in the invasion and occupation of Somalia by the Kenyan army, a way of deflecting the military and personnel costs of the Somalia war from the U.S. boys to the African surrogates. In the chaos that prevails in Somalia since then, under the information embargo that Washington imposes on the issue and without any post-operation formal investigation by independent entities, it is hard to collect reliable data, as well as to verify the value of the U.S. excuses for their strikes.
International war law stipulates that, in a non-international conflict, that is between a state and a non-state group like in Somalia, alleged combatants must be clearly identified as belonging to an organized party, not to a loose association of individuals. It further states that civilians can only be targeted if they are proven to participate directly in the hostilities.
By keeping a heavy lid upon the events, by preventing independent sources from investigating the circumstances, and by failing to provide evidence that the killings and injuries were legitimate self-defense actions, the U. S. have made themselves responsible for premeditated war crimes.
Trends of US drone war in Somalia ¹
2007-2015

Year

Drone strikes

Killings

Minimum confirmed

Maximum possible

Median

Cumulative strikes

Minimum confirmed

Maximum possible

Median

Cumulative killings

2007
4
5
5
5
29
71
50
50
2008
2
2
2
7
8
21
15
65
2009
1
1
1
8
2
6
4
69
2010
0
0
8
0
0
69
2011
0
1
1
8
0
36
18
87
2012
0
1
1
9
0
0
87
2013
1
1
1
10
1
7
4
91
2014
0
0
10
0
0
91
2015
0
0
10
0
0
91
Total
8
11
10
 
40
141
91
 
¹ As of 8 June 2015.
Sources: The Bureau of Investigative Journalism.

U.S. Worldwide Drone War, Status as of May 2015.


areppim: information, pure and simple