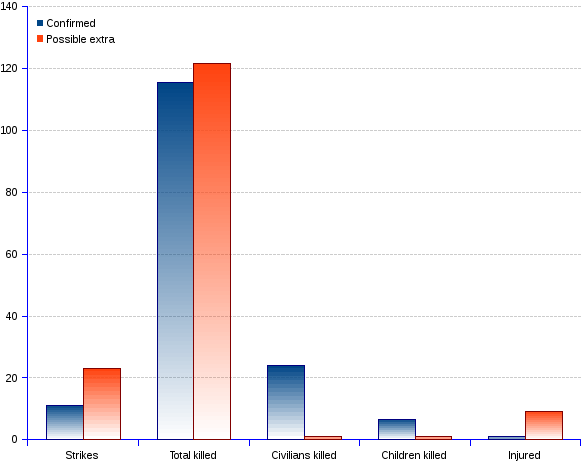 From January 2015 through June 8 2015, the United States completed 11 confirmed, and possibly 23 extra drone strikes in Afghanistan, killing from a minimum of 99 to a possible maximum of 274 persons, of which 14 to 36 civilians, including a possible maximum of 15 children, and causing 1 to 10 injured (the bar chart shows the median values for both the minimum confirmed and the possible extra values).
The current drone war in Afghanistan is an additional and potent piece of evidence of the consummate inadequacy of the NATO/ISAF's strategy in the region. When the U.S., supported by their British flunkies, began an aerial bombing campaign targeting Taliban forces and al-Qaeda in Afghanistan on Sunday 7 October 2001, they were light-years far from anticipating that the Afghan war should grow to be the longest war ever in their history, and a blatant blunder with that, with catastrophic consequences for all involved, excepting the usual profiteers — top military brass, top politicians, and the spongers crowd, arms and other wheeler-dealers.
In spite of the forbearance of the UN Security Council, and of the ingratiating succor provided by the NATO henchmen, the Afghan war dragged piteously until 31 December 2014, when the U.S. Operation Enduring Freedom - Afghanistan was succeeded by Operation Freedom's Sentinel. The urbane and apparently innocuous name-changing actually reveals two significant facts. First, the U.S. have zero wins to show, and feel compelled to continue the war, hoping to be able to contain the insurgency mushrooming they so recklessly nurtured. Second, they are exceedingly preoccupied with the loss of American lives, and feel confident that drone strikes will prove the right means to achieve the "zero casualty war" goal. Still another U.S. misconception to be soon corrected by the facts.
US Drone Strikes in Afghanistan ¹
Casualties 2015

Confirmed

Possible extra

Minimum
Maximum
Median
Minimum
Maximum
Median
Strikes
11
23
Total killed
99
132
116
101
142
122
Civilians killed
14
34
24
0
2
1
Children killed
0
13
7
0
2
1
Injured
1
1
1
9
9
9
¹ As of 8 June 2015.
Sources: The Bureau of Investigative Journalism.

U.S. Worldwide Drone War, Status as of May 2015.


areppim: information, pure and simple