Work stress causes coronary heart disease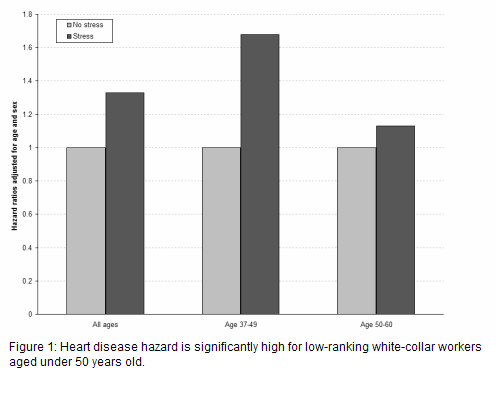 "Work more to make more money" preaches the current French president. The admonition goes against the popular saying of decades ago, claiming that "If you spend your time working, no time is left to make money". Be it as it may, recent research tends to support the idea that, in the 21st century, work actually kills.
According to the results of a massive and decade-long British study, low-rank white-collar employees, particularly under the age of 50, have the highest rates of premature death. There is a clear correlation between lack of job control, high stress and frequency of cardiovascular diseases.
Work stress is associated with a working environment defined by:
High job demands,
Low decision latitude or job control,
Social isolation in the job, i.e. absence of supportive supervisors or co-workers during exposure to stress.
The study not only establishes a causal relationship between job stress and CHD (coronary heart disease) occurrences, but also shows how chronic stress impacts health.
Up to 68% of the individual's total risk for CHD associated with chronic work stress stems from the latter's direct impact on the person's organism, through neuroendocrine mechanisms.
The other 32% is attributable to indirect effects, through the inducement of unhealthy behaviours such as heavy smoking, drinking, low physical activity, bad eating habits. Indeed, work stress is a reliable predictor of weight gain and incident obesity.
The lower hazard ratio among older employees, may be explained by the fact that a healthy worker survivor bias might attenuate the impact of work stress.
(Full report at European Heart Journal (2008) 29, 640-648 doi:10.1093/eurheartj/ehm584, European Society of Cardiology.)