Euro 2008: winning potential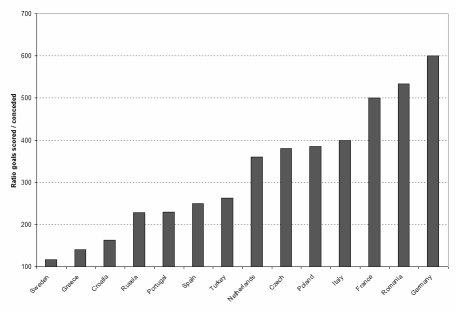 Winning is not a matter of being better or scoring many goals. It is simply a question of having a goal differential marginally superior to that of the opponent teams. To win a game, it is necessary and sufficient to score one goal more than the competing team.
The winning potential of the Euro 2008 teams may be assessed by measuring their offensive and their defensive capability, in terms of the relationship between goals scored and goals conceded.
Euro 2008 qualifying football statistics show two distinct sets of football teams (see chart):
the stingy group: half of the teams in the qualifying stage have a level of goals scored just 1.2 (index 117) to 2.6 (index 263) times higher than that of goals conceded;
the generous group: the other teams achieved levels of scored goals 3.6 (index 360) to 6 (index 600) times higher than the levels of goals conceded.
Forecasting is very difficult, especially forecasting the future, someone said. However, the odds are that Germany is likely to outperform Sweden in the Euro 2008 tournament. What is your guess?