Obesity, a matter of calories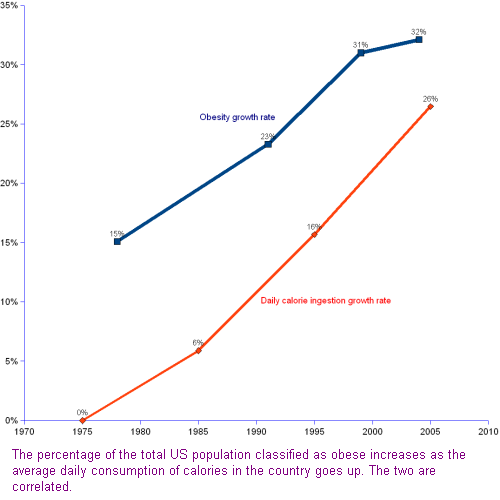 Fancy weight loss diet proponents claim that their recipes will effectively attack overweight and obesity. Since diet authors are not in short supply, their business must be a lucrative one.
However, serious research suggests that it is a snake-oil business, without any robust foundation. The truth of the matter is that fancy diets do not make a real difference. It is the calories that really matter.
"Obesity arises when people consume significantly more calories than they expend in physical activity", says M. Nestle (Scientific American, Sept 2007).
Some nutrition facts about obesity:
in the USA, calories supply per day per person grew from 3090 in 1975 to 3900 in 2005, while
the percentage of population classified as obese grew from 15.1% in 1976 to 33.9% in 2004;
convenience foods, i.e. prepared packaged food and restaurant meals, usually contain more calories than required;
and yet it would suffice to reduce by 500 the daily consumption of calories to reduce weight by 0.5 kg of fat a week.