Euro 2008: the champion's stuff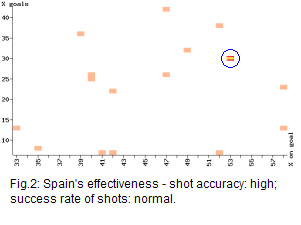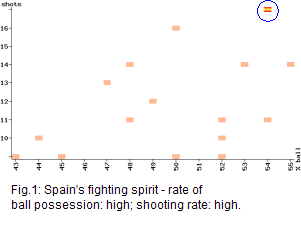 UEFA 2008 football (soccer) cup climaxed with the crowning of Spain. This is a well deserved title. Spain football team, not only had the legs to run, since they were the youngest team of the whole lot, but they also had that extra fighting spirit that is the stuff of champions.
Their performance clearly surpassed other teams. In terms of ball possession (see enlarged figure 1), they attained 54%, only bested by Portugal team with 55%. However, the determination and the rage to win of the Spaniards are evidenced by a shooting average of 17 shots per match, superior to all other competitors. No surprise that Spain did not lose a single match.
Spain's will to win was well served by a highly-effective performance (see enlarged figure 2), both in terms of targeted shots (53%) and average percentage of shots resulting in a goal (30%). Although not the most effective of the teams in terms of scoring success, in fact Spain was number three behind number 1 Germany and number 2 Turkey, the unique combination of unsurpassed fighting spirit and excellent effectiveness warranted the Spanish team a most coveted and long-awaited major title as Euro 2008 champion, entirely on their own merits.
(Find more on Spain's performance during UEFA Euro 2008 here)