| | |
| --- | --- |
| | Insight : age of Euro 2008 football players |
You are here: areppim > Sports > Age of Euro 2008 football players
Euro 2008: Does age matter?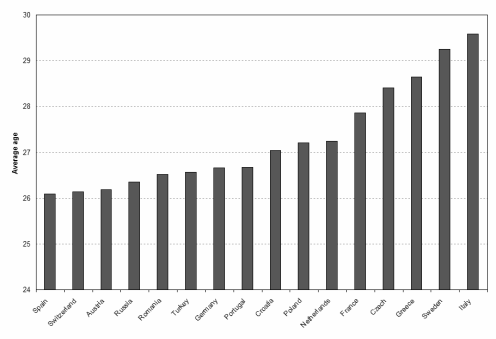 Should youth be the key success factor in the Euro 2008 football (soccer) tournament, then Spain would be well positioned to achieve a great performance.
After removing goalkeepers from all series, on the grounds that they are not expected to run around the field for 90 minutes and are typically older than other players, the average age of Spain football team at 26 years and 1 month is the lowest of all (see chart). Indeed, it is 1 year and two months lower than the overall average (27 years and a quarter), and a full 3 years and a half lower than Italy's team (29 years and seven months). The question is what counts most when the euro 2008 final comes, vitality or experience?
Other interesting facts about the age of team players:
the median age is 27: there are as many teams with an average age below 27, as above;
the youngest player is the Swiss forward Eren DERDIYOK, born 12 June 1988;
the oldest is also a forward player, Ivica VASTIC of Austria, born 29 September 1969.