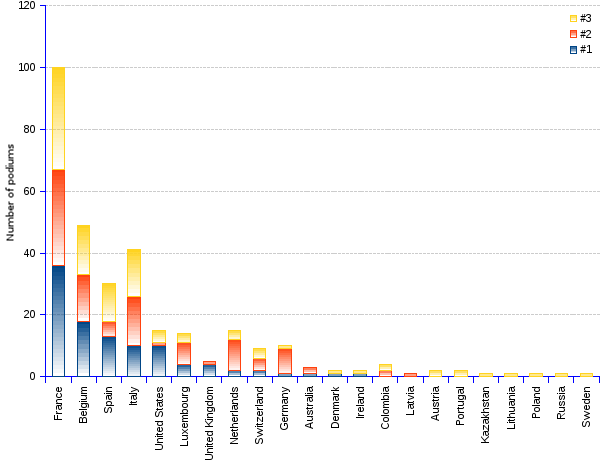 As the hosting nation of the Tour, France does not fail to meet the expectation of being the leader in this cycling specialty. Indeed, French nationals won 1 in 3 (more precisely 35%) Tour de France races. But other nations successfully challenged the French supremacy. Western European nations such as Belgium, Spain, Italy, Luxembourg, Netherlands have contributed significantly to the roster of "yellow jerseys" and of other podiums. More recently, other continents have succeeded in stealing the show from the Europeans.
The United States became a major power in the Tour. Although US riders have only embarked in the competition comparatively late, they have won 10% of the races and collected 5% of the podiums, a performance that is even brighter at the individual level, considering the 7-win record achieved by Lance Armstrong. The 2011 Tour de France was won by another non-European, this time the Australian Cadel Evans. The success of riders from other parts of the world says eloquently that cycling stimulates interest among non-Europeans, who are as endowed as the traditional owners of the Tour de France, and are becoming challengers to be reckoned with.
One may object that such performances are to a great extent the product of leading edge doping procedures, rather than of pure sport capabilities. The recent disqualification and title stripping for reasons of positive testing involving Lloyd, Lance, Contador, Schleck and others, unequivocally reveal the spread of the forbidden practices among the champions. However, since probably most of, if not all the best performing riders are taking drugs anyway to remain competitive, the hierarchy at the top should remain unchanged. It is also amusing to conjecture that the Tour rankings portray in fact the talent hierarchy of the drug-fixing chemists and physicians who take care of the riders, rather than the athletes' own.
Tour de France
Podiums won by nation
1903-2016

Nation

Tour wins

2nd place

3rd place

Total podiums

Percent of wins

Percent of podiums

Austria
0
0
2
2
0.0 %
0.6 %
Australia
1
2
0
3
1.0 %
1.0 %
Belgium
18
15
16
49
17.5 %
15.9 %
Colombia
0
2
2
4
0.0 %
1.3 %
Denmark
1
0
1
2
1.0 %
0.6 %
France
36
31
33
100
35.0 %
32.4 %
Germany
1
8
1
10
1.0 %
3.2 %
Ireland
1
0
1
2
1.0 %
0.6 %
Italy
10
16
15
41
9.7 %
13.3 %
Kazakhstan
0
0
1
1
0.0 %
0.3 %
Latvia
0
1
0
1
0.0 %
0.3 %
Lithuania
0
0
1
1
0.0 %
0.3 %
Luxembourg
4
7
3
14
3.9 %
4.5 %
Netherlands
2
10
3
15
1.9 %
4.9 %
Poland
0
0
1
1
0.0 %
0.3 %
Portugal
0
0
2
2
0.0 %
0.6 %
Russia
0
0
1
1
0.0 %
0.3 %
Spain
13
5
12
30
12.6 %
9.7 %
Sweden
0
0
1
1
0.0 %
0.3 %
Switzerland
2
4
3
9
1.9 %
2.9 %
United Kingdom
4
1
0
5
3.9 %
1.6 %
United States
10
1
4
15
9.7 %
4.9 %
Total
103
103
103
309
100.0 %
100.0 %
Sources: Le Tour de France and Le Dico du Tour

areppim: information, pure and simple