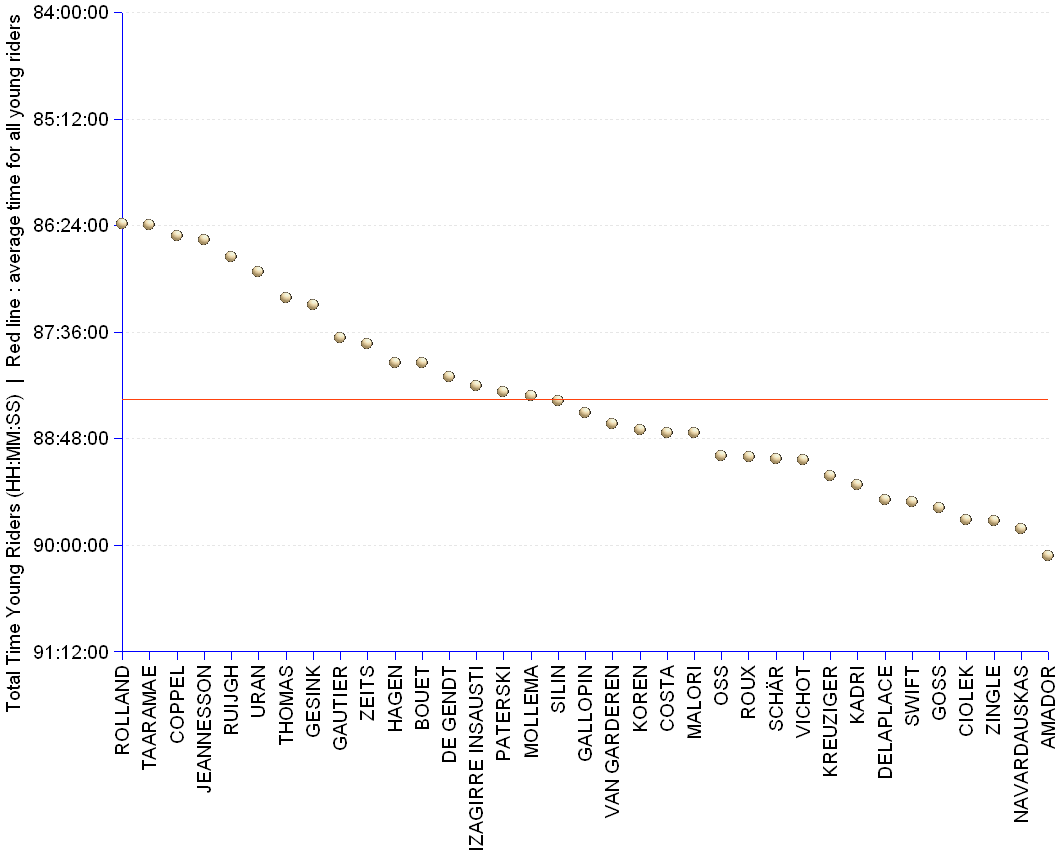 Pierre Rolland kept his leadership of the "young riders" at the arrival at the Champs Elysées. He achieved the total time of 86:23:05, equivalent to an average speed of 39.71 km/h. He is followed by Rein Taaramae at 00:00:46 and Jérôme Coppel at 00:07:53.
The final gap of the average young riders to the leader increased from 01:48:10 to 01:50;29.
Are considered "young riders" those under 25 on 1 January of the same year. The leader wears a "maillot blanc" (white jersey).
Young Riders
After Stage 21 completed on 24 July 2011
Total distance covered: 3,430 km

Standing

Rider

Number

Team

Time
(HH:MM:SS)

Total

Gap

1
Pierre
ROLLAND
188
TEAM EUROPCAR
86:23:05
 
2
Rein
TAARAMAE
151
COFIDIS LE CREDIT EN LIGNE
86:23:51
00:00:46
3
Jérôme
COPPEL
211
SAUR-SOJASUN
86:30:58
00:07:53
4
Arnold
JEANNESSON
134
FDJ
86:33:42
00:10:37
5
Rob
RUIJGH
208
VACANSOLEIL-DCM
86:45:26
00:22:21
6
Rigoberto
URAN
118
SKY PROCYCLING
86:55:10
00:32:05
7
Geraint
THOMAS
117
SKY PROCYCLING
87:13:10
00:50:05
8
Robert
GESINK
41
RABOBANK CYCLING TEAM
87:17:31
00:54:26
9
Cyril
GAUTIER
183
TEAM EUROPCAR
87:40:05
01:17:00
10
Andrey
ZEITS
69
PRO TEAM ASTANA
87:44:10
01:21:05
11
Edvald Boasson
HAGEN
114
SKY PROCYCLING
87:57:01
01:33:56
12
Maxime
BOUET
102
AG2R LA MONDIALE
87:57:07
01:34:02
13
Thomas
DE GENDT
203
VACANSOLEIL-DCM
88:06:33
01:43:28
14
Gorka
IZAGIRRE INSAUSTI
22
EUSKALTEL - EUSKADI
88:12:09
01:49:04
15
Maciej
PATERSKI
96
LIQUIGAS-CANNONDALE
88:16:18
01:53:13
16
Bauke
MOLLEMA
45
RABOBANK CYCLING TEAM
88:18:57
01:55:52
17
Egor
SILIN
198
KATUSHA TEAM
88:22:27
01:59:22
18
Tony
GALLOPIN
156
COFIDIS LE CREDIT EN LIGNE
88:30:41
02:07:36
19
Tejay
VAN GARDEREN
178
HTC - HIGHROAD
88:38:11
02:15:06
20
Kristjan
KOREN
93
LIQUIGAS-CANNONDALE
88:41:46
02:18:41
21
Rui Alberto
COSTA
83
MOVISTAR TEAM
88:43:56
02:20:51
22
Adriano
MALORI
168
LAMPRE - ISD
88:44:09
02:21:04
23
Daniel
OSS
95
LIQUIGAS-CANNONDALE
88:59:29
02:36:24
24
Anthony
ROUX
137
FDJ
89:00:11
02:37:06
25
Michael
SCHÄR
149
BMC RACING TEAM
89:01:59
02:38:54
26
Arthur
VICHOT
139
FDJ
89:02:11
02:39:06
27
Roman
KREUZIGER
66
PRO TEAM ASTANA
89:13:21
02:50:16
28
Blel
KADRI
106
AG2R LA MONDIALE
89:19:29
02:56:24
29
Anthony
DELAPLACE
213
SAUR-SOJASUN
89:29:20
03:06:15
30
Ben
SWIFT
116
SKY PROCYCLING
89:30:29
03:07:24
31
Matthew Harley
GOSS
174
HTC - HIGHROAD
89:34:54
03:11:49
32
Gerald
CIOLEK
123
QUICK STEP CYCLING TEAM
89:42:44
03:19:39
33
Romain
ZINGLE
159
COFIDIS LE CREDIT EN LIGNE
89:43:52
03:20:47
34
Ramunas
NAVARDAUSKAS
57
TEAM GARMIN - CERVELO
89:49:15
03:26:10
35
Andrey
AMADOR
82
MOVISTAR TEAM
90:06:57
03:43:52
Sources: see Cycling


areppim: information, pure and simple