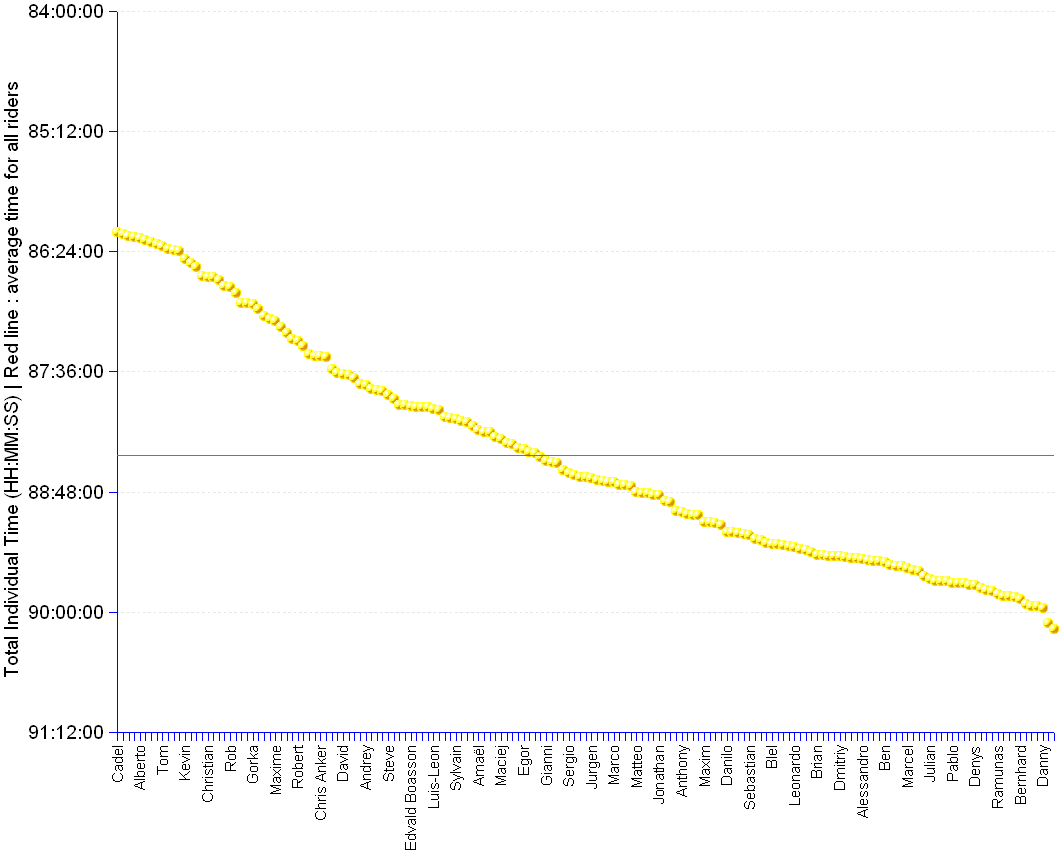 The Australian Cadel Evans has finally succeeded in winning his first Tour de France, thus becoming the first Southern Hemisphere rider to win the famous race. He proved to be a strong enough climber not to be left far behind in the mountain stages, and imperial in time-trial races, to the point of regaining his delay and taking a 1.5 minute advantage upon his most dangerous rival. Andy Schleck, in a sort of repetition of the 2010 Tour that he lost for Contador, left the mountain stages with a sizable lead, but was not able to keep it in the 95 km-long time-trial, finishing 2nd once more, for his utter frustration.
The final standings give Cadel Evans in the 1st place with the total time of 86:12:22, equivalent to an average speed of 39.79 km/h. Andy Schleck, is second with a 00:01:34 gap, Frank Schleck is 3rd with a gap of 00:02:30, Thomas Voeckler is 4th with a 00:03:20 gap, and Alberto Contador is 5th with a 00:03:57 gap.
The average time for all riders is 88:26:01, or 02:13:39 behind the leader. The last rider has a gap of 03:57:43.
Overall Standing on Time
After Stage 21 completed on 24 July 2011
Total distance covered: 3,430 km

Standing

Rider

Number

Team

Time
(HH:MM:SS)

Total

Gap

1
Cadel
EVANS
141
BMC RACING TEAM
86:12:22
 
2
Andy
SCHLECK
11
TEAM LEOPARD-TREK
86:13:56
00:01:34
3
Frank
SCHLECK
18
TEAM LEOPARD-TREK
86:14:52
00:02:30
4
Thomas
VOECKLER
181
TEAM EUROPCAR
86:15:42
00:03:20
5
Alberto
CONTADOR
1
SAXO BANK SUNGARD
86:16:19
00:03:57
6
Samuel
SANCHEZ
21
EUSKALTEL - EUSKADI
86:17:17
00:04:55
7
Damiano
CUNEGO
161
LAMPRE - ISD
86:18:27
00:06:05
8
Ivan
BASSO
91
LIQUIGAS-CANNONDALE
86:19:45
00:07:23
9
Tom
DANIELSON
52
TEAM GARMIN - CERVELO
86:20:37
00:08:15
10
Jean-Christophe
PERAUD
108
AG2R LA MONDIALE
86:22:33
00:10:11
11
Pierre
ROLLAND
188
TEAM EUROPCAR
86:23:05
00:10:43
12
Rein
TAARAMAE
151
COFIDIS LE CREDIT EN LIGNE
86:23:51
00:11:29
13
Kevin
DE WEERT
124
QUICK STEP CYCLING TEAM
86:28:51
00:16:29
14
Jérôme
COPPEL
211
SAUR-SOJASUN
86:30:58
00:18:36
15
Arnold
JEANNESSON
134
FDJ
86:33:42
00:21:20
16
Haimar
ZUBELDIA
79
TEAM RADIOSHACK
86:38:45
00:26:23
17
Christian
VANDE VELDE
58
TEAM GARMIN - CERVELO
86:39:34
00:27:12
18
Ryder
HESJEDAL
55
TEAM GARMIN - CERVELO
86:39:36
00:27:14
19
Peter
VELITS
179
HTC - HIGHROAD
86:41:16
00:28:54
20
Jelle
VANENDERT
38
OMEGA PHARMA - LOTTO
86:45:03
00:32:41
21
Rob
RUIJGH
208
VACANSOLEIL-DCM
86:45:26
00:33:04
22
Hubert
DUPONT
103
AG2R LA MONDIALE
86:49:16
00:36:54
23
Vladimir
GUSEV
194
KATUSHA TEAM
86:54:48
00:42:26
24
Rigoberto
URAN
118
SKY PROCYCLING
86:55:10
00:42:48
25
Gorka
VERDUGO
29
EUSKALTEL - EUSKADI
86:55:28
00:43:06
26
Nicolas
ROCHE
101
AG2R LA MONDIALE
86:58:45
00:46:23
27
Sandy
CASAR
131
FDJ
87:02:50
00:50:28
28
Vladimir
KARPETS
191
KATUSHA TEAM
87:04:47
00:52:25
29
Maxime
MONFORT
15
TEAM LEOPARD-TREK
87:05:38
00:53:16
30
Yury
TROFIMOV
199
KATUSHA TEAM
87:09:08
00:56:46
31
Geraint
THOMAS
117
SKY PROCYCLING
87:13:10
01:00:48
32
Levi
LEIPHEIMER
75
TEAM RADIOSHACK
87:16:20
01:03:58
33
Robert
GESINK
41
RABOBANK CYCLING TEAM
87:17:31
01:05:09
34
Egoi
MARTINEZ
23
EUSKALTEL - EUSKADI
87:20:50
01:08:28
35
Carlos
BARREDO
42
RABOBANK CYCLING TEAM
87:25:20
01:12:58
36
David
ARROYO
81
MOVISTAR TEAM
87:27:02
01:14:40
37
Chris Anker
SORENSEN
6
SAXO BANK SUNGARD
87:27:04
01:14:42
38
Philippe
GILBERT
32
OMEGA PHARMA - LOTTO
87:27:13
01:14:51
39
Rémy
DI GREGORIO
62
PRO TEAM ASTANA
87:34:26
01:22:04
40
Julien
EL FARES
155
COFIDIS LE CREDIT EN LIGNE
87:36:43
01:24:21
41
David
MONCOUTIE
157
COFIDIS LE CREDIT EN LIGNE
87:37:47
01:25:25
42
Sylvester
SZMYD
98
LIQUIGAS-CANNONDALE
87:37:59
01:25:37
43
Cyril
GAUTIER
183
TEAM EUROPCAR
87:40:05
01:27:43
44
Tony
MARTIN
175
HTC - HIGHROAD
87:43:18
01:30:56
45
Andrey
ZEITS
69
PRO TEAM ASTANA
87:44:10
01:31:48
46
Dries
DEVENYNS
125
QUICK STEP CYCLING TEAM
87:46:28
01:34:06
47
Yannick
TALABARDON
219
SAUR-SOJASUN
87:47:13
01:34:51
48
Xabier
ZANDIO
119
SKY PROCYCLING
87:47:40
01:35:18
49
Steve
MORABITO
146
BMC RACING TEAM
87:50:19
01:37:57
50
Jakob
FUGLSANG
13
TEAM LEOPARD-TREK
87:52:20
01:39:58
51
Christophe
RIBLON
109
AG2R LA MONDIALE
87:56:09
01:43:47
52
Anthony
CHARTEAU
182
TEAM EUROPCAR
87:56:11
01:43:49
53
Edvald Boasson
HAGEN
114
SKY PROCYCLING
87:57:01
01:44:39
54
Jérôme
PINEAU
127
QUICK STEP CYCLING TEAM
87:57:03
01:44:41
55
Maxime
BOUET
102
AG2R LA MONDIALE
87:57:07
01:44:45
56
George
HINCAPIE
144
BMC RACING TEAM
87:57:38
01:45:16
57
Luis-Leon
SANCHEZ
47
RABOBANK CYCLING TEAM
87:58:31
01:46:09
58
Laurens
TEN DAM
48
RABOBANK CYCLING TEAM
87:59:24
01:47:02
59
David
LOOSLI
167
LAMPRE - ISD
88:03:30
01:51:08
60
Linus
GERDEMANN
14
TEAM LEOPARD-TREK
88:03:41
01:51:19
61
Sylvain
CHAVANEL
121
QUICK STEP CYCLING TEAM
88:04:43
01:52:21
62
Daniel
NAVARRO
3
SAXO BANK SUNGARD
88:05:44
01:53:22
63
Thomas
DE GENDT
203
VACANSOLEIL-DCM
88:06:33
01:54:11
64
Christian
KNEES
115
SKY PROCYCLING
88:08:34
01:56:12
65
Amaël
MOINARD
145
BMC RACING TEAM
88:11:05
01:58:43
66
Gorka
IZAGIRRE INSAUSTI
22
EUSKALTEL - EUSKADI
88:12:09
01:59:47
67
Jens
VOIGT
19
TEAM LEOPARD-TREK
88:12:18
01:59:56
68
Thor
HUSHOVD
51
TEAM GARMIN - CERVELO
88:15:37
02:03:15
69
Maciej
PATERSKI
96
LIQUIGAS-CANNONDALE
88:16:18
02:03:56
70
Bauke
MOLLEMA
45
RABOBANK CYCLING TEAM
88:18:57
02:06:35
71
Grischa Jan
NIERMANN
46
RABOBANK CYCLING TEAM
88:19:48
02:07:26
72
Richie
PORTE
5
SAXO BANK SUNGARD
88:21:46
02:09:24
73
Egor
SILIN
198
KATUSHA TEAM
88:22:27
02:10:05
74
Johnny
HOOGERLAND
204
VACANSOLEIL-DCM
88:24:13
02:11:51
75
Ruben
PEREZ MORENO
25
EUSKALTEL - EUSKADI
88:24:50
02:12:28
76
David
MILLAR
56
TEAM GARMIN - CERVELO
88:27:18
02:14:56
77
Gianni
MEERSMAN
135
FDJ
88:29:49
02:17:27
78
Stuart
O'GRADY
16
TEAM LEOPARD-TREK
88:30:20
02:17:58
79
Tony
GALLOPIN
156
COFIDIS LE CREDIT EN LIGNE
88:30:41
02:18:19
80
Jose Joaquin
ROJAS
88
MOVISTAR TEAM
88:35:16
02:22:54
81
Sergio
PAULINHO
77
TEAM RADIOSHACK
88:36:51
02:24:29
82
Tejay
VAN GARDEREN
178
HTC - HIGHROAD
88:38:11
02:25:49
83
Ivan
SANTAROMITA
148
BMC RACING TEAM
88:39:34
02:27:12
84
Markel
IRIZAR
73
TEAM RADIOSHACK
88:39:35
02:27:13
85
Jurgen
ROELANDTS
35
OMEGA PHARMA - LOTTO
88:39:50
02:27:28
86
Jérémy
ROY
138
FDJ
88:40:49
02:28:27
87
Kristjan
KOREN
93
LIQUIGAS-CANNONDALE
88:41:46
02:29:24
88
Imanol
ERVITI
84
MOVISTAR TEAM
88:42:09
02:29:47
89
Marco
MARCATO
206
VACANSOLEIL-DCM
88:42:31
02:30:09
90
Rui Alberto
COSTA
83
MOVISTAR TEAM
88:43:56
02:31:34
91
Adriano
MALORI
168
LAMPRE - ISD
88:44:09
02:31:47
92
Jesus
HERNANDEZ BLAZQUEZ
2
SAXO BANK SUNGARD
88:44:22
02:32:00
93
Matteo
BONO
164
LAMPRE - ISD
88:48:07
02:35:45
94
Alan
PEREZ LEZAUN
24
EUSKALTEL - EUSKADI
88:48:36
02:36:14
95
Nicki
SORENSEN
7
SAXO BANK SUNGARD
88:48:48
02:36:26
96
Simon
GERRANS
113
SKY PROCYCLING
88:49:47
02:37:25
97
Jonathan
HIVERT
216
SAUR-SOJASUN
88:49:59
02:37:37
98
Juan Antonio
FLECHA GIANNONI
112
SKY PROCYCLING
88:53:26
02:41:04
99
Maarten
TJALLINGII
49
RABOBANK CYCLING TEAM
88:54:03
02:41:41
100
Daniel
OSS
95
LIQUIGAS-CANNONDALE
88:59:29
02:47:07
101
Anthony
ROUX
137
FDJ
89:00:11
02:47:49
102
José Ivan
GUTIERREZ
85
MOVISTAR TEAM
89:01:45
02:49:23
103
Michael
SCHÄR
149
BMC RACING TEAM
89:01:59
02:49:37
104
Arthur
VICHOT
139
FDJ
89:02:11
02:49:49
105
Maxim
IGLINSKIY
65
PRO TEAM ASTANA
89:06:12
02:53:50
106
Dmitriy
FOFONOV
63
PRO TEAM ASTANA
89:06:21
02:53:59
107
Alessandro
PETACCHI
169
LAMPRE - ISD
89:06:42
02:54:20
108
Joost
POSTHUMA
17
TEAM LEOPARD-TREK
89:07:47
02:55:25
109
Danilo
HONDO
165
LAMPRE - ISD
89:12:22
03:00:00
110
Sébastien
MINARD
107
AG2R LA MONDIALE
89:12:26
03:00:04
111
Sébastien
HINAULT
105
AG2R LA MONDIALE
89:13:06
03:00:44
112
Roman
KREUZIGER
66
PRO TEAM ASTANA
89:13:21
03:00:59
113
Sebastian
LANG
34
OMEGA PHARMA - LOTTO
89:14:13
03:01:51
114
Brent
BOOKWALTER
142
BMC RACING TEAM
89:16:09
03:03:47
115
Manuel
QUINZIATO
147
BMC RACING TEAM
89:17:09
03:04:47
116
Benjamin
NOVAL GONZALEZ
4
SAXO BANK SUNGARD
89:18:51
03:06:29
117
Blel
KADRI
106
AG2R LA MONDIALE
89:19:29
03:07:07
118
Tristan
VALENTIN
158
COFIDIS LE CREDIT EN LIGNE
89:19:32
03:07:10
119
Fabian
CANCELLARA
12
TEAM LEOPARD-TREK
89:19:53
03:07:31
120
Sébastien
TURGOT
189
TEAM EUROPCAR
89:20:56
03:08:34
121
Leonardo
DUQUE
154
COFIDIS LE CREDIT EN LIGNE
89:21:03
03:08:41
122
Laurent
MANGEL
218
SAUR-SOJASUN
89:22:41
03:10:19
123
Matteo
TOSATTO
8
SAXO BANK SUNGARD
89:22:58
03:10:36
124
Fabrice
JEANDESBOZ
217
SAUR-SOJASUN
89:24:09
03:11:47
125
Brian
VANDBORG
9
SAXO BANK SUNGARD
89:26:05
03:13:43
126
Paolo
LONGO BORGHINI
94
LIQUIGAS-CANNONDALE
89:26:06
03:13:44
127
Grega
BOLE
163
LAMPRE - ISD
89:26:37
03:14:15
128
Lieuwe
WESTRA
209
VACANSOLEIL-DCM
89:26:37
03:14:15
129
Dmitriy
MURAVYEV
76
TEAM RADIOSHACK
89:26:51
03:14:29
130
Mark
CAVENDISH
171
HTC - HIGHROAD
89:27:27
03:15:05
131
Mickaël
BUFFAZ
152
COFIDIS LE CREDIT EN LIGNE
89:27:34
03:15:12
132
Mickaël
DELAGE
133
FDJ
89:28:01
03:15:39
133
Alessandro
VANOTTI
99
LIQUIGAS-CANNONDALE
89:28:22
03:16:00
134
Niki
TERPSTRA
129
QUICK STEP CYCLING TEAM
89:29:00
03:16:38
135
Anthony
DELAPLACE
213
SAUR-SOJASUN
89:29:20
03:16:58
136
Borut
BOZIC
202
VACANSOLEIL-DCM
89:29:33
03:17:11
137
Ben
SWIFT
116
SKY PROCYCLING
89:30:29
03:18:07
138
Jeremie
GALLAND
215
SAUR-SOJASUN
89:32:08
03:19:46
139
Francisco
VENTOSO
89
MOVISTAR TEAM
89:32:24
03:20:02
140
Tomas
VAITKUS
68
PRO TEAM ASTANA
89:32:29
03:20:07
141
Marcel
SIEBERG
36
OMEGA PHARMA - LOTTO
89:34:01
03:21:39
142
Matthew Harley
GOSS
174
HTC - HIGHROAD
89:34:54
03:22:32
143
Maciej
BODNAR
92
LIQUIGAS-CANNONDALE
89:35:52
03:23:30
144
Andriy
GRIVKO
64
PRO TEAM ASTANA
89:38:44
03:26:22
145
Julian
DEAN
53
TEAM GARMIN - CERVELO
89:40:22
03:28:00
146
Addy
ENGELS
126
QUICK STEP CYCLING TEAM
89:41:26
03:29:04
147
Mikhail
IGNATYEV
195
KATUSHA TEAM
89:41:29
03:29:07
148
Arnaud
COYOT
212
SAUR-SOJASUN
89:41:42
03:29:20
149
Pablo
URTASUN PEREZ
27
EUSKALTEL - EUSKADI
89:42:39
03:30:17
150
Gerald
CIOLEK
123
QUICK STEP CYCLING TEAM
89:42:44
03:30:22
151
Perrig
QUEMENEUR
187
TEAM EUROPCAR
89:42:57
03:30:35
152
Romain
ZINGLE
159
COFIDIS LE CREDIT EN LIGNE
89:43:52
03:31:30
153
Denys
KOSTYUK
166
LAMPRE - ISD
89:44:04
03:31:42
154
Lars
BAK
172
HTC - HIGHROAD
89:45:47
03:33:25
155
Vincent
JEROME
185
TEAM EUROPCAR
89:46:59
03:34:37
156
André
GREIPEL
33
OMEGA PHARMA - LOTTO
89:47:26
03:35:04
157
Ramunas
NAVARDAUSKAS
57
TEAM GARMIN - CERVELO
89:49:15
03:36:53
158
Yohann
GENE
184
TEAM EUROPCAR
89:50:35
03:38:13
159
Tyler
FARRAR
54
TEAM GARMIN - CERVELO
89:50:54
03:38:32
160
Jimmy
ENGOULVENT
214
SAUR-SOJASUN
89:50:56
03:38:34
161
Bernhard
EISEL
173
HTC - HIGHROAD
89:52:18
03:39:56
162
Samuel
DUMOULIN
153
COFIDIS LE CREDIT EN LIGNE
89:55:39
03:43:17
163
Mark
RENSHAW
177
HTC - HIGHROAD
89:56:22
03:44:00
164
Marcus
BURGHARDT
143
BMC RACING TEAM
89:56:30
03:44:08
165
Danny
PATE
176
HTC - HIGHROAD
89:57:48
03:45:26
166
Andrey
AMADOR
82
MOVISTAR TEAM
90:06:57
03:54:35
167
Fabio
SABATINI
97
LIQUIGAS-CANNONDALE
90:10:05
03:57:43
Sources: see Cycling


areppim: information, pure and simple