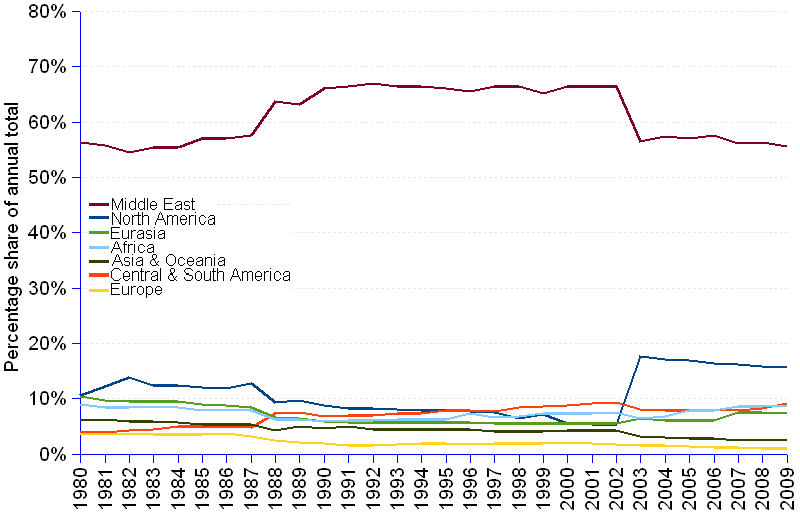 The chart shows the percentage shares of proved crude oil reserves by world region. It eloquently tells that, although the Middle East has seen an erosion of its share, due largely to the significant findings in Canada in the early 2000's, the region is undoubtedly the richest in the world, accounting for a share of 55.6% (752.9 billion barrels) of about 1,475 billion barrels current world reserves. Reserves are particularly huge in Saudi Arabia (262.6 billion barrels), Iran (137 billion barrels), Iraq (115 billion barrels), Kuwait (104 billion barrels) and the United Arab Emirates (97.8 billion barrels).
Proved reserves figures should be handled with care. They are based on estimates provided by the countries and are subject to highly political biases – for instance, OPEC production quota negotiations take into account each country's reserves. This explains that reserves may remain stable in spite of uninterrupted extraction and ongoing prospecting in producers such as Kuwait (reserves of 96.5 billion barrels from 1992 to 2003) or the UAE (98.1 billion barrels from 1988 to 1996, and 97.8 from 1887 to 2011).
In North America, Canada reserves have grown at an annual rate of 11% to the level of 175.2 billion barrels, while the USA has already reached the stage of having to pump oil from its shrinking reserves. Most important reserves in South America are to be found in Venezuela (211 billion barrels). In Africa, they are located in Libya (46 billion barrels) and Nigeria (37 billion barrels). Russia, in Eurasia, still has sizable reserves (60 billion barrels) but they are decreasing.
The list of countries where the largest oil reserves are located resembles a selection of those troubled nations that fill prime time news bulletins and newspapers first page reports. War and violence, cabinet intriguing, international conspiracy, street unrest, and large scale murder seem indeed strongly correlated with sizable crude oil reserves. The rightly called oil curse.
Crude Oil Proved¹ Reserves
(Billion Barrels)

Region/Country

1980

1981

1982

1983

1984

1985

1986

1987

1988

1989

1990

1991

1992

1993

1994

1995

1996

1997

1998

1999

2000

2001

2002

2003

2004

2005

2006

2007

2008

2009

2010

2011

North America
67.855
79.826
92.148
83.055
83.176
84.091
82.689
88.759
82.26
87.39651
88.7525
82.44795
80.6308
79.54663
78.47755
78.16498
76.69046
76.23564
65.87319
74.51783
55.37483
55.4121
54.476
214.534
215.938
215.157
212.6466
212.879
209.363
209.2752
NA
NA
Bermuda
0
0
0
0
0
0
0
0
0
0
0
0
0
0
0
0
0
0
0
0
0
0
0
0
0
0
0
0
0
0
0
0
Canada
6.8
6.4
7.3
7.02
6.73
7.075
6.5
6.85
6.825
6.78551
6.1335
5.78295
5.5878
5.29163
5.09555
5.03798
4.89846
4.89364
4.83919
4.93083
4.93083
4.7061
4.858
180.021
178.893
178.8
178.7924
179.21
178.592
178.092
175.214
175.214
Greenland
0
0
0
0
0
0
0
0
0
0
0
0
0
0
0
0
0
0
0
0
0
0
0
0
0
0
0
0
0
0
0
0
Mexico
31.25
44
56.99
48.3
48
48.6
49.3
54.653
48.61
54.11
56.365
51.983
51.298
51.298
50.925
50.776
49.775
48.796
40
47.822
28.399
28.26
26.941
12.622
15.674
14.6
12.8822
12.352
11.65
10.5012
10.404
10.42
Saint Pierre and Miquelon
0
0
0
0
0
0
0
0
0
0
0
0
0
0
0
0
0
0
0
0
0
0
0
0
0
0
0
0
0
0
0
0
United States
29.805
29.426
27.858
27.735
28.446
28.416
26.889
27.256
26.825
26.501
26.254
24.682
23.745
22.957
22.457
22.351
22.017
22.546
21.034
21.765
22.045
22.446
22.677
21.891
21.371
21.757
20.972
21.317
19.121
20.682
NA
NA
Central & South America
25.2225
25.48984
27.99227
30.18207
33.6759
34.7157
34.9424
34.1023
65.71198
67.84074
68.66187
69.10771
68.46745
72.51267
74.07118
78.29749
78.91971
79.14711
86.16956
89.04488
89.53168
94.5487
95.97085
98.55066
98.8477
100.59491
103.36395
102.79816
109.85651
122.68651
124.63964
237.1121
Antarctica
0
0
0
0
0
0
0
0
0
0
0
0
0
0
0
0
0
0
0
0
0
0
0
0
0
0
0
0
0
0
0
0
Antigua and Barbuda
0
0
0
0
0
0
0
0
0
0
0
0
0
0
0
0
0
0
0
0
0
0
0
0
0
0
0
0
0
0
0
0
Argentina
2.4
2.457
2.65
2.59
2.4287
2.266
2.3
2.27
2.27
2.268
2.2799
2.28
1.56999
1.56999
1.56999
2.21679
2.2259
2.38637
2.5882
2.62118
2.75342
3.0712
2.9737
2.87868
2.8205
2.6745
2.32045
2.468
2.58675
2.616
2.5203
2.50468
Aruba
--
--
--
--
--
--
0
0
0
0
0
0
0
0
0
0
0
0
0
0
0
0
0
0
0
0
0
0
0
0
0
0
Bahamas, The
0
0
0
0
0
0
0
0
0
0
0
0
0
0
0
0
0
0
0
0
0
0
0
0
0
0
0
0
0
0
0
0
Barbados
0.0015
0.00084
0.00045
0.00073
0.0006
0.0006
0.0004
0.0005
0.00362
0.0033
0.00319
0.00308
0.00334
0.00589
0.0035
0.00278
0.00254
0.00241
0.00235
0.00235
0.00316
0.00251
0.00251
0.0025
0.00251
0.00251
0.0025
0.00285
0.0022
0.00217
0.00179
0.00179
Belize
NA
NA
NA
NA
NA
NA
NA
NA
NA
NA
NA
NA
NA
NA
NA
NA
NA
NA
NA
NA
NA
NA
NA
NA
NA
NA
NA
0.0067
0.0067
0.0067
0.0067
0.0067
Bolivia
0.15
0.112
0.104
0.18
0.1605
0.158
0.154
0.149
0.156
0.1762
0.182
0.11918
0.119
0.11214
0.10839
0.13887
0.13887
0.13193
0.13193
0.13193
0.13193
0.3965
0.4405
0.4405
0.4405
0.4405
0.4405
0.44
0.465
0.465
0.465
0.465
Brazil
1.22
1.3
1.32506
1.75
1.8
1.976
2.07
2.25
2.34
2.55
2.816
2.84
2.80035
3.03
3.6
3.797
4.2
4.8
4.8
7.1062
7.35748
8.1
8.46474
8.3217
8.5
10.6
11.2433
11.77264
12.18162
12.6239
12.8015
12.857
Cayman Islands
0
0
0
0
0
0
0
0
0
0
0
0
0
0
0
0
0
0
0
0
0
0
0
0
0
0
0
0
0
0
0
0
Chile
0.4
0.4
0.79
0.76
0.748
0.736
0.726
0.29
0.29
0.287
0.3
0.3
0.3
0.3
0.3
0.3
0.3
0.3
0.15
0.15
0.15
0.15
0.15
0.15
0.15
0.15
0.15
0.15
0.15
0.15
0.15
0.15
Colombia
0.71
0.8
0.51645
0.536
0.56
0.624
1.224
1.2905
1.59
2.028
2.06
2
1.9352
1.9352
1.9352
3.39304
3.5
2.8
2.8
2.5772
2.5772
1.972
1.75
1.84229
1.84229
1.542
1.542
1.453
1.506
1.355
1.355
1.9
Costa Rica
0
0
0
0
0
0
0
0
0
0
0
0
0
0
0
0
0
0
0
0
0
0
0
0
0
0
0
0
0
0
0
0
Cuba
NA
NA
NA
NA
NA
NA
NA
NA
NA
NA
NA
0.1
0.1
0.1
0.1
0.1
0.1
0.1
0.255
0.2835
0.2835
0.2835
0.75
0.75
0.75
0.75
0.75
0.124
0.124
0.124
0.124
0.124
Dominica
0
0
0
0
0
0
0
0
0
0
0
0
0
0
0
0
0
0
0
0
0
0
0
0
0
0
0
0
0
0
0
0
Dominican Republic
0
0
0
0
0
0
0
0
0
0
0
0
0
0
0
0
0
0
0
0
0
0
0
0
0
0
0
0
0
0
0
0
Ecuador
1.1
1.1
0.85
1.4
1.675
1.4
1.65
1.6723
1.615
1.35
1.514
1.42
1.55
1.59979
2.014
2.014
2.115
2.115
2.115
2.115
2.115
2.115
2.115
4.6296
4.6296
4.6296
4.6296
4.517
4.517
4.66
6.5
6.51
El Salvador
0
0
0
0
0
0
0
0
0
0
0
0
0
0
0
0
0
0
0
0
0
0
0
0
0
0
0
0
0
0
0
0
Falkland Islands (Islas Malvinas)
0
0
0
0
0
0
0
0
0
0
0
0
0
0
0
0
0
0
0
0
0
0
0
0
0
0
0
0
0
0
0
0
French Guiana
0
0
0
0
0
0
0
0
0
0
0
0
0
0
0
0
0
0
0
0
0
0
0
0
0
0
0
0
0
0
0
0
Grenada
0
0
0
0
0
0
0
0
0
0
0
0
0
0
0
0
0
0
0
0
0
0
0
0
0
0
0
0
0
0
0
0
Guadeloupe
0
0
0
0
0
0
0
0
0
0
0
0
0
0
0
0
0
0
0
0
0
0
0
0
0
0
0
0
0
0
0
0
Guatemala
0.016
0.02
0.055
0.05
0.048
0.5
0.05
0.023
0.0415
0.08083
0.0416
0.03621
0.0348
0.207
0.207
0.488
0.488
0.2
0.2
0.526
0.526
0.526
0.526
0.526
0.526
0.526
0.526
0.08307
0.08307
0.08307
0.08307
0.08307
Guyana
0
0
0
0
0
0
0
0
0
0
0
0
0
0
0
0
0
0
0
0
0
0
0
0
0
0
0
0
0
0
0
0
Haiti
0
0
0
0
0
0
0
0
0
0
0
0
0
0
0
0
0
0
0
0
0
0
0
0
0
0
0
0
0
0
0
0
Honduras
0
0
0
0
0
0
0
0
0
0
0
0
0
0
0
0
0
0
0
0
0
0
0
0
0
0
0
0
0
0
0
0
Jamaica
0
0
0
0
0
0
0
0
0
0
0
0
0
0
0
0
0
0
0
0
0
0
0
0
0
0
0
0
0
0
0
0
Martinique
0
0
0
0
0
0
0
0
0
0
0
0
0
0
0
0
0
0
0
0
0
0
0
0
0
0
0
0
0
0
0
0
Montserrat
0
0
0
0
0
0
0
0
0
0
0
0
0
0
0
0
0
0
0
0
0
0
0
0
0
0
0
0
0
0
0
0
Netherlands Antilles
0
0
0
0
0
0
0
0
0
0
0
0
0
0
0
0
0
0
0
0
0
0
0
0
0
0
0
0
0
0
0
0
Nicaragua
0
0
0
0
0
0
0
0
0
0
0
0
0
0
0
0
0
0
0
0
0
0
0
0
0
0
0
0
0
0
0
0
Panama
0
0
0
0
0
0
0
0
0
0
0
0
0
0
0
0
0
0
0
0
0
0
0
0
0
0
0
0
0
0
0
0
Paraguay
0
0
0
0
0
0
0
0
0
0
0
0
0
0
0
0
0
0
0
0
0
0
0
0
0
0
0
0
0
0
0
0
Peru
0.655
0.65
0.80131
0.83534
0.7751
0.6701
0.636
0.546
0.51186
0.45681
0.41198
0.40594
0.38218
0.38087
0.3809
0.8
0.8084
0.8084
0.8
0.32352
0.355
0.31
0.32339
0.32339
0.2853
0.9528
0.9296
0.9296
0.38287
0.41577
0.44738
0.53266
Puerto Rico
0
0
0
0
0
0
0
0
0
0
0
0
0
0
0
0
0
0
0
0
0
0
0
0
0
0
0
0
0
0
0
0
Saint Kitts and Nevis
0
0
0
0
0
0
0
0
0
0
0
0
0
0
0
0
0
0
0
0
0
0
0
0
0
0
0
0
0
0
0
0
Saint Lucia
0
0
0
0
0
0
0
0
0
0
0
0
0
0
0
0
0
0
0
0
0
0
0
0
0
0
0
0
0
0
0
0
Saint Vincent/Grenadines
0
0
0
0
0
0
0
0
0
0
0
0
0
0
0
0
0
0
0
0
0
0
0
0
0
0
0
0
0
0
0
0
Suriname
NA
NA
NA
NA
NA
NA
0.001
0.001
0.027
0.0287
0.0282
0.0273
0.0376
0.0492
0.0562
0.0819
0.074
0.074
0.074
0.074
0.074
0.074
0.074
0.17
0.111
0.111
0.111
0.111
0.088
0.0796
0.0796
0.0789
Trinidad and Tobago
0.7
0.7
0.6
0.58
0.63
0.54
0.54
0.61
0.567
0.528
0.521
0.536
0.535
0.5726
0.466
0.4881
0.49
0.551
0.5842
0.534
0.605
0.686
0.716
0.716
0.99
0.99
0.99
0.7283
0.7283
0.7283
0.7283
0.7283
Turks and Caicos Islands
0
0
0
0
0
0
0
0
0
0
0
0
0
0
0
0
0
0
0
0
0
0
0
0
0
0
0
0
0
0
0
0
Uruguay
0
0
0
0
0
0
0
0
0
0
0
0
0
0
0
0
0
0
0
0
0
0
0
0
0
0
0
0
0
0
0
0
Venezuela
17.87
17.95
20.3
21.5
24.85
25.845
25.591
25
56.3
58.0839
58.504
59.04
59.1
62.65
63.33
64.477
64.477
64.878
71.66888
72.6
72.6
76.862
77.685
77.8
77.8
77.226
79.729
80.012
87.035
99.377
99.377
211.17
Virgin Islands,  U.S.
0
0
0
0
0
0
0
0
0
0
0
0
0
0
0
0
0
0
0
0
0
0
0
0
0
0
0
0
0
0
0
0
Virgin Islands, British
0
0
0
0
0
0
0
0
0
0
0
0
0
0
0
0
0
0
0
0
0
0
0
0
0
0
0
0
0
0
0
0
Europe
23.6014
23.195
24.9141
23.20368
23.38948
24.4255
26.4126
21.93805
22.44782
18.55657
18.8221
15.88576
16.27667
18.02172
18.81121
18.76805
17.76183
20.45471
20.22954
20.77165
20.63502
19.20979
18.69019
19.62597
19.74442
17.61342
16.38066
15.80031
14.26797
13.6573
13.30944
12.08376
Albania
NA
NA
NA
NA
NA
NA
NA
NA
NA
NA
NA
NA
0.165
0.165
0.165
0.165
0.165
0.165
0.165
0.165
0.165
0.165
0.165
0.165
0.165
0.165
0.19813
0.19813
0.19914
0.19914
0.19914
0.19914
Austria
0.1414
0.13
0.134
0.1282
0.122
0.1185
0.11
0.0763
0.105
0.1
0.066
0.08144
0.08498
0.0932
0.09473
0.1008
0.1008
0.07649
0.09
0.08712
0.08568
0.08568
0.08568
0.08568
0.062
0.062
0.062
0.05
0.05
0.05
0.05
0.05
Belgium
0
0
0
0
0
0
0
0
0
0
0
0
0
0
0
0
0
0
0
0
0
0
0
0
0
0
0
0
0
0
0
0
Bosnia and Herzegovina
--
--
--
--
--
--
--
--
--
--
--
--
NA
0
0
0
0
0
0
0
0
0
0
0
0
0
0
0
0
0
0
0
Bulgaria
NA
NA
NA
NA
NA
NA
NA
NA
NA
NA
NA
NA
0.015
0.015
0.015
0.015
0.015
0.015
0.015
0.015
0.015
0.015
0.015
0.015
0.015
0.015
0.015
0.015
0.015
0.015
0.015
0.015
Croatia
--
--
--
--
--
--
--
--
--
--
--
--
NA
0.16246
0.15093
0.15
0.15
0.05511
0.05511
0.09917
0.0922
0.0922
0.0922
0.0922
0.07528
0.07527
0.06914
0.07432
0.07915
0.0793
0.07335
0.071
Cyprus
0
0
0
0
0
0
0
0
0
0
0
0
0
0
0
0
0
0
0
0
0
0
0
0
0
0
0
0
0
0
0
0
Czech Republic
--
--
--
--
--
--
--
--
--
--
--
--
--
NA
NA
NA
0.006
0.006
0.006
0.015
0.015
0.015
0.015
0.015
0.015
0.015
0.015
0.015
0.015
0.015
0.015
0.015
Denmark
0.375
0.475
0.47
0.473
0.324
0.4
0.465
0.44
0.44
0.861
0.84912
0.79944
0.755
0.72962
0.77994
0.73591
1.03153
0.9571
0.8617
0.94348
1.06927
1.06927
1.1133
1.347
1.277
1.32
1.328
1.277
1.188
1.06
1.06
0.812
Faroe Islands
0
0
0
0
0
0
0
0
0
0
0
0
0
0
0
0
0
0
0
0
0
0
0
0
0
0
0
0
0
0
0
0
Finland
0
0
0
0
0
0
0
0
0
0
0
0
0
0
0
0
0
0
0
0
0
0
0
0
0
0
0
0
0
0
0
0
Former Czechoslovakia
NA
NA
NA
NA
NA
NA
NA
NA
NA
NA
NA
NA
0.015
0.015
0.015
0.015
--
--
--
--
--
--
--
--
--
--
--
--
--
--
--
--
Former Serbia and Montenegro
--
--
--
--
--
--
--
--
--
--
--
--
NA
0.0775
0.0775
0.0775
0.0775
0.0775
0.0775
0.0775
0.0775
0.0775
0.0775
0.0775
0.0775
0.0775
--
--
--
--
--
--
Former Yugoslavia
0.275
0.265
NA
NA
NA
NA
NA
NA
NA
NA
NA
0.24
0.24
--
--
--
--
--
--
--
--
--
--
--
--
--
--
--
--
--
--
--
France
0.05
0.04
0.103
0.1243
0.13978
0.148
0.23
0.2349
0.21262
0.20603
0.1899
0.18477
0.17084
0.17743
0.17743
0.15159
0.13831
0.11731
0.12737
0.10705
0.10705
0.14517
0.14004
0.14847
0.14847
0.14649
0.1584
0.1215
0.1198
0.1033
0.10115
0.09163
Germany
0.48
0.45
0.3424
0.31
0.304
0.299
0.292
0.316
0.316
0.408
0.4
0.425
0.449
0.44931
0.44931
0.3684
0.33872
0.38535
0.41048
0.38849
0.35697
0.37969
0.3643
0.34231
0.442
0.39435
0.3672
0.367
0.367
0.276
0.276
0.276
Germany, East
NA
NA
NA
NA
NA
NA
NA
NA
NA
NA
NA
--
--
--
--
--
--
--
--
--
--
--
--
--
--
--
--
--
--
--
--
--
Germany, West
NA
NA
NA
NA
NA
NA
NA
NA
NA
NA
NA
--
--
--
--
--
--
--
--
--
--
--
--
--
--
--
--
--
--
--
--
--
Gibraltar
0
0
0
0
0
0
0
0
0
0
0
0
0
0
0
0
0
0
0
0
0
0
0
0
0
0
0
0
0
0
0
0
Greece
0.15
0.15
0.073
0.05978
0.051
0.051
0.0346
0.026
0.0216
0.02
0.0725
0.03
0.041
0.041
0.041
0.041
0.014
0.012
0.01
0.01
0.01
0.01
0.009
0.009
0.006
0.007
0.007
0.005
0.01
0.01
0.01
0.01
Hungary
NA
NA
NA
NA
NA
NA
NA
NA
NA
NA
NA
NA
0.1585
0.14696
0.13903
0.13214
0.12854
0.11954
0.12779
0.13138
0.10972
0.10972
0.11092
0.10248
0.10248
0.10248
0.10248
0.02018
0.02018
0.02018
0.02657
0.02657
Iceland
0
0
0
0
0
0
0
0
0
0
0
0
0
0
0
0
0
0
0
0
0
0
0
0
0
0
0
0
0
0
0
0
Ireland
0
0
0
0
0
0
0
0
0
0
0
0
0
0
0
0
0
0
0
0
0
0
0
0
0
0
0
0
0
0
0
0
Italy
0.645
0.64
0.625
0.703
0.8
0.8
0.74
0.72175
0.739
0.739
0.7271
0.6935
0.69215
0.74698
0.6205
0.6205
0.6205
0.68462
0.72927
0.62176
0.62176
0.62176
0.62176
0.6217
0.6217
0.6217
0.6217
0.6
0.4065
0.4065
0.42368
0.47645
Luxembourg
0
0
0
0
0
0
0
0
0
0
0
0
0
0
0
0
0
0
0
0
0
0
0
0
0
0
0
0
0
0
0
0
Macedonia
--
--
--
--
--
--
--
--
--
--
--
--
NA
0
0
0
0
0
0
0
0
0
0
0
0
0
0
0
0
0
0
0
Malta
0
0
0
0
0
0
0
0
0
0
0
0
0
0
0
0
0
0
0
0
0
0
0
0
0
0
0
0
0
0
0
0
Montenegro
--
--
--
--
--
--
--
--
--
--
--
--
--
--
--
--
--
--
--
--
--
--
--
--
--
--
0
0
0
0
0
0
Netherlands
0.06
0.285
0.345
0.294
0.3087
0.31
0.251
0.1949
0.195
0.20559
0.1698
0.1572
0.14465
0.14465
0.13209
0.11322
0.10693
0.08806
0.11322
0.1258
0.10693
0.10693
0.10693
0.106
0.106
0.106
0.106
0.1
0.1
0.1
0.1
0.31
Norway
5.75
5.5
7.62
6.8
7.66
8.3
10.9
10.5
14.8
10.435
11.5462
7.60941
7.6094
8.80573
9.28376
9.41585
8.42206
11.2336
10.42222
10.91282
10.78702
9.44729
9.44729
10.265
10.44737
8.5
7.705
7.8493
6.86533
6.68
6.68
5.67
Poland
NA
NA
NA
NA
NA
NA
NA
NA
NA
NA
NA
NA
0.03
0.04221
0.03679
0.03531
0.03133
0.04006
0.04006
0.11488
0.11488
0.11488
0.11488
0.09638
0.09638
0.09638
0.09638
0.09638
0.09638
0.09638
0.09638
0.09638
Portugal
0
0
0
0
0
0
0
0
0
0
0
0
0
0
0
0
0
0
0
0
0
0
0
0
0
0
0
0
0
0
0
0
Romania
NA
NA
NA
NA
NA
NA
NA
NA
NA
NA
NA
1.17
1.15
1.56875
1.56875
1.606
1.606
1.606
1.606
1.42614
1.42614
1.42614
0.95562
0.95562
0.95562
0.95562
0.95562
0.6
0.6
0.6
0.6
0.6
Serbia
--
--
--
--
--
--
--
--
--
--
--
--
--
--
--
--
--
--
--
--
--
--
--
--
--
--
0.0775
0.0775
0.0775
0.0775
0.0775
0.0775
Slovakia
--
--
--
--
--
--
--
--
--
--
--
--
--
NA
NA
NA
0.009
0.009
0.009
0.009
0.009
0.009
0.009
0.009
0.009
0.009
0.009
0.009
0.009
0.009
0.009
0.009
Slovenia
--
--
--
--
--
--
--
--
--
--
--
--
NA
0
0
0
0
0
0
0
0
0
0
0
0
0
0
0
0
0
0
0
Spain
0.15
0.35
0.1217
0.1314
0.16
0.115
0.09
0.0282
0.0386
0.02596
0.025
0.02
0.02139
0.02252
0.02252
0.02024
0.02
0.03
0.03
0.014
0.014
0.02101
0.02101
0.15763
0.15763
0.15763
0.15763
0.15
0.15
0.15
0.15
0.15
Sweden
0
0
0
0
0
0
0
0
0
0
0
0
0
0
0
0
0
0
0
0
0
0
0
0
0
0
0
0
0
0
0
0
Switzerland
0
0
0
0
0
0
0
0
0
0
0
0
0
0
0
0
0
0
0
0
0
0
0
0
0
0
0
0
0
0
0
0
Turkey
0.125
0.11
0.28
0.28
0.37
0.294
0.3
0.4
0.38
0.381
0.52085
0.65
0.54045
0.47476
0.48767
0.48767
0.48767
0.26005
0.33104
0.3172
0.29865
0.29576
0.29576
0.3
0.3
0.3
0.3
0.3
0.3
0.3
0.2622
0.27043
United Kingdom
15.4
14.8
14.8
13.9
13.15
13.59
13
9
5.2
5.175
4.25562
3.825
3.99431
4.14363
4.55426
4.51693
4.29295
4.51693
5.0028
5.19087
5.15325
5.0028
4.93
4.715
4.665
4.487
4.02948
3.875
3.6
3.41
3.08448
2.85768
Eurasia
67
63
63
63
63
63
61
59
59
58.5
58.4
57
57
57
57
57
57
57
57
57
57
57
57
77.832
77.832
77.832
77.832
98.886
98.886
98.886
98.886
98.886
Armenia
--
--
--
--
--
--
--
--
--
--
--
--
NA
NA
NA
NA
NA
0
0
0
0
0
0
0
0
0
0
0
0
0
0
0
Azerbaijan
--
--
--
--
--
--
--
--
--
--
--
--
NA
NA
NA
NA
NA
1.178
1.178
1.178
1.178
1.178
1.178
7
7
7
7
7
7
7
7
7
Belarus
--
--
--
--
--
--
--
--
--
--
--
--
NA
NA
NA
NA
NA
0.198
0.198
0.198
0.198
0.198
0.198
0.198
0.198
0.198
0.198
0.198
0.198
0.198
0.198
0.198
Estonia
--
--
--
--
--
--
--
--
--
--
--
--
NA
NA
NA
NA
NA
0
0
0
0
0
0
0
0
0
0
0
0
0
0
0
Former U.S.S.R.
67
63
63
63
63
63
61
59
59
58.5
58.4
57
57
57
57
57
57
--
--
--
--
--
--
--
--
--
--
--
--
--
--
--
Georgia
--
--
--
--
--
--
--
--
--
--
--
--
NA
NA
NA
NA
NA
0.035
0.035
0.035
0.035
0.035
0.035
0.035
0.035
0.035
0.035
0.035
0.035
0.035
0.035
0.035
Kazakhstan
--
--
--
--
--
--
--
--
--
--
--
--
NA
NA
NA
NA
NA
5.417
5.417
5.417
5.417
5.417
5.417
9
9
9
9
30
30
30
30
30
Kyrgyzstan
--
--
--
--
--
--
--
--
--
--
--
--
NA
NA
NA
NA
NA
0.04
0.04
0.04
0.04
0.04
0.04
0.04
0.04
0.04
0.04
0.04
0.04
0.04
0.04
0.04
Latvia
--
--
--
--
--
--
--
--
--
--
--
--
NA
NA
NA
NA
NA
0
0
0
0
0
0
0
0
0
0
0
0
0
0
0
Lithuania
--
--
--
--
--
--
--
--
--
--
--
--
NA
NA
NA
NA
NA
0.012
0.012
0.012
0.012
0.012
0.012
0.012
0.012
0.012
0.012
0.012
0.012
0.012
0.012
0.012
Moldova
--
--
--
--
--
--
--
--
--
--
--
--
NA
NA
NA
NA
NA
0
0
0
0
0
0
0
0
0
0
0
0
0
0
0
Russia
--
--
--
--
--
--
--
--
--
--
--
--
NA
NA
NA
NA
NA
48.573
48.573
48.573
48.573
48.573
48.573
60
60
60
60
60
60
60
60
60
Tajikistan
--
--
--
--
--
--
--
--
--
--
--
--
NA
NA
NA
NA
NA
0.012
0.012
0.012
0.012
0.012
0.012
0.012
0.012
0.012
0.012
0.012
0.012
0.012
0.012
0.012
Turkmenistan
--
--
--
--
--
--
--
--
--
--
--
--
NA
NA
NA
NA
NA
0.546
0.546
0.546
0.546
0.546
0.546
0.546
0.546
0.546
0.546
0.6
0.6
0.6
0.6
0.6
Ukraine
--
--
--
--
--
--
--
--
--
--
--
--
NA
NA
NA
NA
NA
0.395
0.395
0.395
0.395
0.395
0.395
0.395
0.395
0.395
0.395
0.395
0.395
0.395
0.395
0.395
Uzbekistan
--
--
--
--
--
--
--
--
--
--
--
--
NA
NA
NA
NA
NA
0.594
0.594
0.594
0.594
0.594
0.594
0.594
0.594
0.594
0.594
0.594
0.594
0.594
0.594
0.594
Middle East
361.8223
361.961
362.55995
369.00589
369.7308
398.38075
398.02571
401.8788
564.68025
571.51878
660.24719
662.59786
661.57078
661.791
662.86594
660.29459
659.55541
676.35239
676.95233
673.64723
675.63591
683.51587
685.59229
685.64226
726.84234
729.34056
743.41056
739.20452
748.2855
745.9975
753.3575
752.9175
Bahrain
0.24
0.225
0.209
0.197
0.185
0.17
0.155
0.14
0.14055
0.126
0.11171
0.09746
0.08349
0.06958
0.06958
0.21
0.21
0.21
0.21
0.16
0.14811
0.14811
0.12456
0.12456
0.12456
0.12456
0.12456
0.12456
0.12456
0.12456
0.12456
0.12456
Iran
58
57.5
57
55.308
51
48.5
47.876
48.8
92.85
92.85
92.86
92.85
92.86
92.86
92.86
89.25
88.2
93
93
89.7
89.7
89.7
89.7
89.7
125.8
125.8
132.46
136.27
138.4
136.15
137.62
137.01
Iraq
31
30
29.7
41
43
44.5
44.11
47.1
100
100
100
100
100
100
100
100
100
112
112.5
112.5
112.5
112.5
112.5
112.5
115
115
115
115
115
115
115
115
Israel
0.001
0.001
0.00095
0.00089
0.0008
0.00075
0.00071
0.0007
0.0007
0.00162
0.00148
0.0014
0.00129
0.00342
0.00335
0.0033
0.00411
0.00409
0.00403
0.00393
0.0039
0.00387
0.00384
0.00381
0.00378
0.002
0.002
0.00196
0.00194
0.00194
0.00194
0.00194
Jordan
NA
NA
NA
NA
NA
NA
NA
NA
0.012
0.005
0.005
0.02
0.005
0.004
0.001
0.0003
0.0003
0.0003
0.0003
0.0003
0.0009
0.00089
0.00089
0.00089
0.001
0.001
0.001
0.001
0.001
0.001
0.001
0.001
Kuwait
68.53
67.93
67.73
67.15
66.7475
92.71
92.464
94.5221
94.525
94.525
97.125
97.025
96.5
96.5
96.5
96.5
96.5
96.5
96.5
96.5
96.5
96.5
96.5
96.5
99
101.5
104
101.5
104
104
104
104
Lebanon
0
0
0
0
0
0
0
0
0
0
0
0
0
0
0
0
0
0
0
0
0
0
0
0
0
0
0
0
0
0
0
0
Oman
2.4
2.34
2.57
2.73
2.79
3.5
4
4.032
4.012
4.07116
4.25
4.3
4.25
4.483
4.7
4.828
5.138
5.138
5.238
5.283
5.283
5.506
5.506
5.506
5.506
5.506
5.506
5.5
5.5
5.5
5.5
5.5
Palestine
--
--
--
--
--
--
--
--
--
--
--
--
--
--
--
--
--
0
0
0
0
0
0
0
0
0
0
0
0
0
0
0
Qatar
3.76
3.585
3.434
3.425
3.33
3.35
3.3
3.154
3.15
3.15
4.5
4.5
3.729
3.729
3.729
3.7
3.7
3.7
3.7
3.7
3.7
13.157
15.207
15.207
15.207
15.207
15.207
15.207
15.207
15.21
25.41
25.38
Saudi Arabia
166.48
168.03
167.85
165.32
168.8475
171.71
171.49
169.18
169.585
172.575
257.559
260.004
260.342
260.342
261.203
261.203
261.203
261.5
261.5
261.5
263.5
261.7
261.75
261.8
261.9
261.9
266.81
262.3
266.751
266.71
262.4
262.6
Syria
2
1.94
1.89
1.521
1.49
1.45
1.44
1.4
1.75
1.73
1.73
1.7
1.7
1.7
1.7
2.5
2.5
2.5
2.5
2.5
2.5
2.5
2.5
2.5
2.5
2.5
2.5
2.5
2.5
2.5
2.5
2.5
United Arab Emirates
29.4113
30.41
32.176
32.354
32.34
32.49
32.99
33.05
98.105
98.105
98.105
98.1
98.1
98.1
98.1
98.1
98.1
97.8
97.8
97.8
97.8
97.8
97.8
97.8
97.8
97.8
97.8
97.8
97.8
97.8
97.8
97.8
Yemen
NA
NA
NA
NA
NA
NA
0.2
0.5
0.55
4.38
4
4
4
4
4
4
4
4
4
4
4
4
4
4
4
4
4
3
3
3
3
3
Africa
57.0721
55.14838
56.17163
57.82169
56.15702
55.54055
56.73405
55.19405
55.2497
56.96377
58.83662
59.89214
60.48753
61.87242
61.96288
62.17667
73.15334
67.55546
70.0626
75.44205
74.88955
74.88944
76.67666
77.4289
87.0429
100.7839
102.58035
114.07342
114.83826
117.06418
119.11418
123.60911
Algeria
8.44
8.2
8.08
9.44
9.22
9
8.82
8.8
8.5
8.4
9.2
9.2
9.2
9.2
9.2
9.2
9.2
9.2
9.2
9.2
9.2
9.2
9.2
9.2
11.314
11.8
11.35
12.27
12.2
12.2
12.2
12.2
Angola
1.2
1.2
1.45
1.635
1.7
1.8
2
1.1494
1.149
2.024
2.024
2.074
1.81817
1.5
1.5
5.41221
5.41221
5.41221
5.412
5.412
5.412
5.412
5.412
5.412
5.412
5.412
5.412
8
9.035
9.04
9.5
9.5
Benin
NA
NA
NA
NA
0.1
0.1
0.1
0.1
0.1
0.1
0.1
0.1
0.0199
0.0199
0.0199
0.027
0.0289
0.0289
0.00821
0.00821
0.00821
0.00821
0.00821
0.00821
0.00821
0.00821
0.00821
0.008
0.008
0.008
0.008
0.008
Botswana
0
0
0
0
0
0
0
0
0
0
0
0
0
0
0
0
0
0
0
0
0
0
0
0
0
0
0
0
0
0
0
0
Burkina Faso
0
0
0
0
0
0
0
0
0
0
0
0
0
0
0
0
0
0
0
0
0
0
0
0
0
0
0
0
0
0
0
0
Burundi
0
0
0
0
0
0
0
0
0
0
0
0
0
0
0
0
0
0
0
0
0
0
0
0
0
0
0
0
0
0
0
0
Cameroon
0.14
0.2
0.48
0.53
0.52
0.55
0.555
0.54
0.52
0.4
0.4
0.4
0.4
0.4
0.4
0.4
0.4
0.4
0.4
0.4
0.4
0.4
0.4
0.4
0.4
0.4
0.4
0.4
0.2
0.2
0.2
0.2
Cape Verde
0
0
0
0
0
0
0
0
0
0
0
0
0
0
0
0
0
0
0
0
0
0
0
0
0
0
0
0
0
0
0
0
Central African Republic
0
0
0
0
0
0
0
0
0
0
0
0
0
0
0
0
0
0
0
0
0
0
0
0
0
0
0
0
0
0
0
0
Chad
NA
NA
NA
NA
NA
NA
NA
NA
NA
NA
NA
NA
NA
NA
NA
NA
NA
NA
NA
NA
NA
NA
NA
NA
NA
NA
1.5
1.5
1.5
1.5
1.5
1.5
Comoros
0
0
0
0
0
0
0
0
0
0
0
0
0
0
0
0
0
0
0
0
0
0
0
0
0
0
0
0
0
0
0
0
Congo (Brazzaville)
0.4
0.66
1.3
1.55
0.4
0.48
0.65
0.72
0.72
0.71
0.83
0.83
0.83
0.83
0.83
0.83
1.50591
1.50591
1.50591
1.50591
1.50591
1.50591
1.50591
1.50591
1.50591
1.50591
1.5059
1.6
1.6
1.6
1.6
1.6
Congo (Kinshasa)
0.135
0.13
0.145
0.139
0.11
0.11
0.11
0.112
0.112
0.09617
0.09612
0.05564
0.187
0.187
0.187
0.187
0.187
0.187
0.187
0.187
0.187
0.187
0.187
0.187
0.187
0.187
0.187
0.18
0.18
0.18
0.18
0.18
Côte d'Ivoire (Ivory Coast)
NA
0.05
0.314
0.1105
0.108
0.108
0.125
0.125
0.12
0.12
0.1
0.1
0.1
0.1
0.05
0.05
0.1
0.1
0.1
0.1
0.1
0.1
0.1
0.1
0.1
0.1
0.1
0.1
0.1
0.1
0.1
0.1
Djibouti
0
0
0
0
0
0
0
0
0
0
0
0
0
0
0
0
0
0
0
0
0
0
0
0
0
0
0
0
0
0
0
0
Egypt
3.1
2.9
2.93
3.325
3.45
3.2
3.85
3.6
4.3
4.3
4.5
4.5
4.5
6.2
6.3
3.26
3.87942
3.69617
3.83455
3.5
2.94756
2.94756
2.94756
3.7
3.7
3.7
3.7
3.7
3.7
3.7
3.7
4.4
Equatorial Guinea
NA
NA
NA
NA
NA
NA
NA
NA
NA
NA
NA
NA
NA
0.0036
0.0036
0.012
0.012
0.012
0.012
0.012
0.012
0.012
0.012
0.012
0.012
0.012
0.012
1.1
1.1
1.1
1.1
1.1
Eritrea
--
--
--
--
--
--
--
--
--
--
--
--
--
--
0
0
0
0
0
0
0
0
0
0
0
0
0
0
0
0
0
0
Ethiopia
NA
NA
NA
NA
NA
NA
NA
NA
NA
NA
NA
NA
NA
NA
NA
NA
NA
0.00043
0.00043
0.00043
0.00043
0.00043
0.00043
0.00043
0.00043
0.00043
0.00043
0.00043
0.00043
0.00043
0.00043
0.00043
Gabon
0.5
0.45
0.48
0.46
0.49
0.51
0.52
0.645
0.645
0.72
0.733
0.73
0.73
0.73
0.73
1.34
1.34
1.34
2.499
2.499
2.499
2.499
2.499
2.499
2.499
2.499
2.499
2
2
2
2
2
Gambia, The
0
0
0
0
0
0
0
0
0
0
0
0
0
0
0
0
0
0
0
0
0
0
0
0
0
0
0
0
0
0
0
0
Ghana
0.007
0.0063
0.00231
0.0054
0.0038
0.0038
0.0038
0.00235
0.001
0.001
0.001
0.0005
0.0005
0.0005
0.0005
0.0005
0.016
0.01651
0.01651
0.01651
0.01651
0.01651
0.01651
0.01651
0.01651
0.01651
0.0165
0.015
0.015
0.015
0.015
0.66
Guinea
0
0
0
0
0
0
0
0
0
0
0
0
0
0
0
0
0
0
0
0
0
0
0
0
0
0
0
0
0
0
0
0
Guinea-Bissau
0
0
0
0
0
0
0
0
0
0
0
0
0
0
0
0
0
0
0
0
0
0
0
0
0
0
0
0
0
0
0
0
Kenya
0
0
0
0
0
0
0
0
0
0
0
0
0
0
0
0
0
0
0
0
0
0
0
0
0
0
0
0
0
0
0
0
Lesotho
0
0
0
0
0
0
0
0
0
0
0
0
0
0
0
0
0
0
0
0
0
0
0
0
0
0
0
0
0
0
0
0
Liberia
0
0
0
0
0
0
0
0
0
0
0
0
0
0
0
0
0
0
0
0
0
0
0
0
0
0
0
0
0
0
0
0
Libya
23.5
23
22.6
21.5
21.27
21.1
21.3
21.3
21
22
22.8
22.8
22.8
22.8
22.8
22.8
29.5
29.5
29.5
29.5
29.5
29.5
29.5
29.5
36
39
39.126
41.464
41.464
43.66
44.27
46.42
Madagascar
0
0
0
0
0
0
0
0
0
0
0
0
0
0
0
0
0
0
0
0
0
0
0
0
0
0
0
0
0
0
0
0
Malawi
0
0
0
0
0
0
0
0
0
0
0
0
0
0
0
0
0
0
0
0
0
0
0
0
0
0
0
0
0
0
0
0
Mali
0
0
0
0
0
0
0
0
0
0
0
0
0
0
0
0
0
0
0
0
0
0
0
0
0
0
0
0
0
0
0
0
Mauritania
NA
NA
NA
NA
NA
NA
NA
NA
NA
NA
NA
NA
NA
NA
NA
NA
NA
NA
NA
NA
NA
NA
NA
NA
NA
NA
NA
0.1
0.1
0.1
0.1
0.1
Mauritius
0
0
0
0
0
0
0
0
0
0
0
0
0
0
0
0
0
0
0
0
0
0
0
0
0
0
0
0
0
0
0
0
Morocco
0.0001
0.00007
0.00032
0.00029
0.00022
0.00025
0.00025
0.0003
0.0027
0.0026
0.0025
0.002
0.00214
0.0016
0.00106
0.00174
0.00119
0.00119
0.00197
0.00197
0.0019
0.0018
0.0018
0.0016
0.0016
0.0016
0.00107
0.00099
0.00084
0.00075
0.00075
0.00068
Mozambique
0
0
0
0
0
0
0
0
0
0
0
0
0
0
0
0
0
0
0
0
0
0
0
0
0
0
0
0
0
0
0
0
Namibia
--
--
--
--
--
--
--
--
--
--
0
0
0
0
0
0
0
0
0
0
0
0
0
0
0
0
0
0
0
0
0
0
Niger
0
0
0
0
0
0
0
0
0
0
0
0
0
0
0
0
0
0
0
0
0
0
0
0
0
0
0
0
0
0
0
0
Nigeria
17.4
16.7
16.5
16.75
16.55
16.65
16.6
16
15.98
16
16
17.1
17.89982
17.89982
17.89982
17.89982
20.828
15.52088
16.786
22.5
22.5
22.5
24
24
25
35.255
35.876
36.22
36.22
36.22
37.2
37.2
Reunion
0
0
0
0
0
0
0
0
0
0
0
0
0
0
0
0
0
0
0
0
0
0
0
0
0
0
0
0
0
0
0
0
Rwanda
0
0
0
0
0
0
0
0
0
0
0
0
0
0
0
0
0
0
0
0
0
0
0
0
0
0
0
0
0
0
0
0
Saint Helena
0
0
0
0
0
0
0
0
0
0
0
0
0
0
0
0
0
0
0
0
0
0
0
0
0
0
0
0
0
0
0
0
Sao Tome and Principe
0
0
0
0
0
0
0
0
0
0
0
0
0
0
0
0
0
0
0
0
0
0
0
0
0
0
0
0
0
0
0
0
Senegal
0
0
0
0
0
0
0
0
0
0
0
0
0
0
0
0
0
0
0
0
0
0
0
0
0
0
0
0
0
0
0
0
Seychelles
0
0
0
0
0
0
0
0
0
0
0
0
0
0
0
0
0
0
0
0
0
0
0
0
0
0
0
0
0
0
0
0
Sierra Leone
0
0
0
0
0
0
0
0
0
0
0
0
0
0
0
0
0
0
0
0
0
0
0
0
0
0
0
0
0
0
0
0
Somalia
0
0
0
0
0
0
0
0
0
0
0
0
0
0
0
0
0
0
0
0
0
0
0
0
0
0
0
0
0
0
0
0
South Africa
NA
NA
NA
0.1165
0.115
0.1145
NA
NA
NA
NA
NA
NA
NA
NA
0.041
0.0404
0.0267
0.0267
0.02936
0.02936
0.02936
0.02936
0.01568
0.01568
0.01568
0.01568
0.01568
0.015
0.015
0.015
0.015
0.015
Sudan
NA
NA
0.2
0.4
0.3
0.3
0.3
0.3
0.3
0.3
0.3
0.3
0.3
0.3
0.3
0.3
0.3
0.3
0.2621
0.2621
0.2621
0.2621
0.563
0.563
0.563
0.563
0.563
5
5
5
5
5
Swaziland
0
0
0
0
0
0
0
0
0
0
0
0
0
0
0
0
0
0
0
0
0
0
0
0
0
0
0
0
0
0
0
0
Tanzania
0
0
0
0
0
0
0
0
0
0
0
0
0
0
0
0
0
0
0
0
0
0
0
0
0
0
0
0
0
0
0
0
Togo
0
0
0
0
0
0
0
0
0
0
0
0
0
0
0
0
0
0
0
0
0
0
0
0
0
0
0
0
0
0
0
0
Tunisia
2.25
1.652
1.69
1.86
1.82
1.514
1.8
1.8
1.8
1.79
1.75
1.7
1.7
1.7
1.7
0.416
0.416
0.30756
0.30756
0.30756
0.30756
0.30756
0.30756
0.30756
0.30756
0.30756
0.30756
0.4
0.4
0.425
0.425
0.425
Uganda
0
0
0
0
0
0
0
0
0
0
0
0
0
0
0
0
0
0
0
0
0
0
0
0
0
0
0
0
0
0
0
1
Western Sahara
0
0
0
0
0
0
0
0
0
0
0
0
0
0
0
0
0
0
0
0
0
0
0
0
0
0
0
0
0
0
0
0
Zambia
0
0
0
0
0
0
0
0
0
0
0
0
0
0
0
0
0
0
0
0
0
0
0
0
0
0
0
0
0
0
0
0
Zimbabwe
0
0
0
0
0
0
0
0
0
0
0
0
0
0
0
0
0
0
0
0
0
0
0
0
0
0
0
0
0
0
0
0
Asia & Oceania
39.3552
40.1305
39.0458
39.24108
38.0694
37.6299
37.2763
37.4235
37.75365
44.91738
46.54535
50.24206
44.07322
44.57233
44.64694
44.45305
43.9534
42.29911
42.27544
43.06004
43.98524
43.95747
43.77949
38.71207
38.25823
36.29187
35.93642
33.36601
34.34984
34.00564
40.13664
40.2515
Afghanistan
0
0
0
0
0
0
0
0
0
0
0
0
0
0
0
0
0
0
0
0
0
0
0
0
0
0
0
0
0
0
0
0
American Samoa
0
0
0
0
0
0
0
0
0
0
0
0
0
0
0
0
0
0
0
0
0
0
0
0
0
0
0
0
0
0
0
0
Australia
2.13
2.36
1.709
1.62208
1.586
1.4309
1.449
1.7128
1.69196
1.67309
1.6765
1.56616
1.5237
1.7679
1.61459
1.61472
1.56009
1.80018
1.80018
2.895
2.895
2.895
3.5
3.5
3.5
1.491
1.437
1.59179
1.5
1.5
3.318
3.318
Bangladesh
NA
NA
NA
NA
NA
NA
NA
NA
0.0005
0.0005
0.0005
0.0005
0.0005
0.0015
0.004
0.004
0.00544
0.00544
0.00544
0.0569
0.0569
0.0569
0.0569
0.0569
0.056
0.056
0.028
0.028
0.028
0.028
0.028
0.028
Bhutan
0
0
0
0
0
0
0
0
0
0
0
0
0
0
0
0
0
0
0
0
0
0
0
0
0
0
0
0
0
0
0
0
Brunei
1.8
1.71
1.63
1.24
1.39
1.4
1.48
1.4209
1.42
1.4
1.375
1.35
1.35
1.35
1.35
1.35
1.35
1.35
1.35
1.35
1.35
1.35
1.35
1.35
1.35
1.35
1.35
1.1
1.1
1.1
1.1
1.1
Burma (Myanmar)
0.025
0.03
0.028
0.032
0.03
0.028
0.0655
0.058
0.058
0.054
0.0513
0.051
0.05
0.05
0.05
0.05
0.05
0.05
0.05
0.05
0.05
0.05
0.05
0.05
0.05
0.05
0.05
0.05
0.05
0.05
0.05
0.05
Cambodia
0
0
0
0
0
0
0
0
0
0
0
0
0
0
0
0
0
0
0
0
0
0
0
0
0
0
0
0
0
0
0
0
China
20
20.5
19.895
19.485
19.1
19.1
18.42
18.4
18.4
23.55
24
24
24
24
24
24
24
24
24
24
24
24
24
18.25
18.25
18.25
18.25
16
16
16
20.35
20.35
Cook Islands
0
0
0
0
0
0
0
0
0
0
0
0
0
0
0
0
0
0
0
0
0
0
0
0
0
0
0
0
0
0
0
0
Fiji
0
0
0
0
0
0
0
0
0
0
0
0
0
0
0
0
0
0
0
0
0
0
0
0
0
0
0
0
0
0
0
0
French Polynesia
0
0
0
0
0
0
0
0
0
0
0
0
0
0
0
0
0
0
0
0
0
0
0
0
0
0
0
0
0
0
0
0
Guam
0
0
0
0
0
0
0
0
0
0
0
0
0
0
0
0
0
0
0
0
0
0
0
0
0
0
0
0
0
0
0
0
Hawaiian Trade Zone
0
0
0
0
0
0
0
--
--
--
--
--
--
--
--
--
--
--
--
--
--
--
--
--
--
--
--
--
--
--
--
--
Hong Kong
0
0
0
0
0
0
0
0
0
0
0
0
0
0
0
0
0
0
0
0
0
0
0
0
0
0
0
0
0
0
0
0
India
2.6
2.58
2.672
3.4164
3.485
3.5
3.736
4.2028
4.25
6.3542
7.5164
7.9971
6.12674
6.04907
5.92086
5.776
5.814
4.33306
4.33968
3.97199
4.8378
4.72785
4.84015
5.36717
5.3712
5.41687
5.84784
5.62464
5.62464
5.62464
5.62464
5.682
Indonesia
9.6
9.5
9.8
9.55
9.1
8.65
8.5
8.3
8.4
8.25
8.2
11.05
6.58129
5.779
5.779
5.779
5.16687
4.97971
4.97971
4.97971
4.97971
4.97971
5
5
4.7
4.7
4.301
4.3
4.37
3.99
3.99
3.99
Japan
0.055
0.052
0.07
0.06
0.058
0.056
0.062
0.057
0.05679
0.0545
0.06082
0.06302
0.05975
0.05985
0.05424
0.04933
0.04887
0.05041
0.06019
0.06019
0.05858
0.05858
0.05858
0.0585
0.0585
0.0585
0.0585
0.0585
0.04412
0.04412
0.04412
0.04412
Kiribati
0
0
0
0
0
0
0
0
0
0
0
0
0
0
0
0
0
0
0
0
0
0
0
0
0
0
0
0
0
0
0
0
Korea, North
0
0
0
0
0
0
0
0
0
0
0
0
0
0
0
0
0
0
0
0
0
0
0
0
0
0
0
0
0
0
0
0
Korea, South
0
0
0
0
0
0
0
0
0
0
0
0
0
0
0
0
0
0
0
0
0
0
0
0
0
0
0
0
0
0
0
0
Laos
0
0
0
0
0
0
0
0
0
0
0
0
0
0
0
0
0
0
0
0
0
0
0
0
0
0
0
0
0
0
0
0
Macau
0
0
0
0
0
0
0
0
0
0
0
0
0
0
0
0
0
0
0
0
0
0
0
0
0
0
0
0
0
0
0
0
Malaysia
2.8
3
2.8
3.325
3
3
3.1
2.8205
2.9
2.922
2.95
2.9
3.045
3.7
4.3
4.3
4.3
4
3.9
3.9
3.9
3.9
3
3
3
3
3
3
4
4
4
4
Maldives
0
0
0
0
0
0
0
0
0
0
0
0
0
0
0
0
0
0
0
0
0
0
0
0
0
0
0
0
0
0
0
0
Mongolia
0
0
0
0
0
0
0
0
0
0
0
0
0
0
0
0
0
0
0
0
0
0
0
0
0
0
0
0
0
0
0
0
Nauru
0
0
0
0
0
0
0
0
0
0
0
0
0
0
0
0
0
0
0
0
0
0
0
0
0
0
0
0
0
0
0
0
Nepal
0
0
0
0
0
0
0
0
0
0
0
0
0
0
0
0
0
0
0
0
0
0
0
0
0
0
0
0
0
0
0
0
New Caledonia
0
0
0
0
0
0
0
0
0
0
0
0
0
0
0
0
0
0
0
0
0
0
0
0
0
0
0
0
0
0
0
0
New Zealand
0.11
0.173
0.1708
0.169
0.17
0.155
0.176
0.167
0.16
0.18265
0.146
0.209
0.17023
0.16957
0.156
0.1366
0.104
0.13505
0.14529
0.127
0.127
0.127
0.08953
0.1897
0.0545
0.05148
0.053
0.053
0.055
0.06
0.06
0.1125
Niue
0
0
0
0
0
0
0
0
0
0
0
0
0
0
0
0
0
0
0
0
0
0
0
0
0
0
0
0
0
0
0
0
Pakistan
0.2
0.1965
0.24
0.1963
0.0829
0.082
0.109
0.096
0.096
0.17044
0.11856
0.16209
0.162
0.412
0.20328
0.20328
0.20328
0.208
0.208
0.208
0.208
0.208
0.29824
0.31044
0.28868
0.28868
0.2892
0.2892
0.2892
0.339
0.313
0.313
Papua New Guinea
NA
NA
NA
NA
NA
0.05
0.05
0.065
0.2
0.2
0.2
0.2
0.2
0.34
0.2534
0.229
0.4
0.275
0.325
0.333
0.333
0.3598
0.23835
0.24
0.24
0.24
0.24
0.24
0.088
0.088
0.088
0.088
Philippines
0.025
0.02
0.023
0.0356
0.0163
0.0163
0.0163
0.0169
0.016
0.0158
0.015
0.03869
0.038
0.14754
0.279
0.239
0.2161
0.213
0.2127
0.228
0.289
0.289
0.17806
0.152
0.152
0.152
0.1385
0.1385
0.1385
0.1385
0.1385
0.1385
Samoa
0
0
0
0
0
0
0
0
0
0
0
0
0
0
0
0
0
0
0
0
0
0
0
0
0
0
0
0
0
0
0
0
Singapore
0
0
0
0
0
0
0
0
0
0
0
0
0
0
0
0
0
0
0
0
0
0
0
0
0
0
0
0
0
0
0
0
Solomon Islands
0
0
0
0
0
0
0
0
0
0
0
0
0
0
0
0
0
0
0
0
0
0
0
0
0
0
0
0
0
0
0
0
Sri Lanka
0
0
0
0
0
0
0
0
0
0
0
0
0
0
0
0
0
0
0
0
0
0
0
0
0
0
0
0
0
0
0
0
Taiwan
0.0102
0.009
0.008
0.0067
0.0062
0.0057
0.0055
0.0054
0.0054
0.005
0.0046
0.0045
0.004
0.004
0.004
0.004
0.004
0.004
0.004
0.004
0.004
0.004
0.004
0.004
0.004
0.004
0.00238
0.00238
0.00238
0.00238
0.00238
0.00238
Thailand
0
0
0
0.103
0.045
0.156
0.107
0.1012
0.099
0.0852
0.23067
0.15
0.262
0.2419
0.17857
0.21811
0.23075
0.29526
0.29526
0.29625
0.29625
0.35164
0.51569
0.58335
0.58335
0.58335
0.291
0.29
0.46
0.441
0.43
0.435
Timor-Leste (East Timor)
--
--
--
--
--
--
--
--
--
--
--
--
--
--
--
--
--
--
--
--
--
--
--
0
0
0
0
0
0
0
0
0
Tonga
0
0
0
0
0
0
0
0
0
0
0
0
0
0
0
0
0
0
0
0
0
0
0
0
0
0
0
0
0
0
0
0
U.S. Pacific Islands
0
0
0
0
0
0
0
0
0
0
0
0
0
0
0
0
0
0
0
0
0
0
0
0
0
0
0
0
0
0
0
0
Vanuatu
0
0
0
0
0
0
0
0
0
0
0
0
0
0
0
0
0
0
0
0
0
0
0
0
0
0
0
0
0
0
0
0
Vietnam
NA
NA
NA
NA
NA
NA
NA
NA
NA
NA
NA
0.5
0.5
0.5
0.5
0.5
0.5
0.6
0.6
0.6
0.6
0.6
0.6
0.6
0.6
0.6
0.6
0.6
0.6
0.6
0.6
0.6
Wake Island
0
0
0
0
0
0
0
0
0
0
0
0
0
0
0
0
0
0
0
0
0
0
0
0
0
0
0
0
0
0
0
0

World

641.9285
648.75071
665.83175
665.50941
667.1986
697.7834
697.08006
698.2957
887.1034
905.69375
1000.26562
997.17347
988.50645
995.31677
997.8357
999.15484
1007.03415
1019.04442
1018.56266
1033.48368
1017.05222
1028.53339
1032.18548
1212.32585
1264.50558
1277.61366
1292.15053
1317.00742
1329.84708
1341.57232
NA
NA
¹ Proved reserves are estimated quantities that analysis of geologic and engineering data demonstrates with reasonable certainty are recoverable under existing economic and operating conditions.
NA = not available | -- = not applicable
Sources: EIA - Energy Information Administration


areppim: information, pure and simple