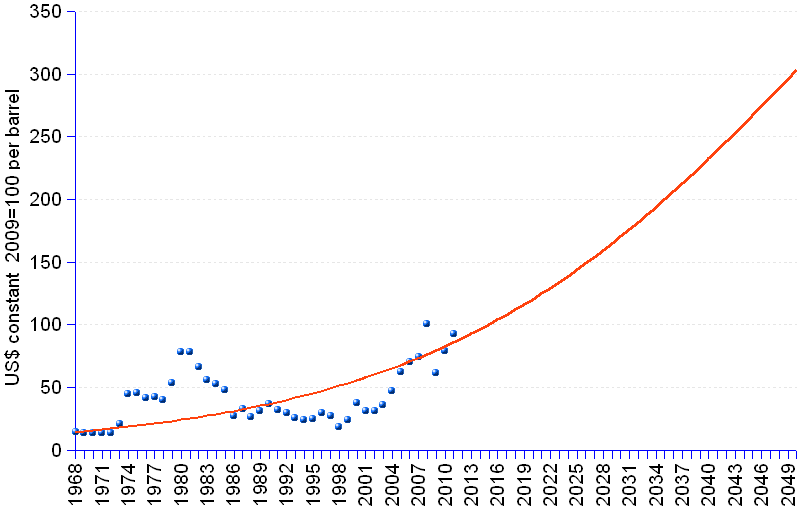 The chart blue dots are the historical average barrel prices (in constant US$, 2009=100) of crude oil, while the red line provides the non-linear projection until 2050. The chart does not intend to be a prediction tool of future prices, but only a strong reminder that the upwards trend will drive oil prices to stratospheric values. Since kerosene and gas prices at the pump closely follow crude oil prices, it is foreseeable that a flight ticket or a car ride will become unaffordable for the common person in a not so far away future.
However hard it may be to tell what the barrel of crude oil will be worth after-tomorrow, it is an easy guess to foresee that it will move significantly up in the long run. The market price of oil is influenced by a complex set of interrelated factors, which render the final outcome of a small change upstream quite unexpected or outright counter intuitive. Take the 2008 "subprime" mortgage collapse – the average barrel price dipped from around $120 to below $60.
Volatility of crude prices is probably to be blamed on political and speculative actions that cause prices to unexpectedly go through the roof and suddenly crash on the floor, rather than to the economic and demographic fundamentals that drive the long-term trends.
Some demand factors are obvious and can be planned for, to a large extent:
Economy growth drives demand for energy up. The surge of such emerging economies as China, India or Brazil is putting heavy pressure on the world supply of energy, of which crude oil is the dominant source.
Population growth induces higher energy consumption through increases in housing, commercial floorspace, transportation, and goods and services.
Transportation is especially avid for liquid fuels, for which there is no valid alternative as yet.
Efficiency gains can partially slow demand down.
Other factors are less adept to planning:
Discovery of new and exploitable oil, gas or other energy source deposits.
Technology breakthroughs in the production and exploitation of alternative energy sources, e.g. solar, wind, tidal, biomass, photovoltaic.
Technology advances in the exploitation of unconventional resources, including oil sands, extra heavy oil, bio fuels, coal-to-liquids, and gas-to liquids.
Technology improvements allowing for the substitution of one source of energy – preferably renewable – to another.
Political decisions and limits on economic access to resources, including use of quotas, fiscal regimes, and other restrictive regulations.
Financial breakdowns, social unrest or warfare can disrupt production and supply chains (see list of events in table below).
The intricate interplay of all these factors do not allow for reliable forecasts. The US energy information administration (EIA), the source of data in this page, periodically reports on the energy situation using their own energy modeling system. In its 2011 energy outlook EIA presents a high oil price case that places the price of the barrel at $200 (2009=100) by 2035.
The issue with such econometric models is the underlying assumption that there are no limits. GDP can grow, housing can multiply, transportation can spread forever, and energy sources will pop up inextinguishable, from somewhere, be it a supposedly unlimited planet or the fathomless technological human genius, in order to quench the insatiable demand for energy.
But efficiency gains and energy source substitution will not suffice. We must plan for a radical change of our energy consuming habits or else, someday, our own dark and greedy persona will provoke a painful settling of scores.
World Average Crude Oil Price ¹
(Actuals 1968-2011 and Forecast)

Year

Quarter 1

Quarter 2

Quarter 3

Quarter 4

Average Annual Price

Forecast
(logistic function)
(per barrel – constant US$ 2009=100)
1968
14.83
14.55
14.28
13.96
14.41
14.41
1969
13.70
13.41
13.35
13.37
13.46
15.04
1970
13.37
13.36
13.48
13.55
13.44
15.71
1971
13.58 (1)
13.62
13.57
13.51
13.57
16.40
1972
13.36
13.33
13.94
14.64
13.82
17.12
1973
15.33 (2)
15.93
22.48
30.11
20.96
17.87
1974
42.91
47.05
44.68
43.17
44.45
18.66
1975
43.62
44.82
45.71
47.23
45.35
19.48
1976
42.05
41.85
41.56
41.05
41.63
20.33
1977
42.72
42.57
42.05
41.45
42.20
21.22
1978
40.46 (3)
39.68
39.05
38.98
39.54
22.15
1979
41.26
48.69
59.50
65.37
53.71
23.11
1980
76.38 (4)
79.31
78.37
77.71
77.94
24.12
1981
83.54
79.98
74.76
73.25
77.88
25.17
1982
70.71
66.10
65.11
64.28
66.55
26.26
1983
58.39
54.71
55.45
55.20
55.94
27.40
1984
53.63
53.73
52.73
51.79
52.97
28.59
1985
48.91
49.05
47.23
47.15
48.09
29.82
1986
34.21 (5)
24.26
24.06
26.60
27.28
31.11
1987
31.18
32.98
34.40
31.24
32.45
32.45
1988
27.75
28.41
24.70
23.83
26.17
33.84
1989
29.50
32.27
30.34
31.76
30.97
35.29
1990
33.59
27.09
39.90
47.76
37.09
36.80
1991
32.41 (6)
30.53
31.63
31.55
31.53
38.36
1992
27.31
30.43
30.96
29.10
29.45
40.00
1993
27.98
27.76
24.89
22.84
25.87
41.69
1994
20.51
24.49
25.31
24.03
23.59
43.45
1995
24.89
26.10
23.96
24.23
24.80
45.29
1996
26.22
28.68
29.51
32.25
29.17
47.19
1997
29.64 (7)
25.89
25.64
25.73
26.73
49.17
1998
20.56
18.83
18.20
16.51
18.53
51.22
1999
16.60 (8)
22.34
27.40
30.91
24.31
53.35
2000
35.93
35.69
38.98
39.24
37.46
55.56
2001
35.10
33.77
32.16 (9)
24.53
31.39
57.86
2002
25.95
31.31
33.66
33.32
31.06
60.24
2003
39.97
33.87
35.11
36.07
36.26
62.71
2004
40.40
43.59
49.51
54.10
46.90
65.27
2005
55.19 (10)
58.48
68.95
64.92
61.89
67.92
2006
67.95
74.95
74.39
63.08
70.09
70.67
2007
60.43
67.08
77.52
93.02
74.51
73.51
2008
99.94
125.42
118.13 (11)
58.56
100.51
76.46
2009
42.96 (12)
59.47
68.12
76.02
61.64
79.50
2010
78.40
77.17
75.13
83.99
78.67
82.66
2011
92.51
92.51
85.92
2012
89.28
2013
92.76
2014
96.36
2015
100.06
2016
103.89
2017
107.83
2018
111.90
2019
116.08
2020
120.39
2021
124.82
2022
129.38
2023
134.07
2024
138.88
2025
143.81
2026
148.88
2027
154.07
2028
159.38
2029
164.82
2030
170.39
2031
176.08
2032
181.89
2033
187.81
2034
193.86
2035
200.02
2036
206.29
2037
212.67
2038
219.16
2039
225.75
2040
232.43
2041
239.21
2042
246.07
2043
253.02
2044
260.04
2045
267.13
2046
274.29
2047
281.51
2048
288.78
2049
296.10
2050
303.45
¹ Crude oil f.o.b. price: The crude oil price actually charged at the oil producing country's port of loading. Includes deductions for any rebates and discounts or additions of premiums, where applicable. It is the actual price paid with no adjustment for credit terms.
(1) US spare capacity exhausted
(2) Arab oil embargo
(3) Iranian revolution
(4) Iran-Iraq war
(5) Saudis abandon swing producer role
(6) Iraq invades Kuwait
(7) Asian financial crisis
(8) OPEC cuts production targets 1.7 mmbpd
(9) 9-11 attacks
(10) Low spare capacity
(11) Global financial collapse
(12) OPEC cuts production targets 4.2 mmbpd
Sources: EIA - Energy Information Administration


areppim: information, pure and simple