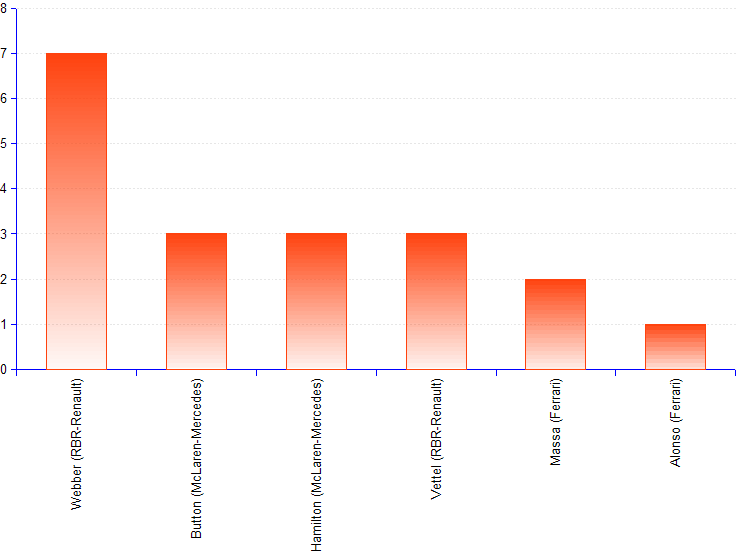 Mark Webber on a RBR-Renault has been the fastest driver in 2011, with 7 fastest laps in 19 races, against 3 for Button, Hamilton and his team fellow Vettel, 2 for Massa, and 1 for Alonso.
With respect to cars, RBR-Renault leads with 10 fastest laps, followed by McLaren-Mercedes with 6, while Ferrari claims only a comparatively modest performance with just 3 fastest laps.
Webber's performance demonstrates that RBR-Renault is a fast and reliable car and that he himself is a fast driver — although not a tactician to match his team's mate Vettel. Webber won 1 Grand Prix, the season's last one in Brazil, while C who won 11.
Formula 1 Championship
Fastest Lap Award - 2011 Results

Final Standings as at 13 November 2011 after Grand Prix of Abu Dhabi

Grand Prix

Date

Driver

Team

Time

Brazil
2011-11-27
Mark
Webber
RBR-Renault
00:01:15.324
Abu Dhabi
2011-11-13
Mark
Webber
RBR-Renault
00:01:42.612
India
2011-10-30
Sebastian
Vettel
RBR-Renault
00:01:27.249
Korea
2011-10-16
Sebastian
Vettel
RBR-Renault
00:01:39.605
Japan
2011-10-09
Jenson
Button
McLaren-Mercedes
00:01:36.568
Singapore
2011-09-25
Jenson
Button
McLaren-Mercedes
00:01:48.454
Italy
2011-09-11
Lewis
Hamilton
McLaren-Mercedes
00:01:26.187
Belgium
2011-08-28
Mark
Webber
RBR-Renault
00:01:49.883
Hungary
2011-07-31
Felipe
Massa
Ferrari
00.01:23.415
Germany
2011-07-24
Lewis
Hamilton
McLaren-Mercedes
00:01:34.302
Great Britain
2011-07-10
Fernando
Alonso
Ferrari
00.01:34.908
Europe
2011-06-26
Sebastian
Vettel
RBR-Renault
00:01:41.852
Canada
2011-06-12
Jenson
Button
McLaren-Mercedes
00:01:16.956
Monaco
2011-05-29
Mark
Webber
RBR-Renault
00:01:16.234
Spain
2011-05-22
Lewis
Hamilton
McLaren-Mercedes
00.01:26.727
Turkey
2011-05-08
Mark
Webber
RBR-Renault
00:01:29.703
China
2011-04-17
Mark
Webber
RBR-Renault
00:01:38.993
Malaysia
2011-04-10
Mark
Webber
RBR-Renault
00:01:40.571
Australia
2011-03-27
Felipe
Massa
Ferrari
00:01:28.947
Sources: see Formula 1


areppim: information, pure and simple