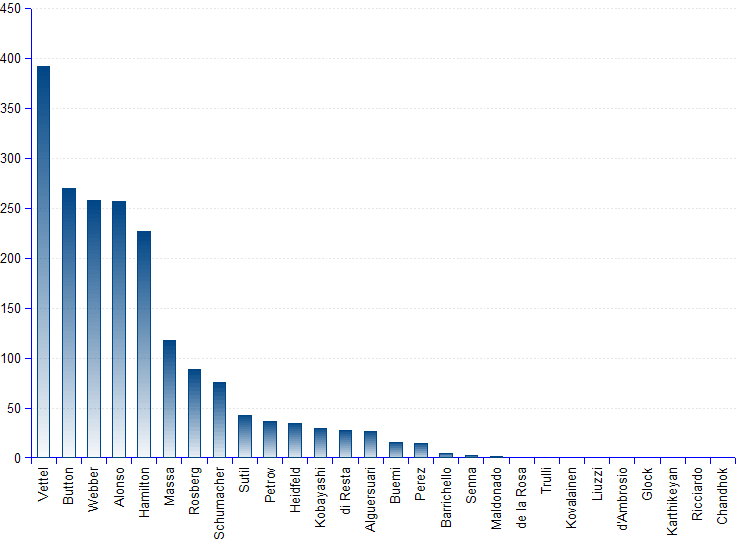 With a final lead of 122 points on his immediate follower, Vettel flew above the crowd all along the 2011 season, closing it with a most deserved champion's title. The last Grand Prix. In Petropolis, Brazil, was won by his team mate Webber, Vettel finishing 2nd. Maybe a gesture for a co-worker that, despite being the fastest in the circuit, had not succeed in winning a single Grand Prix this season.
While Vettel's leadership is unquestionable and quite conspicuous, the same does not apply to his followers. The gaps among the next 4 top ranked drivers do not exceed 43 points. In the case of Alonso, after having been ousted from the second position by Button, he lost the 3rd rank to Webber by a mere 1 point.
Now then, for the sake of speculation, what on earth does Michael Schumacher, the historical F1 super champion, want to prove with his recent come back? With a mediocre 8th rank, at 316 points from the number 1, after a 9th rank with a 184-point gap in 2010, he is tarnishing his glorious record. Once again, a matter of greed?
Formula 1
2011 Drivers Championship

Final Standings as at 27 November 2011 after Grand Prix of Brazil

Position

Driver

Nation

Team

Points

1
Sebastian
Vettel
Germany
RBR-Renault
392
2
Jenson
Button
United Kingdom
McLaren-Mercedes
270
3
Mark
Webber
Australia
RBR-Renault
258
4
Fernando
Alonso
Spain
Ferrari
257
5
Lewis
Hamilton
United Kingdom
McLaren-Mercedes
227
6
Felipe
Massa
Brazil
Ferrari
118
7
Nico
Rosberg
Germany
Mercedes
89
8
Michael
Schumacher
Germany
Mercedes
76
9
Adrian
Sutil
Germany
Force India-Mercedes
42
10
Vitaly
Petrov
Russia
Renault
37
11
Nick
Heidfeld
Germany
Renault
34
12
Kamui
Kobayashi
Japan
Sauber-Ferrari
30
13
Paul
di Resta
United Kingdom
Force India-Mercedes
27
14
Jaime
Alguersuari
Spain
STR-Ferrari
26
15
Sebastien
Buemi
Switzerland
STR-Ferrari
15
16
Sergio
Perez
Mexico
Sauber-Ferrari
14
17
Rubens
Barrichello
Brazil
Williams-Cosworth
4
18
Bruno
Senna
Brazil
Renault
2
19
Pastor
Maldonado
Venezuela
Williams-Cosworth
1
20
Pedro
de la Rosa
Spain
Sauber-Ferrari
0
21
Jarno
Trulli
Italy
Lotus-Renault
0
22
Heikki
Kovalainen
Finland
Lotus-Renault
0
23
Vitantonio
Liuzzi
Italy
HRT-Cosworth
0
24
Jerome
d'Ambrosio
Belgium
Virgin-Cosworth
0
25
Timo
Glock
Germany
Virgin-Cosworth
0
26
Narain
Karthikeyan
India
HRT-Cosworth
0
27
Daniel
Ricciardo
Australia
HRT-Cosworth
0
28
Karun
Chandhok
India
Lotus-Renault
0
Sources: see Formula 1


areppim: information, pure and simple