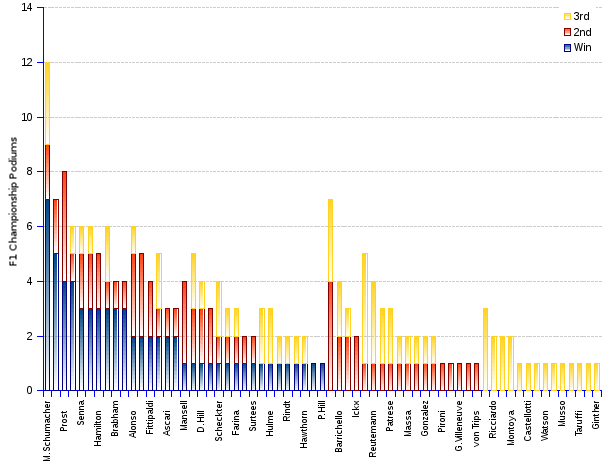 The German Michael Schumacher is the outstanding leader of all F1 World Champions with 7 wins and 5 other podium places. He is the only one to have equaled and surpassed the legendary Juan Manuel Fangio of Argentina who won the World Champion's crown 5 times in the far away 1950s.
Unfortunately, Schumacher tarnished his golden record by making a comeback in 2010, driving a Mercedes GP car. This time, his performance has been a ghostly shadow of his glorious past achievements, finishing 9th in 2010, 8th in 2011, and 13th in 2012 — far better than the average F1 candidate, but appalling for a champion of his class.
Meanwhile, a new German car-racing star is born : the young Sebastian Vettel has achieved 4 champion titles in a row, demonstrating an obvious superiority over his challengers. However, recent years have been marked by the Mercedes team unassailable supremacy, casting a shadow on Ferrari's Vettel performance. The future will tell whether or not he will be able to equal his country fellow's record performance.
Formula 1 World Championship Podiums
1950-2016

First name

Name

Nation

Champion

Second

Third

Total Podiums

Michele
Alboreto
Italy
0
1
0
1
Fernando
Alonso
Spain
2
3
1
6
Mario
Andretti
USA
1
0
1
2
Rene
Arnoux
France
0
0
1
1
Alberto
Ascari
Italy
2
1
0
3
Rubens
Barrichello
Brazil
0
2
2
4
Gerhard
Berger
Austria
0
0
2
2
Jack
Brabham
Australia
3
1
0
4
Tony
Brooks
United Kingdom
0
1
1
2
Jenson
Button
United Kingdom
1
1
1
3
Eugenio
Castellotti
Italy
0
0
1
1
Francois
Cevert
France
0
0
1
1
Jim
Clark
United Kingdom
2
1
2
5
Peter
Collins
United Kingdom
0
0
1
1
David
Coulthard
United Kingdom
0
1
4
5
Elio
de Angelis
Italy
0
0
1
1
Luigi
Fagioli
Italy
0
0
1
1
Juan Manuel
Fangio
Argentina
5
2
0
7
Nino
Farina
Italy
1
1
1
3
Emerson
Fittipaldi
Brazil
2
2
0
4
Heinz-Harald
Frentzen
Germany
0
1
1
2
Richie
Ginther
USA
0
0
1
1
Jose Froilan
Gonzalez
Argentina
0
1
1
2
Mika
Hakkinen
Finland
2
1
0
3
Lewis
Hamilton
United Kingdom
3
2
0
5
Mike
Hawthorn
United Kingdom
1
0
1
2
Damon
Hill
United Kingdom
1
2
1
4
Graham
Hill
United Kingdom
2
3
0
5
Phil
Hill
USA
1
0
0
1
Denny
Hulme
New Zealand
1
0
2
3
James
Hunt
United Kingdom
1
0
0
1
Jacky
Ickx
Belgium
0
2
0
2
Eddie
Irvine
United Kingdom
0
1
0
1
Alan
Jones
Australia
1
0
2
3
Niki
Lauda
Austria
3
1
0
4
Nigel
Mansell
United Kingdom
1
3
0
4
Felipe
Massa
Brazil
0
1
1
2
Bruce
McLaren
New Zealand
0
1
2
3
Juan Pablo
Montoya
Colombia
0
0
2
2
Stirling
Moss
United Kingdom
0
4
3
7
Luigi
Musso
Italy
0
0
1
1
Riccardo
Patrese
Italy
0
1
2
3
Ronnie
Peterson
Sweden
0
2
1
3
Nelson
Piquet
Brazil
3
1
2
6
Didier
Pironi
France
0
1
0
1
Alain
Prost
France
4
4
0
8
Kimi
Räikkönen
Finland
1
2
2
5
Clay
Regazzoni
Switzerland
0
1
1
2
Carlos
Reutemann
Argentina
0
1
3
4
Daniel
Ricciardo
Australia
0
0
2
2
Jochen
Rindt
Austria
1
0
1
2
Keke
Rosberg
Finland
1
0
1
2
Nico
Rosberg
Germany
1
2
0
3
Jody
Scheckter
South Africa
1
1
2
4
Michael
Schumacher
Germany
7
2
3
12
Ayrton
Senna
Brazil
3
2
1
6
Jackie
Stewart
United Kingdom
3
2
1
6
John
Surtees
United Kingdom
1
1
0
2
Piero
Taruffi
Italy
0
0
1
1
Sebastian
Vettel
Germany
4
1
1
6
Gilles
Villeneuve
Canada
0
1
0
1
Jacques
Villeneuve
Canada
1
1
0
2
Wolfgang
von Trips
Germany
0
1
0
1
John
Watson
United Kingdom
0
0
1
1
Mark
Webber
Australia
0
0
3
3
Total
67
67
67
201
Sources: see Formula 1

areppim: information, pure and simple