Soccer World Cup 2010 : things get really serious now
The preliminaries are over, and only eight teams remain in competition. How will they perform in the forthcoming matches ? Short of a crystal ball, you must trust your intuition, because examination of the data, however close, does not provide for any kind of certainty. Let us review the odds and guess a prognosis.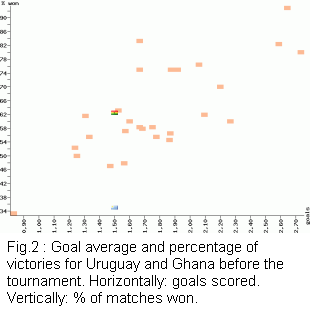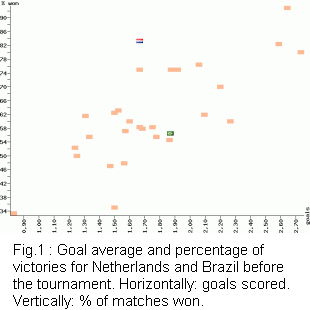 Netherlands against Brazil
The two teams met three times in the past. Brazil won twice while the Netherlands had one victory in a distant time, 36 years ago. Brazil's World Cup performance outshines the Netherlands'. Brazil became 5 times world champion and twice vice-champion, while the Netherlands achieved 2 vice-championships, a comparatively modest show. This is for the past record.
During the 2010 World Cup, comparative performances are balanced. The Dutch won 83% of the qualifying matches (Brazil : 56%), but Brazil scored more often (average 1.87 against 1.67 for the Netherlands) (see fig.1). The first stages of the Cup in South Africa were very much alike. The Netherlands succeeded in winning all 4 matches played and exhibited more aggressiveness with 26 shots (against 25 for Brazil) and 38% of shots on goal (Brazil: 32%). Brazil won 3 matches and conceded one draw, but achieved a better goal average (2.0 against 1.75 for the Netherlands), had higher ball possession (59% against 55% for the Netherlands), and higher shot accuracy (23% of shots ended in goal).
All considered, Brazil comes favourite.
Uruguay against Ghana
Uruguay and Ghana never met before, and despite Uruguay's grand performances in the past — two World Cup wins, long time ago — the performance of both teams is rather similar. In the qualifiers, both had a goal average of 1.5 goals. Uruguay won 62% of the matches while Ghana had to make do with 35% (see fig.2). During the tournament, Ghana exhibited a slightly higher fighting spirit, with 49% ball possession and the same number of shots as Uruguay, but performed less well in terms of shot accuracy (9 percent points behind) and success rate (4 percent points lower).
So, let us dare a prognostic: Uruguay stands a better chance.
Argentina against Germany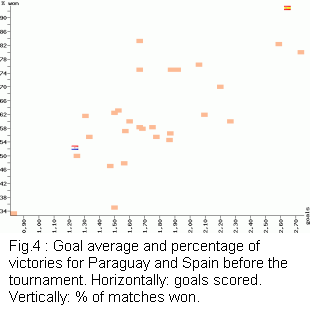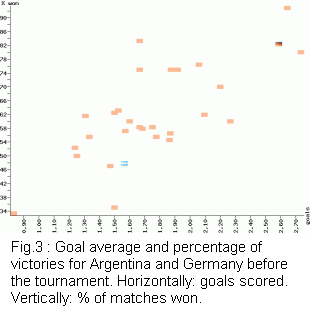 As regards Argentina and Germany, the match could as well be an alternative final in a way. Both teams can boast a superb track record, before and during the tournament. Argentina finished 4 times among the top 3 in past World Cups, having been twice the champion (see Fig.2). Germany did even better: ten times among the top 3 and three times world champion This advantage for Germany is also reflected on their past encounters, with two wins for Germany, and one win for Argentina (see Fig.3). During the group matches, the latter team narrowly outperformed Germany in terms of fighting spirit, with higher ball possession (more 3 percent points) and also more shots (16 more). However, Germany has been more efficient, proving more accurate (11 percent points higher shot accuracy) and more successful. Overall, if their scores are rather similar, it still remains that Argentina succeeded in all matches, while Germany lost one.
Nevertheless, it seems reasonable to consider Germany slightly more likely to pass the test.
Paraguay against Spain
Neither Paraguay nor Spain have a shining track record in World Cups. The best Spain could do was a 4th place in distant 1950. Nothing to feel excited about. In the current edition too, both teams put on a discreet performance. Paraguay won 2 matches and had 2 draws, while Spain won 3 matches and lost one. Spain is justly considered a good team at keeping the ball, preventing the opponent players from trying any offensive tricks (60% of ball possession, against 53% for Paraguay). During the qualifiers, Spain has been more efficient in protecting its goals (an average of 0.64 goals conceded) and in reaching the adversary's goals (an average of 2.64 goal scored) than Paraguay (corresponding averages: 0.86 and 1.24 - see fig.3). The ratio of goals scored/conceded during this World Cup has also been marginally favourable to Spain (2.5 to 2).
It seems sensible to anticipate a victory of Spain.
Now, our guess...
It may look a bit conservative, but it is our reasoned assessment : semi-finals will consist of a contention of Uruguay against Brazil, and Germany against Spain. We go so far as to anticipate a Brazil - Germany final. Don't you like it ? Fair enough – just go through the data and make your own guess...