| | |
| --- | --- |
| | Insight : football fair play |
You are here: areppim > Sports > Football fair play ranking
Euro 2008: fair play ranking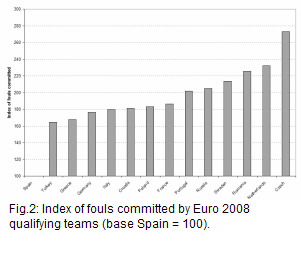 In sports, fair play cannot win games, but it can conquer hearts. Conversely, foul playing may be tempting, but it can prove risky, particularly if referees wake up and decide to sanction faulty players strictly.
How gentleman-like have been the qualifying teams in uefa 2008? Football statistics tell the whole story about football players behaviours.
serious foul playing, measured by the number of yellow and red cards shown to a team (see enlarged Fig.1 chart), places Croatia at a honourable place (5 yellow, zero red cards; index 100), roughly 7.5 times better than rugged Romania (35 yellow, 2 red cards; index 740);
lighter sins, as measured by the number of fouls committed (see enlarged Fig.2 chart), are more evenly distributed, Spain being the best in class (59 fouls, index 100) and the Czech team occupying the last rank (161 fouls, index 273).