| | |
| --- | --- |
| | Insight : experience of euro 2008 qualifying teams |
You are here: areppim > Sports > Experience of euro 2008 qualifying teams
Euro 2008: Experience of Euro 2008 qualifying teams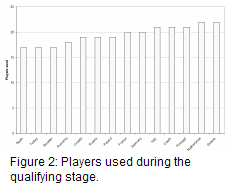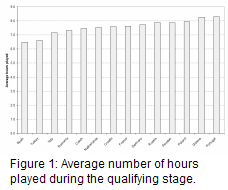 Common sense suggests that, in football (soccer) as in other sports, the more the players work together as a team, the better their performance will be when the moment of truth comes.
However, UEFA Euro competing football teams approached the euro 2008 final stage from different angles:
the number of hours the 23 selected athletes played together as a football team during the qualifying stage varied from 6.5 hrs for Spain to 8.3 hrs for Portugal on average (see enlarged Fig.1 chart). Will this 27% difference make a dent?
out of the 23 football players selected, Spain, Turkey and Sweden only used 17 during the qualifying matches. This contrasts with other teams such as the Netherlands or Greece that used 22, that is practically the whole final selection (see enlarged Fig.2 chart). Should this mean that the latter are better prepared?