| | |
| --- | --- |
| | Insight : competitive teams |
You are here: areppim > Sports > Competitive teams
Euro 2008: competitive effectiveness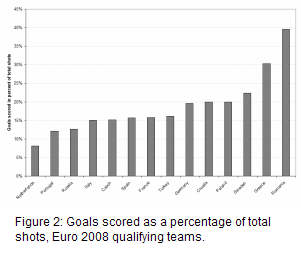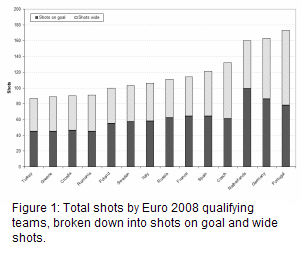 Fighting spirit is a high-value asset for competing teams in football (soccer) Euro 2008. But fighting without winning is a futile exercise, simply a waste of energy. What really matters is to fight and score. Effectiveness is the key word for all football teams engaged in the tournament.
In this respect, Euro qualifying football statistics provide some interesting clues:
fighting spirit is high in Portugal team (total of 173 shots), unfortunately they are not sharp shooters and only 45% are shots on goal (see enlarged Fig.1 chart);
effectiveness, on the other hand, seems to be the brand of Romania, with a total of 36 goals scored on 91 shots, which represents a hefty 40% success rate (see enlarged Fig.2 chart).