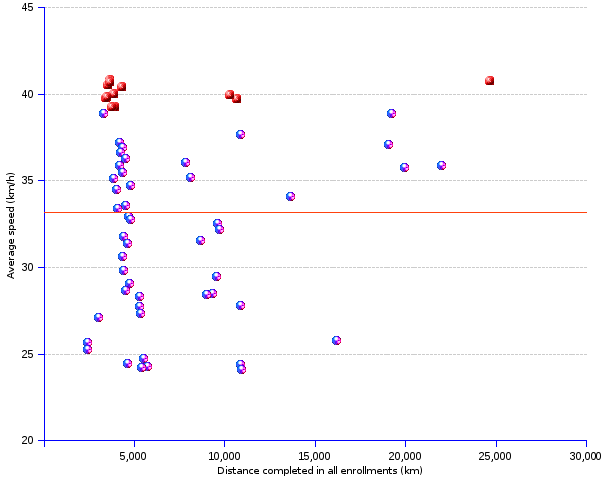 Tour de France champions are in a class of their own. Think what you may of their physical endowments, coaching, team support, or pharmaceutical and medical backing, the fact remains that they achieve phenomenal performances. In the course of their winning enrollments, they completed on average a total distance of 7,274 km at the overall speed of 33.19 km/h. Armstrong topped all other riders achieving a cumulative distance of 24,679 km or almost twice the diameter of the earth, at an overall speed of 40.72 km/h.
The fastest rider ever in terms of overall speed was Pereiro, from Spain, who won the 2006 Tour de France with an overall speed of 41 km/h — more precisely 40.784 km/h . But other 3 riders: Armstrong, Sastre and Aimar exceeded the 40 km/h mark. Still a few other: Pantani, Froome, Bradley, Evans, Contador, Ullrich and Riis got very close of the 40km/h benchmark, with overall speeds between 39.23 km/h and 39.96 km/h mark. All are represented by red dots in the chart. The slowest rider was Firmin Lambot from Belgium, the winner of the 1919 and of the 1922 Tour de France, totaling 10,935 km, at the overall speed of 24.13 km/h.
The common person would be hard-pressed to match even Lambot's supposedly modest show. But nobody should feel belittled — it is difficult to tell to what extent such super-human performance should be credited to the individual athlete, instead of the efficiency of EPO, Cera, Clenbuterol, Ephedrine and other energy boosters that most riders help themselves with. After all, 38 "yellow jersey" or 79.2% of all winners, and 300 or 62.5% of the top ten Tour finishers have been nicked by the anti-doping controls. That is what competition sports are all about.
Tour de France winners, 1903-2016
Total distance completed & overall average speed

First name

Last name

Nation

Number of wins

Total hours

Total distance (km)

Overall speed (km/h)

Lucien
Aimar
France
1
117:34:21
4,329
40.43
Jacques
Anquetil
France
5
612:57:49
21,982
35.86
Lance
Armstrong
United States
7
606:00:20
24,679
40.72
Federico
Bahamontes
Spain
1
123:46:45
4,358
35.47
Gino
Bartali
Italy
2
295:39:48
9,616
32.52
Louis "Louison"
Bobet
France
3
399:58:56
13,627
34.07
Ottavio
Bottecchia
Italy
2
445:28:39
10,865
24.39
Wiggins
Bradley
United Kingdom
1
87:34:47
3,488
39.83
Lucien
Buysse
Belgium
1
238:44:25
5,745
24.27
Alberto
Contador
Spain
3
268:47:49
10,671
39.70
Fausto
Coppi
Italy
2
301:38:09
9,706
32.18
Henri
Cornet
France
1
96:05:56
2,428
25.27
Maurice
De Waele
Belgium
1
186:39:16
5,286
28.32
Odile
Defraye
Belgium
1
190:30:28
5,289
27.76
Pedro
Delgado
Spain
1
84:27:53
3,286
38.91
Cadel
Evans
Australia
1
86:12:22
3,430
39.79
François
Faber
Luxembourg
1
157:01:22
4,497
28.66
Laurent
Fignon
France
2
217:11:32
7,830
36.05
Nicolas
Frantz
Luxembourg
2
391:05:40
10,874
27.80
Christopher
Froome
United Kingdom
3
257:33:23
10,293
39.96
Maurice
Garin
France
1
94:33:00
2,428
25.68
Gustave
Garrigou
France
1
195:37:00
5,343
27.32
Charly
Gaul
Luxembourg
1
116:59:05
4,319
36.92
Felice
Gimondi
Italy
1
116:42:06
4,188
35.89
Bernard
Hinault
France
5
513:17:37
19,042
37.10
Miguel
Indurain
Spain
5
494:11:36
19,224
38.90
Jan
Janssen
Netherlands
1
133:49:32
4,492
33.56
Hugo
Koblet
Switzerland
1
142:20:14
4,690
32.95
Ferdi
Kübler
Switzerland
1
145:36:46
4,773
32.78
Firmin
Lambot
Belgium
2
453:15:21
10,935
24.13
Roger
Lapebie
France
1
138:58:31
4,415
31.77
Octave
Lapize
France
1
162:41:30
4,734
29.10
André
Leducq
France
2
326:25:15
9,301
28.49
Greg
Lemond
United States
3
288:57:14
10,883
37.66
Romain
Maes
Belgium
1
141:23:00
4,338
30.65
Sylvère
Maes
Belgium
2
274:50:49
8,666
31.53
Antonin
Magne
France
2
324:24:01
9,561
29.47
Lucien
Mazan aka Petit-Breton
France
2
315:38:34
8,976
28.44
Eddy
Merckx
Belgium
5
557:07:21
19,923
35.76
Gastone
Nencini
Italy
1
112:08:42
4,173
37.21
Vincenzo
Nibali
Italy
1
89:59:06
3,660.5
40.68
Luis
Ocana
Spain
1
122:25:34
4,090
33.41
Marco
Pantani
Italy
1
92:49:46
3,875
39.98
Henri
Pelissier
France
1
222:15:30
5,386
24.23
Oscar
Pereiro
Spain
1
89:39:30
3,657
40.78
Roger
Pingeon
France
1
136:53:50
4,779
34.76
René
Pottier
France
1
189:34:00
4,637
24.46
Bjarne
Riis
Denmark
1
95:57:16
3,765
39.23
Jean
Robic
France
1
148:11:25
4,642
31.41
Stephen
Roche
Ireland
1
115:27:42
4,231
36.65
Carlos
Sastre
Spain
1
87:52:52
3,560
40.49
Léon
Scieur
Belgium
1
221:50:26
5,485
24.72
Georges
Speicher
France
1
147:51:37
4,395
29.82
Bernard
Thévenet
France
2
230:14:01
8,096
35.16
Philippe
Thys
Belgium
3
626:59:01
16,170
25.79
Louis
Trousselier
France
1
110:26:58
2,994
27.11
Jan
Ullrich
Germany
1
100:30:35
3,950
39.24
Lucien
Van Impe
Belgium
1
116:22:23
4,017
34.52
Roger
Walkowiak
France
1
124:01:16
4,498
36.27
Joop
Zoetemelk
Netherlands
1
109:19:14
3,842
35.14
Median
4,712
33.81
Maximum
24,679
40.78
Minimum
2,428
24.13
Average
7,274
33.19
Sources: Le Tour de France and Le Dico du Tour

areppim: information, pure and simple