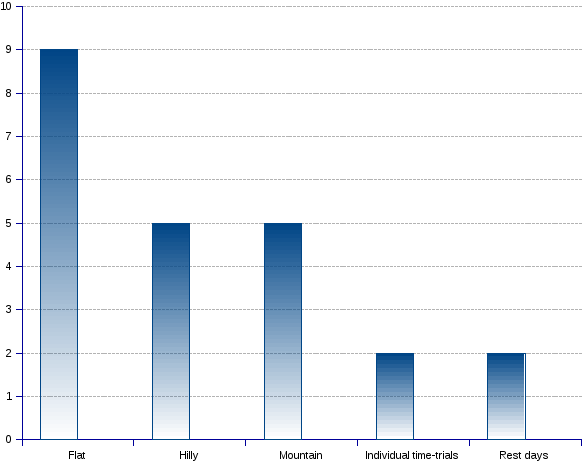 The 104th Tour de France runs from Saturday July 1st to Sunday July 23rd 2017. It is made up of 21 stages and will cover a total distance of 3,521 kilometres.
9 flat stages,
5 hilly stages,
5 mountain stages including altitude finishes (La Planche des Belles Filles, Peyragudes, Izoard),
2 individual time-trials stages,
2 rest days.
Tour de France 2017
Profile of the 21 Stages

Stages

Profile

Date

From

To

Distance
(km)

Winner

Time

1
Individual time trial
Saturday
July 1st
Düsseldorf
Düsseldorf
14
2
On-line
Sunday
July 2nd
Düsseldorf
Liège
206
3
On-line
Monday
July 3rd
Verviers
Longwy
202
4
On-line
Tuesday
July 4th
Mondorf-les-Bains
Vittel
203
5
On-line
Wednesday
July 5th
Vittel
La planche des belles filles
160
6
On-line
Thursday
July 6th
Vesoul
Troyes
216
7
On-line
Friday
July 7th
Troyes
Nuits-Saint-Georges
214
8
On-line
Saturday
July 8th
Dole
Station des rousses
187
9
On-line
Sunday
July 9th
Nantua
Chambéry
181
Rest day
Monday
July 10th
Dordogne
10
On-line
Tuesday
July 11th
Périgueux
Bergerac
178
11
On-line
Wednesday
July 12th
Eymet
Pau
202
12
On-line
Thursday
July 13th
Pau
Peyragudes
214
13
On-line
Friday
July 14th
Saint-Girons
Foix
100
14
On-line
Saturday
July 15th
Blagnac
Rodez
181
15
On-line
Sunday
July 16th
Laissac-Sévérac l'Église
Le Puy-en-Velay
189
Rest day
Monday
July 17th
Le Puy-en-Velay
16
On-line
Tuesday
July 18th
Le Puy-en-Velay
Romans-sur-Isère
165
17
On-line
Wednesday
July 19th
La Mure
Serre-Chevalier
183
18
On-line
Thursday
July 20th
Briançon
Izoard
178
19
On-line
Friday
July 21st
Embrun
Salon-de-Provence
220
20
Individual time trial
Saturday
July 22nd
Marseille
Marseille
23
21
On-line
Sunday
July 23rd
Montgeron
Paris Champs-Élysées
105
Complete Tour
3,521
Sources: see Cycling

areppim: information, pure and simple