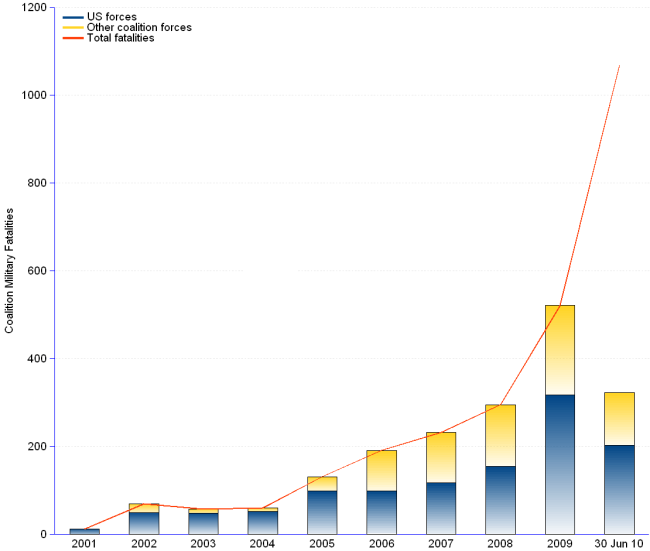 2010 is the year when the US "surge" strategy was supposed to pacify Afghanistan, thus opening the path to a complete military withdrawal until July 2011. The fact is that it shows signs of a major change … unintended and for worse.
June, with 102 western fatalities, has been the bloodiest month ever since the beginning of the war in 2001. The first semester with 322 deaths already surpassed the full year of 2008. If the total 2010 losses increase at the rate of the first semester -- a dismal perspective --, the coalition will have to mourn more than 1,000 lives.
This Afghanistan war resembles increasingly other past military enterprises in the same country that caused much havoc, innumerable losses and unaccounted civilian sufferings in a dubious and failed pursuit of imperial grandeur (see Afghanistan war casualties). Western peoples are by and large opposed to the war, but till now public opinion has had no obvious effect on the decision to pursue it. Western political leaders appear to be increasingly at loggerheads with each other as to the objectives, the means, and the prospects for success -- a situation that resulted in the dismissal or resignation of several high-ranking personnel dealing with Afghan matters, including the UK foreign office representative in Afghanistan, the German minister of defence, a senior US diplomat in charge of Provincial Reconstruction Teams, and two generals commanding the US troops -- all within the past year.
Meanwhile, a vast clientèle of careerists and profiteers, including suppliers, security companies, so-called consultants, and warlords is thriving on a taxpayer-funded endeavour that has already burnt in excess of $295.5¹ billions of US money alone (other coalition members do not officially disclose the magnitude of the expenses) since the war started, with little to show for it so far.
¹ $223.2 billions through 2009 and $72.3 billion for 2010. However, such estimates based on Congressional legislation carry a degree of uncertainty as to whether they represent actual expenses, because the Department of Defense is allowed to transfer funds amongst different budget lines.
Afghanistan War
Coalition Military Fatalities
(As of 30 June 2009)

Year

USA

Other Coalition Members

Total

2010 ¹
1,069
30 Jun 10
202
120
322
2009
317
204
521
2008
155
140
295
2007
117
115
232
2006
98
93
191
2005
99
32
131
2004
52
8
60
2003
48
9
57
2002
49
20
69
2001
12
0
12
¹ Total 2010 estimated by applying to the full year the actual increase of the 1st semester of 2010 over the same period of 2009.
Sources: see Notes

areppim: information, pure and simple