Free charts and graphs
New & updated features
COVID-19 Pandemic
What a memorable age! Pushed against the wall by the angry crowds that have been filling the streets from Hong Kong to Santiago, from Paris to Algiers, politicians and their sidekicks on the brink of collapse welcomed the new coronavirus pandemic as a God given gift. With a sigh of relief they fancied that it was time to have a break. The pandemic came just in time.

Read more, see more charts »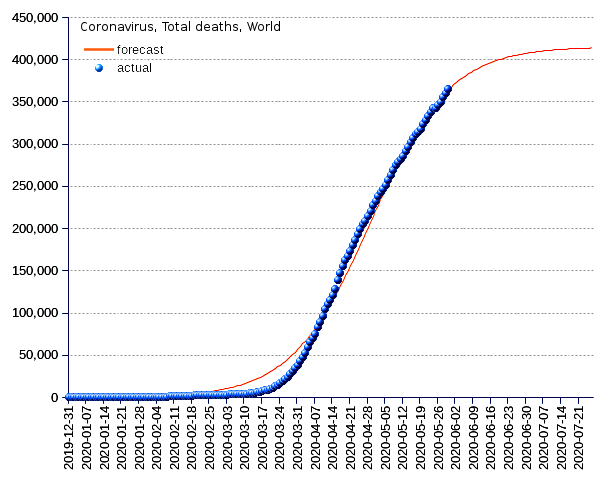 As of 30 May 2020, World : 364,891 deaths worldwide. The death ratio is of 6.18 percent of the total 5,899,866 reported cases (which represent 0.08 percent of the world population). Further to the disparate quality of the raw data, to the erratic definitions of the statistical units, and to the shady reliability of the sources, death rates vary widely from country to country in the selected group. Death rate is the highest for France 19.19%, and the lowest in Portugal 4.33%. According to a recent analysis completed by the Los Alamos National Laboratory, each person infected early in the epidemic in Wuhan may have passed the virus to an average of 5.7 other people. Should this spread rate hold for the rest of the world, about 82 percent of the world population should be immunized to put a stop to the pandemic.
The pandemic has laid bare the dismal unpreparedness of all administrations, and provided a peephole into the swollen-heads of some state leaders. The French president Macron, who vaingloriously declared himself a "Jupiterian", not a "normal" chief of state, and labels himself the "commander in chief of the war" on the coronavirus has successfully placed France in the lead of the covid-19 death ratio: almost 20 percent of the infected French die from the disease. Does it hurt the pompous "war leader"?
As for the British prime minister Boris Johnson, he should be praised for his farcical illustration of immanent justice. On March 3rd, he faced the cameras to boast of his contempt for the despicable virus : "you'll be pleased to know that I was in the hospital yesterday and I shook hands with infected patients, and I won't stop doing it". On April 7th, a press release announced that the conceited leader was in an "intensive care unit, fighting against the coronavirus"! While resting in bed he should have plenty of time to savor the practical joke that destiny played on him.
Our projection is obtained by a logistic regression based on the actual numbers provided by ECDC.

See more charts of deaths projections »

---
Portugal's Government Debt: through the ceiling
Portuguese government debt (Maastricht debt) keeps riding significantly ahead of Portugal's GDP (gross domestic product), especially since June 2011, when right-wing Coelho took office as prime minister. The socialist Costa did not perform much better since he took over on November 2015.
After one year of rollercoaster, government debt reached a peak in May 2019, then subsided by more than two percent by June 2019, only to resume its sharp fluctuations thereafter. Since the beginning of 2020, it went significantly up reaching its highest value ever in Februay 29th, while GDP is expected to be falling at a rapid pace due to the economic consequences of the coronavirus pandemic. It is a cinch to predict that future data releases will expose a widening gap between the two variables...

Read more »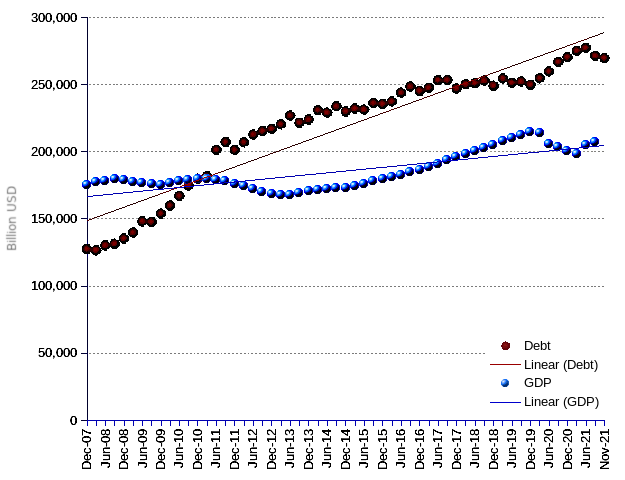 ---
2019 Billionaires On and Up
The share of wealth grabbed by the super-rich is staggering. From constant US$1.6 trillion in 1996, it climbed to 8.7 in 2019. Billionaires make just 0.00003 percent of the world population, but they currently own the equivalent of 12 percent of the GWP (gross world product). Nothing seems able to stop them.
Their number has gone on and up, from 423 in 1996 to 2,153 in 2019 (average growth rate of 7.3%...

Read more »

---
Corruption: Not Enough Lost Battles?
TI's (Transparency International) CPI (Corruption Perception Index) for 2018 opens with a candid acknowledgement. More than two-thirds of countries score below 50 on this year's CPI, with an average score of just 43. It reveals that the continued failure of most countries to significantly control corruption is contributing to a crisis in democracy around the world. While there are exceptions, the data shows that despite some progress, most countries are failing to make serious inroads against corruption....

Read more »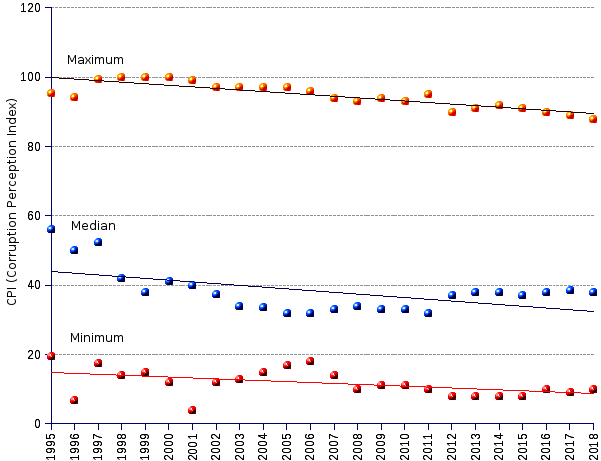 ---
A Mobile-clogged Planet
ITU (International Telecommunications Union) estimates that by the end of 2018 there were 8.2 billion mobile subscribers worldwide, corresponding to a global penetration of 95%. This averages 10.7 mobile phones for 10 living persons.
Our new forecast anticipates a global market size of 8.4 billion subscribers by 2025, at 99.3% of saturation (estimated at 8.5 billion), equivalent to 104% of the population...

Read more »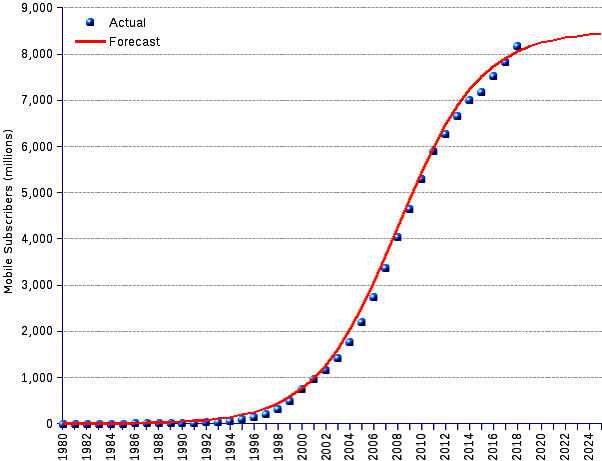 ---
"Every Healthy Person Is An Unwary Patient"
By late 2017, the AHA (American Heart Association) issued new guidelines setting normal blood pressure at less than 120 and 80, and the hypertension threshold at 130 over 80, in place of the previous 140 over 90 benchmark. They also established five, instead of the previous four blood pressure ranges as follows:
AHA 2017 Blood Pressure Categories

Category
Systolic mm Hg
(upper number)
Diastolic mm Hg
(lower number)
Normal
Less than 120
and
Less than 80
Elevated
120 - 129
and
Less than 80
Hypertension Stage 1
130 - 139
or
80 - 89
Hypertension Stage 2
140 or higher
or
90 or higher
Hypertensive crisis
Higher than 180
and/or
Higher than 120
The new guidelines place a large percentage of the previously healthy population in the hypertension category, possibly requiring medical care and medication...

Read more »

---