Free charts and graphs
New & updated features
COVID-19 Pandemic
The daily situation report on a set of selected countries. Our plain, one curve, non-linear forecasts illustrate the path followed by the pandemic to date, and provide a clear picture of what is likely to happen in the near future if executives pursue their customary course of action, and if no dramatic event worsens the situation.

Check the situation in selected countries »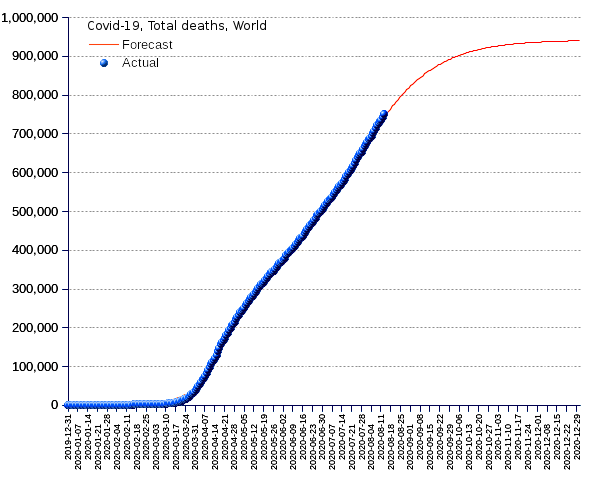 As of 13 August 2020, World:
Death toll: 749,444 or 3.64 percent of the infected cases.
Total cases: 20,614,014 or 0.26 percent of the population.
New cases: 279,854 or a new infection ratio of 3.590 per 100,000 people.

See more charts of deaths projections »

---
Tourism : murder by Covid-19
To win on tourism you need more than a little bit of luck. Portugal had its lucky days – if ever a deluge of tourists may be seen as a good fortune. But the wheel of luck never stops spinning. The coronavirus turned the Portuguese scaffold upside down in just a few weeks...

Read more, see more charts »
The combination of elusive tourists and countless beds froze the business altogether, bringing revenue per room from the heights of the €49 average for 2019, to the depths of €4,51 in April 2020.

---
Covid19 boosts Portugal's Government Debt
It had to happen, the coronavirus did it. The Portuguese economy started its journey into hell, courtesy of the Covid-19 pandemic. After the World Health Organization declared the pandemic on March 11, 2020, all the warning lights started flashing. The government debt, out of control as usual, has been boosted to a new historical peak of € million 262,056 or about 124 percent of GDP in April 2020.

Read more »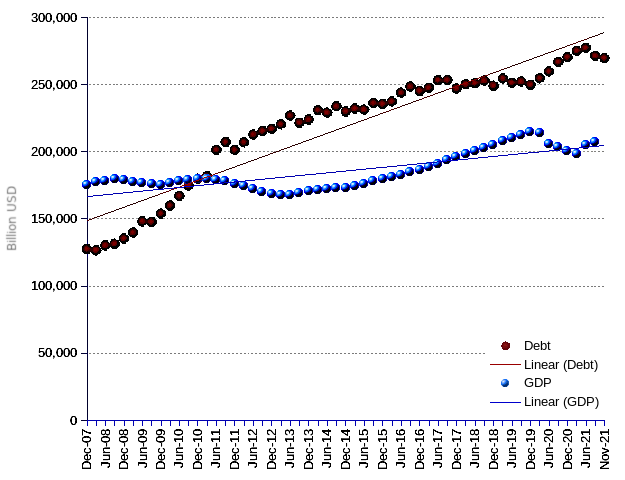 ---
2019 Billionaires On and Up
The share of wealth grabbed by the super-rich is staggering. From constant US$1.6 trillion in 1996, it climbed to 8.7 in 2019. Billionaires make just 0.00003 percent of the world population, but they currently own the equivalent of 12 percent of the GWP (gross world product). Nothing seems able to stop them.
Their number has gone on and up, from 423 in 1996 to 2,153 in 2019 (average growth rate of 7.3%...

Read more »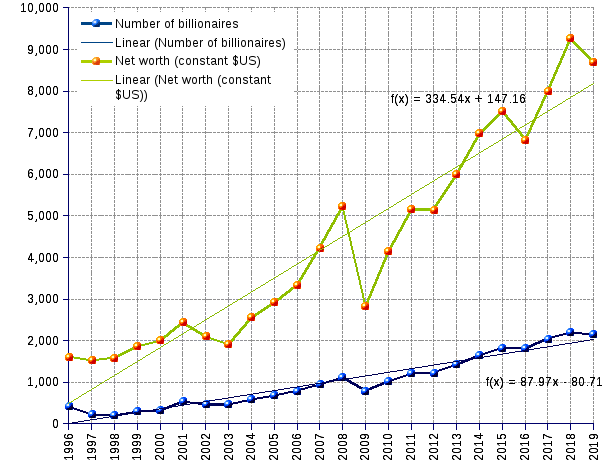 ---
Corruption: Not Enough Lost Battles?
TI's (Transparency International) CPI (Corruption Perception Index) for 2018 opens with a candid acknowledgement. More than two-thirds of countries score below 50 on this year's CPI, with an average score of just 43. It reveals that the continued failure of most countries to significantly control corruption is contributing to a crisis in democracy around the world. While there are exceptions, the data shows that despite some progress, most countries are failing to make serious inroads against corruption....

Read more »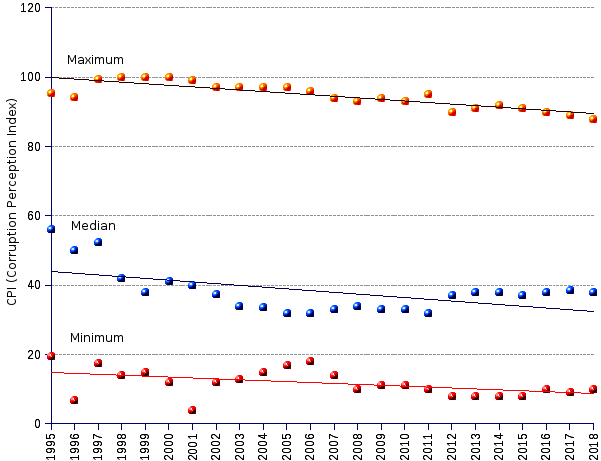 ---
A Mobile-clogged Planet
ITU (International Telecommunications Union) estimates that by the end of 2018 there were 8.2 billion mobile subscribers worldwide, corresponding to a global penetration of 95%. This averages 10.7 mobile phones for 10 living persons.
Our new forecast anticipates a global market size of 8.4 billion subscribers by 2025, at 99.3% of saturation (estimated at 8.5 billion), equivalent to 104% of the population...

Read more »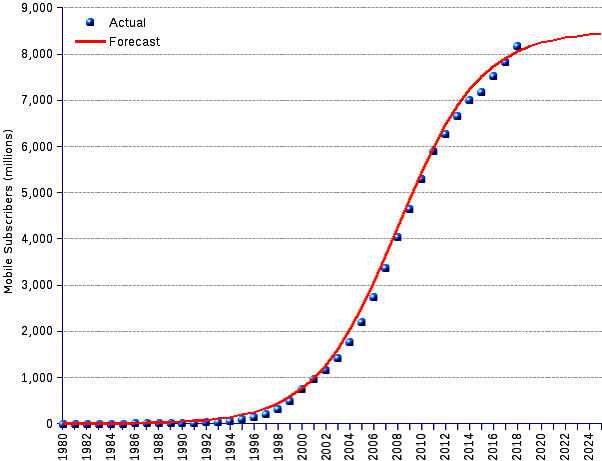 ---
"Every Healthy Person Is An Unwary Patient"
By late 2017, the AHA (American Heart Association) issued new guidelines setting normal blood pressure at less than 120 and 80, and the hypertension threshold at 130 over 80, in place of the previous 140 over 90 benchmark. They also established five, instead of the previous four blood pressure ranges as follows:
AHA 2017 Blood Pressure Categories

Category
Systolic mm Hg
(upper number)
Diastolic mm Hg
(lower number)
Normal
Less than 120
and
Less than 80
Elevated
120 - 129
and
Less than 80
Hypertension Stage 1
130 - 139
or
80 - 89
Hypertension Stage 2
140 or higher
or
90 or higher
Hypertensive crisis
Higher than 180
and/or
Higher than 120
The new guidelines place a large percentage of the previously healthy population in the hypertension category, possibly requiring medical care and medication...

Read more »

---